Arsenal players hold 'secret' meeting in bid to turn their season around
News emerging of a squad meeting among senior players will put yet more pressure on manager Arsène Wenger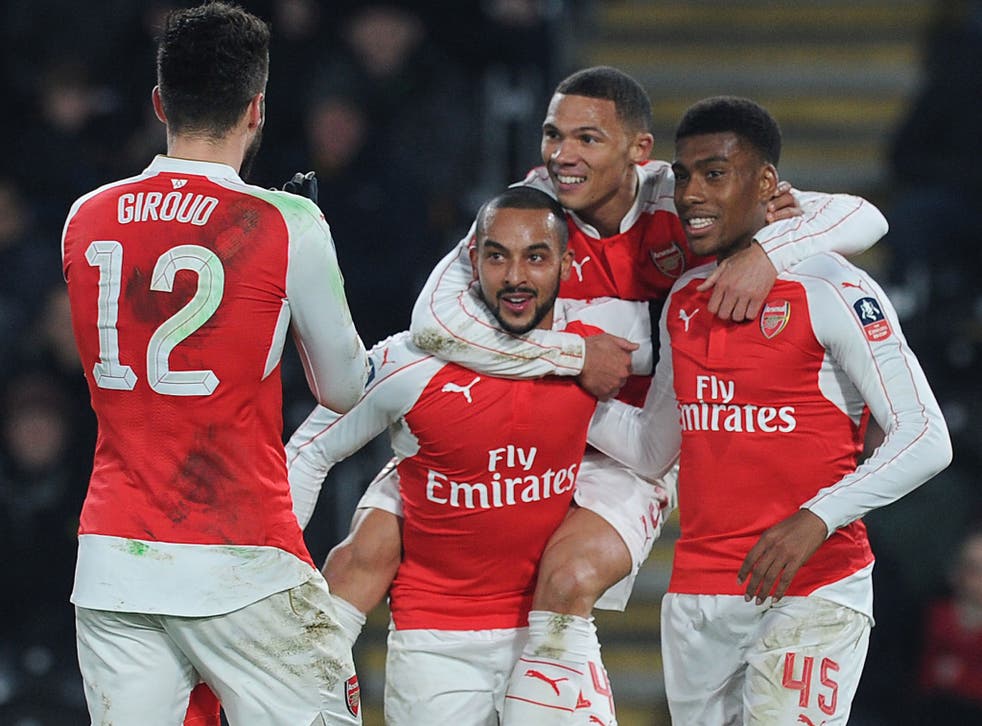 Arsène Wenger is likely to find his future as Arsenal manager under still more scrutiny after it emerged that senior players have taken matters into their own hands in an effort to rescue their faltering season.
The Frenchman, whose team have slipped eight points behind the Premier League leaders Leicester after winning only two league matches in their last nine, averted embarrassment when Arsenal won 4-0 at Hull in Tuesday's FA Cup fifth-round replay.
However, two-goal striker Theo Walcott revealed that a squad meeting had been called without Wenger's knowledge before last Saturday's north London derby, when the Gunners battled back to draw 2-2 at White Hart Lane despite falling behind after Francis Coquelin was sent off.
Walcott said the meeting had been called by the captain, Mikel Arteta, and vice-captain, Per Mertesacker, in conjunction with goalkeeper Petr Cech and midfielder Tomas Rosicky – at 35 the club's most senior player – in the wake of the 2-1 home defeat to Swansea in midweek.
"We all had a good chat among us behind closed doors, without even any of the coaches or the manager knowing about anything, "Walcott said. "It was a meeting to express how everyone was feeling, basically, and it worked.
"We have quite a lot of experienced players in the dressing room and in Cech, Mikel, Per and Tomas there are four good old heads there. I'd like to keep what was said among ourselves but it was very important.
"You had a sense of the Tottenham game especially, when you go down to 10 men in a big game like that, the belief and the character was there. The never-give-up spirit was there as well. In the derby matches, they could be the matches that turn your season and maybe we have turned the corner."
It is not the first time senior members of the Arsenal squad have met privately to address a crisis. A similar meeting took place in September following the home defeat by Olympiakos in the Champions League, after which they produced two of their best performances of the season to sweep aside Manchester United 3-0 at home and defeat Bayern Munich 2-0.
Walcott did not think Wenger would be surprised to learn of the latest players' summit. "He probably knows about it anyway – he's got ears everywhere at the club," Walcott said. "The manager respects the players' privacy and what's happening personally among us all."
Arsenal face Watford at home on Sunday in the Cup sixth round, but with Mertesacker, Gabriel and Aaron Ramsey added to their injury list after the win at Hull. Ramsey could miss several matches with a thigh problem.
Register for free to continue reading
Registration is a free and easy way to support our truly independent journalism
By registering, you will also enjoy limited access to Premium articles, exclusive newsletters, commenting, and virtual events with our leading journalists
Already have an account? sign in
Register for free to continue reading
Registration is a free and easy way to support our truly independent journalism
By registering, you will also enjoy limited access to Premium articles, exclusive newsletters, commenting, and virtual events with our leading journalists
Already have an account? sign in
Join our new commenting forum
Join thought-provoking conversations, follow other Independent readers and see their replies