Arsenal takeover: Thierry Henry, Patrick Vieira and Dennis Bergkamp involvement 'fantastic' in right structure
Jens Lehmann has welcomed the potential return of the club legends, but warned they would have to be given the right roles
Jamie Braidwood
Tuesday 27 April 2021 16:31 Comments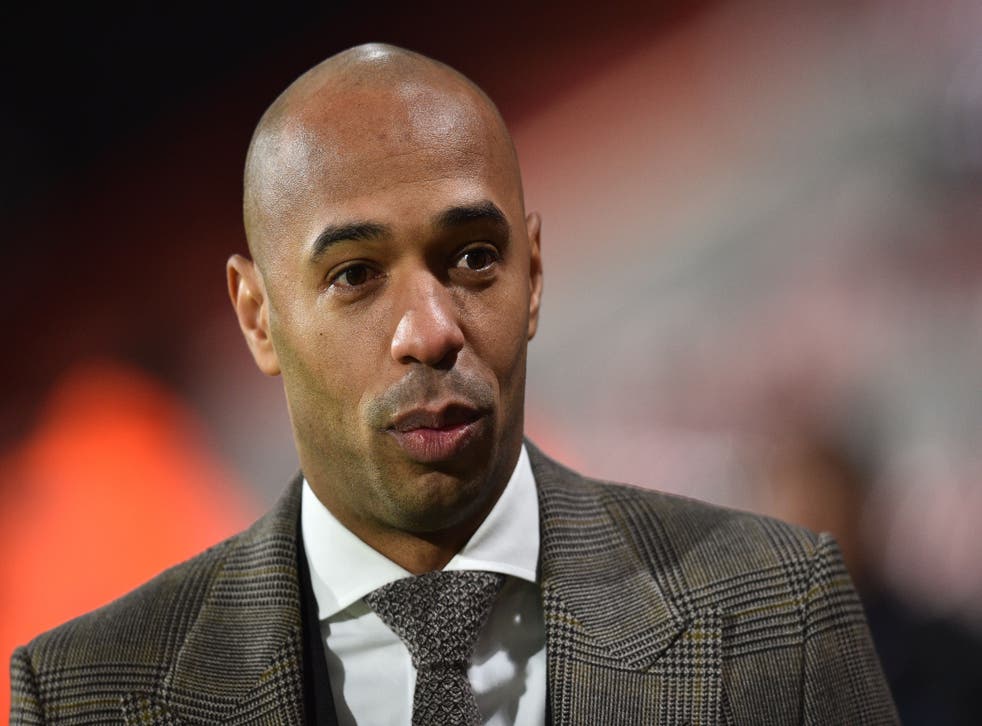 The involvement of Thierry Henry, Patrick Vieira and Dennis Bergkamp in Daniel Ek's reported takeover bid of Arsenal would be "fantastic", former Gunners goalkeeper Jens Lehmann has said, but only if the right structure was in place at the club.
According to reports in The Telegraph, Swedish billionaire Ek is teaming up with the three Arsenal legends in a bid to buy the club from owner Stan Kroenke.
Arsenal's fans have protested the against the club's ownership for their role in the collapsed Super League breakaway, and have demanded that Kroenke sells the club.
Ek, who is a co-founder of Spotify, tweeted his interest in buying the club on Friday, before the involvement of Henry, Vieira and Bergkamp was later reported.
Lehmann has administrative experience in football after serving on the board of German side Hertha Berlin in recent seasons.
"It would be fantastic to have my former team-mates working for Arsenal again because they're all great guys," Lehmann told Sky Sports News.
"But I don't know if the Kroenke family actually wants to sell Arsenal. From my encounters with Josh Kroenke [Arsenal director], he's a very nice guy and he was very interested to lead Arsenal to a brighter future.
"My experience of football, now I'm on the board at Hertha Berlin, is people first need to know the right questions and then implement a structure where all the guys – Thierry, Dennis and Patrick – can work.
"Would you see them working on the pitch all together? I don't really understand their jobs because there needs to be a good structure from the top to the bottom.
"There's Edu [Arsenal's technical director], a former team-mate, I think he's doing a good job there. So if on top comes Thierry as a coach or manager probably, Patrick the same… Dennis was an assistant coach at Ajax.
"I think their expertise is probably not becoming a sporting director or CEO."
Henry criticised Arsenal's ownership last week, telling The Telegraph that he did not "recognise" the club following their involvement in the Super League plans.
"They have been running the club like a company, not a football club, and they showed their hand," he said.
"Maybe it's a lack of understanding of the core football values and maybe the money was too big of a temptation. But whatever it was, they got it wrong. Badly wrong."
Register for free to continue reading
Registration is a free and easy way to support our truly independent journalism
By registering, you will also enjoy limited access to Premium articles, exclusive newsletters, commenting, and virtual events with our leading journalists
Already have an account? sign in
Register for free to continue reading
Registration is a free and easy way to support our truly independent journalism
By registering, you will also enjoy limited access to Premium articles, exclusive newsletters, commenting, and virtual events with our leading journalists
Already have an account? sign in
Join our new commenting forum
Join thought-provoking conversations, follow other Independent readers and see their replies