Canada's women's football team to strike over funding cuts
The action covers all team activities, including playing.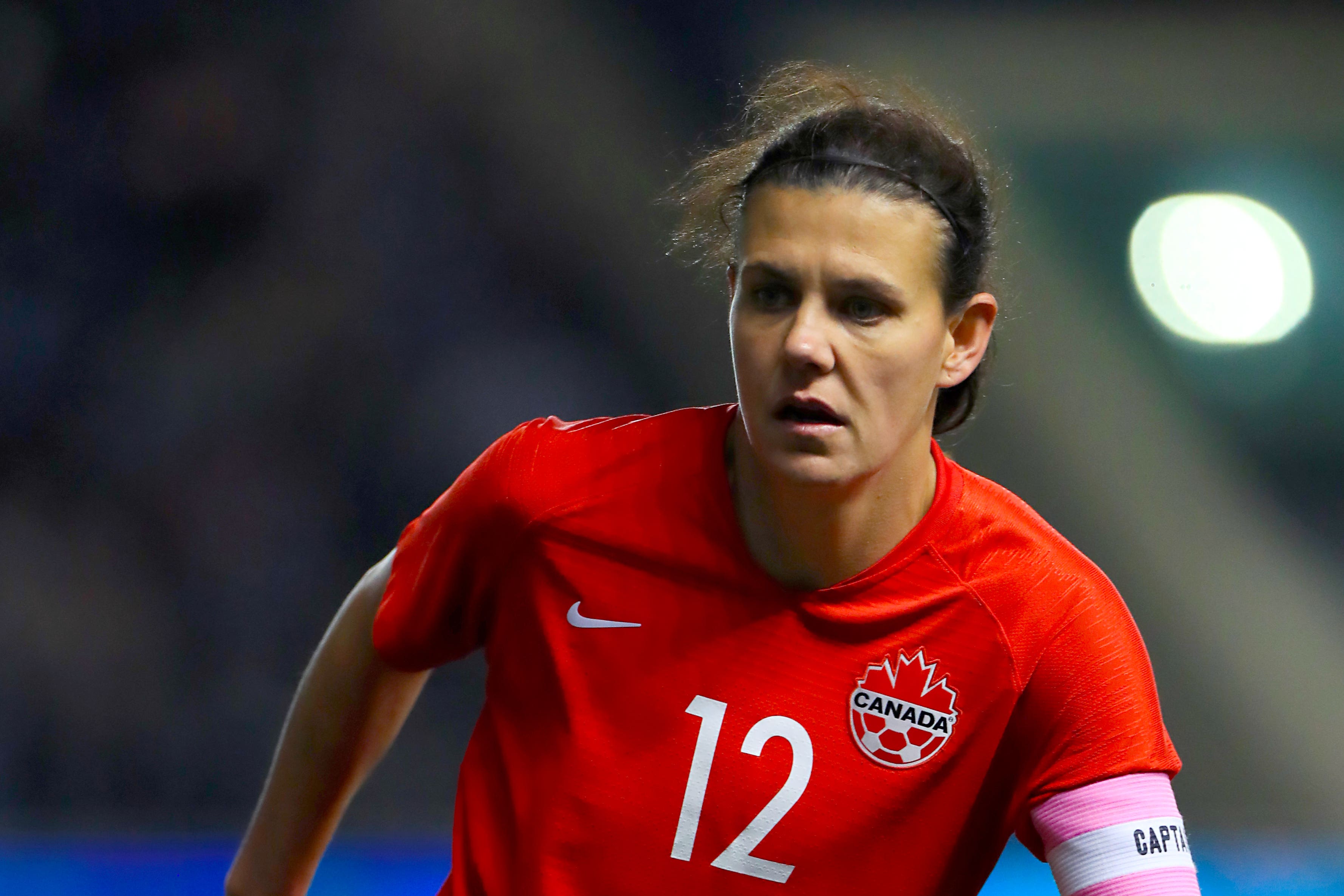 Canada captain Christine Sinclair has said the national team will go on strike this week over a lack of funding they believe will compromise their ability to perform at this year's Women's World Cup.
Less than a week before the Olympic champions are due to play the United States, Brazil and Japan in the SheBelieves Cup, Sinclair and Janine Beckie appeared on TSN to say they will not take part in any team activities – including playing – until the dispute is resolved.
The interview came after both Canada's women's and men's teams issued statements complaining about budget cuts for the women's team from Canada Soccer, and demanding answers from the federation.
Sinclair said: "Some of us trained today with our shirts inside out, but the fact we haven't heard from the CSA since we put in our demands, they haven't even had the courtesy to reach out to us to schedule an emergency call, as a team we've decided to take job action.
"From this moment on we will not be participating in any Canadian Soccer Association activities until this is resolved, whether that's training, whether that's games. That's very hard to say as an athlete who wants to compete, who wants to represent Canada but enough is enough at this point."
Former Manchester City forward Beckie added: "At this point we will not be training, we will not be attending meetings. Any scheduled activity with the national team in the near future we will not take part in.
"If we get to next Thursday evening and this is not resolved, we will not be taking the field against the United States in the SheBelieves Cup.
"This is the men and women's team together taking action against a federation which has mistreated us for far too long and we have been far too nice for far too long."
The interview came shortly after members of the team issued a statement via the Canadian Soccer Players' Association stating that preparations for the coming World Cup "are being compromised by Canada Soccer's continued inability to support its national teams".
The statement said Canada Soccer has cut the time spent on training camps, and the number of players and staff invited to those camps. The team said they have also been told there will be no home friendlies before the World Cup which starts in Australia and New Zealand in July.
The statement said: "We are tired – tired of constantly having to fight for fair and equal treatment, and for a program that will give us a chance to achieve what we know this team is capable of achieving for Canada.
"This lack of support threatens to reverse the progress we've made as a soccer nation and to send us back to obscurity. For our team to remain a force on the world stage we need a federation that operates and supports us at the level at which we are expected to deliver – world class."
The letter added that "significant dollars and resources were poured into our men's national team to ensure there were no gaps in their preparation for the 2022 Men's World Cup" while the women's team were being asked to perform without the same backing.
Celtic and Canada right-back Alistair Johnson posted a statement from the men's team supporting the position of their colleagues.
The statement said that Canada Soccer had "consistently refused or blatantly ignored" requests from the Players Association for financial information that would back up its claims that it needs to make cuts to programmes, or to explain where sponsorship money had gone.
The statement added: "We now know that through… financial and other mismanagement, Canada Soccer is claiming it does not have the funds necessary to provide the Women's National Team players the working conditions and games they need to prepare for the 2023 Women's World Cup.
"That is outrageous and calls for an immediate and urgent response."
Canada Soccer said in a statement: "Pay equity for our Women's National Team is at the core of our ongoing player negotiations. Canada Soccer will not agree to any deal without it.
"That is why, after months of negotiations with our Women's National Team Players and their legal counsel, Canada Soccer already issued a mutually-agreed to retroactive payment.
"We have also previously informed our Women's National Team that the 'Friends and Family' program, granted to our Men's National Team in Qatar, will be replicated for our Women at the 2023 FIFA World Cup in Australia and New Zealand.
"This is real change in action, but there is more to do. To continue that important work, we need to have a collective bargaining agreement in place, to responsibly plan for the future. We presented an equity-based proposal to our National Teams and their counsel several months ago, and we are still waiting for a definitive response to the terms of that proposal.
"Canada Soccer and our legal counsel will be meeting with our Women's National Team in Orlando tomorrow morning, as agreed to last Sunday, to continue our discussions.
"We want to get this resolved, for both of our National Teams, and for soccer in Canada."