Lille vs Chelsea LIVE: Champions League result and final score after Christian Pulisic and Cesar Azpilicueta goals
Burak Yilmaz put the French side ahead, but Pulisic and Azpilicueta responded to put the holders into the quarter-finals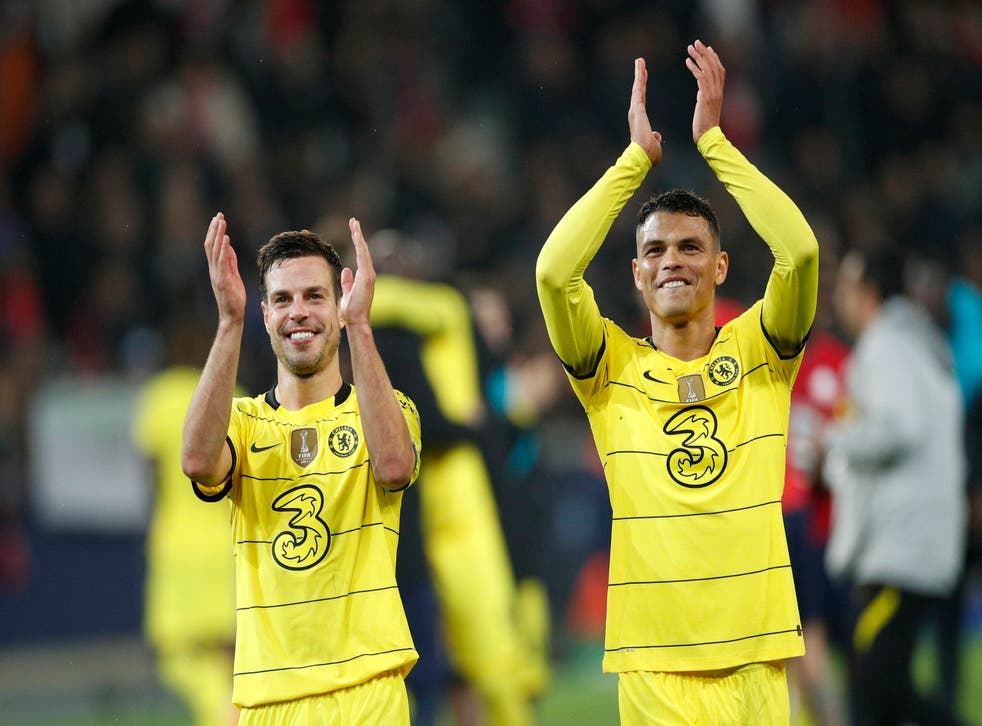 Holders Chelsea made light of their off-pitch problems to reach the Champions League quarter-finals by beating Lille 2-1 away on Wednesday to complete a 4-1 aggregate victory.
The Premier League side, playing amid sanctions imposed on their Russian owner Roman Abramovich following Russia's invasion of Ukraine, eased through thanks to goals by Christian Pulisic and Cesar Azpilicueta.
French champions Lille dominated for long spells and opened the scoring thanks to a Burak Yilmaz penalty in the opening half, but lacked precision up front and paid dearly for lapses in concentration.
Chelsea, operating on a special licence from the British government that has limited their spending and impacted their operations, showed great composure to ease into the last eight.
Lille had made the better start to the match.
Jocelyn Gouvennec's side put Chelsea on the back foot as Mateo Kovacic, Jorginho and N'Golo Kante struggled to take control of the midfield.
Lille were rewarded in the 38th minute when they were awarded a penalty following a VAR review after a Jorginho handball in the area.
The 36-year-old Yilmaz, the third oldest scorer in the Champions League knockout stages after Paolo Maldini and Ryan Giggs, buried the spot-kick into the top corner to give the hosts a deserved lead and high hopes of an upset after losing the first leg 2-0 at Stamford Bridge.
Lille, who had not conceded a goal in their three Ligue 1 games since the first leg, let their guard down, however, and Chelsea punished them with their first shot on target as Pulisic collected a fine through ball from Jorginho to score with a low shot three minutes into first-half stoppage time.
Although they were hit by injuries which forced Sven Botman and Zeki Celik to leave the pitch, Lille applied more pressure after the break and Yilmaz wasted two clear chances.
Chelsea were far more ruthless and after 71 minutes Mason Mount's cross bounced off Azpilicueta's knee into the top corner to end Lille's hopes of reaching the last eight.
1647469921
Chelsea into the quarter-finals with 4-1 aggregate win over Lille
That just about does us for our live coverage this evening. Into the last eight go Chelsea, putting the turbulence at the club to one side with a solid enough performance to survive the challenge of a passionate Lille crowd and fast start from their French hosts to book their place in the quarter-finals.
Who will they face? Well, we'll find out on Friday morning, with the draw to be held at UEFA HQ in Nyon, Switzerland.
With the deadline for prospective buyers to bid for the club also on Friday, it's going to a busy couple of days in west London, but The Independent will be across all of the latest news.
For now, though, farewell!
Lille 1-2 (agg. 1-4) Chelsea: The Blues fought back after Burak Yilmaz's penalty to advance despite the club's off-field woes
Harry Latham-Coyle
16 March 2022 22:32
1647469441
Thomas Tuchel is next to talk into the BT Sport microphone
"Brilliant, brilliant, and so nice that so many fans are here to support the team. We are agin in the quarter-finals, it is a big step, we showed resilience and mentality. We overcame difficulties, dug in and got a deserved win. We got what was needed.
"Chelsea has this kind of culture within the club. What I found from day one is this football-first mentality. Everyone pushes the first team to the limit, everyone is focussed on football, and football first. This is the culture. This culture helps us now to focus when times are difficult and distracting because it is already there. Of course, I feel part of this, but I am also just a part.
"We were not so good in the first half, not so fluid. The pitch was horrible by the way, a brand new pitch but not ready to play on. The tactics were not right in the first 20 minutes - I take responsibility for that. It was very important to calm everyone down. We were a bit lucky with the post.
"The club has a mentality that sharpens the attitude and the mind of the players. It is normal to focus and that makes it possible even during difficult times.
"We expect to carry on. We were here today, we want to compete. It is a huge step to again be in the last eight. We are excited for the draw now and then we have a game in Middlesbrough..."
Harry Latham-Coyle
16 March 2022 22:24
1647468820
Cesar Azpilicueta speaks to BT Sport
"It has not been a normal last few weeks. We are playing every three days difficult games. We are happy to go through and win the game.
"I just put the leg, I went with my knee. I am not used to scoring goals. It's obviously the winning goal to go through to the quarter-finals.
"The first half, we didn't start very well. They were very active. We knew it was going to be difficult. We made a few mistakes. They were dangerous. But the reaction was very good, we scored just before half-time.
"This group fights against everything. We know we have to do the best we can on the pitch. That is what we do. We stay together, we fight together. It could sometimes be easier to lose focus, but that is not us."
Harry Latham-Coyle
16 March 2022 22:13
1647468108
The quarter-finalists
And that completes our last eight lineup. Three Spanish clubs, three English, a German and a Portuguese.
Harry Latham-Coyle
16 March 2022 22:01
1647467989
Also through - Villarreal!
Big win in Turin for Unai Emery's Villarreal, a 3-0 away win meaning progression 4-1 on aggregate, and the reigning Europa League champions are joining the defending champions of this competition in the last eight.
Harry Latham-Coyle
16 March 2022 21:59
1647467887
F/T: Lille 1-2 Chelsea
Into the last eight go Chelsea, putting the off-field uncertainty away for the evening and getting the job done - as well they might with the squad at their disposal. They didn't need to produce a performance of particularly quality, but a lovely goal on the stroke of half-time and then the knock of Cesar Azpilicueta's knee ensure their place in the quarter-final mix come Friday's draw.
Harry Latham-Coyle
16 March 2022 21:58
1647467733
FULL TIME! LILLE 1-2 CHELSEA (1-4 ON AGGREGATE)
Harry Latham-Coyle
16 March 2022 21:55
1647467699
Lille 1-2 Chelsea, 90 + 4 minutes
Over the bar, peep, peep, peep - Chelsea are through.
Harry Latham-Coyle
16 March 2022 21:54
1647467650
Lille 1-2 Chelsea, 90 + 3 minutes
It's been a placid game, actually. Four shots on target, three of which have gone in, and a struck post the sum of real goalmouth action. Time left for more?
Maybe! Romelu Lukaku is chopped down by a beaten Jose Fonte on the fringes of the Lille box. Vital, if illegal, trip from Fonte. This might be the last kick of the game.
Harry Latham-Coyle
16 March 2022 21:54
Register for free to continue reading
Registration is a free and easy way to support our truly independent journalism
By registering, you will also enjoy limited access to Premium articles, exclusive newsletters, commenting, and virtual events with our leading journalists
Already have an account? sign in
Register for free to continue reading
Registration is a free and easy way to support our truly independent journalism
By registering, you will also enjoy limited access to Premium articles, exclusive newsletters, commenting, and virtual events with our leading journalists
Already have an account? sign in
Join our new commenting forum
Join thought-provoking conversations, follow other Independent readers and see their replies