Chelsea make first moves once again to remove Real Madrid's security blanket
Blues took the first steps to backtrack after the Super League fallout and they left Real Madrid standing once more – this time on the pitch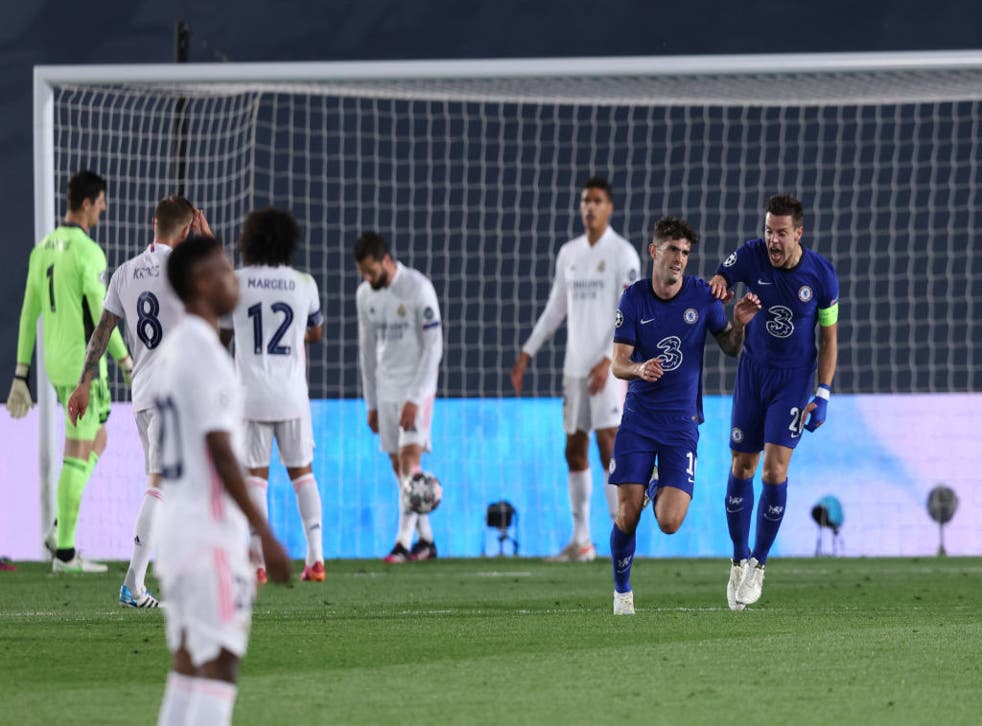 Among the thousands of jokes this time last week during the fall of the European Super League were those pertaining to credibility. And after we all stopped laughing at the cheek of Tottenham Hotspur, the rest of the 12 founding teams got theirs. 
Chelsea, for instance, were not even in the top four at the time of plotting. Sure, the five Premier League titles and the Champions League nine years ago counted for something. But without Roman Abramovich's credit, they would not have been offered a cash buy-in. 
However, not all of the Dirty Dozen were dragged through the mud with the rest. Even as Florentino Perez went on his Trumpian PR tour, his club, Real Madrid, were saved from the worst of the slander as their own Wicker Man of a president was out there goading the masses.
Partly because such a scheme had Real Madrid prints all over it - the Imperial Army in football's far from pure universe who always seem to be up to something. But also because of heritage. When you've won 13 European Cups and boast a collection of the world's best footballers at any one time, why wouldn't you look to take the game to a dystopian new world of your own stale imagination? In a way, you've earned it.
But on Tuesday evening, as the rain streamed down at almost computer game levels to give the Estadio Alfredo Di Stefano training complex a real Pro Evolution feel, there was a realisation status only gets you so far. What comfort it might offer you in boardrooms carries no guarantees on the pitch. 
Chelsea were close to note-perfect on the night. Relentless in their pressing and crafty in their movements, spurred on by a back three for Real Madrid presented as design but manifesting as a punt. It took just a clip over the top from Antonio Rudiger to take them out of the game for Christian Pulisic's opener, which should have been the second after Timo Werner's point-blank miss after 10 minutes. 
The midfield trio of Luka Modric, Casimero and Toni Kroos were bumped open as regularly as saloon doors in a Spaghetti Western. All of Pulisic, Mason Mount and N'Golo Kante either prancing through or upended depending on how close anyone in white got to them. 
That struggle was felt elsewhere. Designated cheerleader Sergio Ramos was reduced to frustrated gesticulating as Zinedine Zidane's best-laid plans failed to materialise. Rudimentary passes out of the back were made under duress as Thomas Tuchel's top-down suffocation restricted time and space. 
Even the greater impetus in the final 10 minutes was on Chelsea's terms. Satisfied they needn't risk what they had, knowing Real didn't quite have the wares to take it from them. The latter substitutions also carried a sense of passive dominance. The hosts called upon an injury-hampered Eden Hazard who they plucked off their opponents for a prospective £150million to try and fail to conjure something more. Chelsea brought on the £108m duo of Kai Havertz and Hakim Ziyech to ultimately hold what they had. 
What they have, though, is only a 1-1 draw. And the equaliser from Karim Benzema came as a reminder there are not many worse sides to underrate or poke fun at than Real. The Frenchman's class was kept under lock and key for most of his 92 minutes on the pitch, beyond a couple of seconds where he chested and swiveled a volley beyond Edouard Mendy to level the scores. It was their only shot on target, with the best effort also coming from Benzema when he conjured an effort from outside the box which struck the outside of the post. 
This iteration of Los Blancos is reflective of the times: uncertain, ageing and reliant on a core of thirty-somethings as they struggle under the weight of self-inflicted financial constraints from gambling too much on young, yet-to-be-fulfilled talents. That they are reportedly angling to rectify that with big-money signings of Erling Haaland and Kylian Mbappe speaks of their desperation to re-establish authority and status even if it means digging further down into the commercial abyss.
Make no mistake, Real Madrid needed the Super League more than Chelsea. And just as Chelsea were the first to signal their intent to withdraw from last week's clusterf***, so too were they the first to step ahead in this Champions League semi-final.
But while Perez retains faint hope his greed will pay off sooner rather than later, Real Madrid know they are a few flashes away from overturning this scoreline in west London next Wednesday. And as well as Chelsea faired, deep down they will understand the job is not even half-done. That's the kind of fear heritage does get you.
Join our new commenting forum
Join thought-provoking conversations, follow other Independent readers and see their replies