Northern Ireland vs England LIVE: Women's World Cup qualifying result, final score, reaction as Lionesses win
Follow live updates as the Lionessess aim to move a step away from qualifying for the 2023 Women's World Cup at a sold-out Windsor Park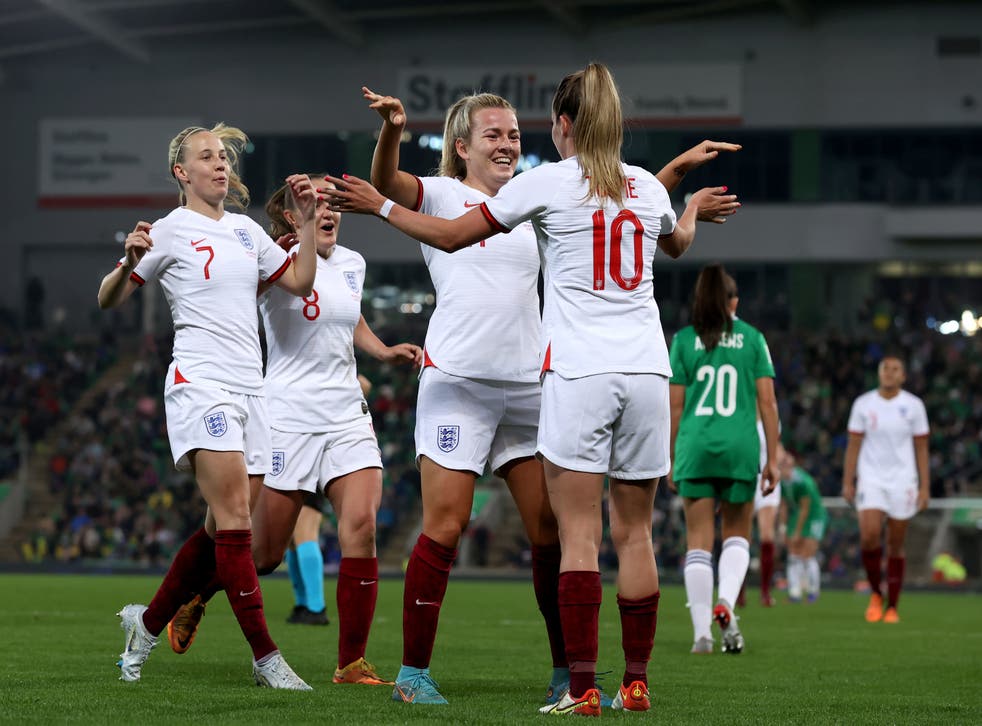 Follow live updates as England take on Northern Ireland at a sold-out Windsor Park, with Sarina Wiegman's side looking to close out their World Cup qualifying campaign by maintaining their 100 per cent record.
The Lionesses are five points clear of Austria in Group D and their 10-0 vicotry over North Macedonia on Friday night was their seventh win from as many fixtures. Wiegman's side have scored 63 times in their campaign so far and have yet to concede a goal - and striker Ellen White is now just four goals of Wayne Rooney's England record .
England beat Northern Ireland 4-0 in October at Wembley, with Beth Mead scoring a late hat-trick, but the hosts will be desperate to pick points to boost their chances of beating Austria to a play-off place.
Kenny Shiels' side have also been drawn in England's group for the European Championship this summer so tonight's fixture will be important to both teams in their preparations. A crowd of 16,000 at Windsor Park will be a record for a women's match in Northern Ireland. Follow live updates from Northern Ireland vs England below:
1649797109
Full-time: Northern Ireland 0-5 England
Thank you so much for joining me this evening for this cracking qualifier!
We now look forward to this summer's Euros, kicking off on July 6.
Sarah Rendell
12 April 2022 21:58
1649797025
Full-time: Northern Ireland 0-5 England
England head coach Sarina Wiegman told the BBC: "It was a very mature performance. It was a great atmosphere here. We played well, we kept the ball going. In the first half we wanted to be a little more critical.
"5-0 is really good and again we conceded none. We thought we played first half, they had to run so much. We expected them to become tired and we'd have more space."
Sarah Rendell
12 April 2022 21:57
1649796839
Full-time: Northern Ireland 0-5 England
Double scorer Georgia Stanway told the BBC: "I really enjoyed it. The atmosphere was unbelievable. We were happy to get the result, credit where credit is due they are a tough opponent.
"The biggest thing was patience. We had the possession but it's about creating those moments.
"It's brilliant [playing in the side]. Everybody is in top form. It's a competitive environment. If we can create an environment which is competitive, nothing can stop us."
Sarah Rendell
12 April 2022 21:53
1649796694
Full-time: Northern Ireland 0-5 England
So England remain at the top of Group D after a superb run in the tournament but sadly for Northern Ireland that defeat sees their qualifyin ghopes extinguished.
It will be England and Austria the likely pair going through at the end of the qualifying run.
The qualifiers will continue in the summer with England and Northern Ireland's back in September, after the conclusion of the Euros.
Sarah Rendell
12 April 2022 21:51
1649796444
Full-time: Northern Ireland 0-5 England
The hosts did extremely well to hold England to 1-0, the only first 45 half seeing Hemp score, but the Lionesses prove too strong in the second half.
Another Hemp score, a brace for Stanway and a Toone goal sees England continue their flawless qualifying run.
65 goals scored, none conceded. Not a bad evening for England fans!
Sarah Rendell
12 April 2022 21:47
1649796356
Northern Ireland 0-5 England, 90 + 1 mins
Bright gives away a foul on Magill with the hosts having a free kick on halfway.
Vance takes the kick and gets it to the edge of the box, England claim McFadden has handballed but the hosts come away with it. But now England counter, Toone can't get it away. She tries to chip the keeper but Burns reads it beautifully.
There are two minutes added and the Lionesses look to build through a Bronze throw in. Vance concedes a corner with Hemp the taker, it's initally dealt with well but it comes out to Bright. Her shot sails over the cross bar.
Sarah Rendell
12 April 2022 21:45
1649796143
Northern Ireland 0-5 England, 88 mins
The hosts are getting an attacking foothold here, they are starting to win the battles in the midfield but the final touches aren't coming off. England are now with the ball and looking for goal number six.
Another change comes for England as Nobbs is on for Stanway, who has a brace in the match. The Manchester City star is really hammering her starting shirt in this competitive England side.
Hemp has a powerful shot at goal Burn reads it well to block.
It's incredible that England have scored 65 goals in this qualifying campaign but they haven't conceded.
Sarah Rendell
12 April 2022 21:42
1649795849
Northern Ireland 0-5 England, 83 mins
Northern Ireland are building well with McKenna but Daly does well to wrestle it back. It's just one way traffic at the moment with the majority of the possession for the hosts in the midfield.
Everytime England are on the ball you feel a chance is coming, especially now the stellar Northern Ireland defence has tired slightly.
Of course just as I say that the hosts win a throw in, in a great position. Can they get their first goal here?
Before they can take the throw a change comes with Magee coming off for Hamilton. The throw ends in Hemp conceding a corner, the hosts' first of the match!
Vance sends the ball in but Bright clears well.
Sarah Rendell
12 April 2022 21:37
1649795629
GOAL! Northern Ireland 0-5 England (Stanway, 78)
England have another corner as Nelson clears Bright's kick, the crowd's boos are back in full voice as Hemp takes the kick. Toon emanages to get the ball back in with England doing some great work in the box.
It then was way too easy as Stanway pounces on a poor clearance from the box. Burns could have done more there.
Sarah Rendell
12 April 2022 21:33
1649795487
Northern Ireland 0-4 England, 77 mins
Stanway is the taker but Vance quells the threat, making up for her yellow, but she does concede another corner.
England switch takers as Hemp steps up but Burns punches the shot away. The goalkeeper still looks uncomfortable after that break in play in the first half but she will stay on the pitch.
More changes for the hosts, Burrows is off for McCann and Andrews is replaced by Caldwell.
Bright has a poor pass in the midfield and Magill sends Northern Ireland on their way. It's so frustrating as they are too keen and the ball goes out of play. England counter straight away with Hemp feeding England but the pass just escapes the Chelsea star.
Sarah Rendell
12 April 2022 21:31
Register for free to continue reading
Registration is a free and easy way to support our truly independent journalism
By registering, you will also enjoy limited access to Premium articles, exclusive newsletters, commenting, and virtual events with our leading journalists
Already have an account? sign in
Register for free to continue reading
Registration is a free and easy way to support our truly independent journalism
By registering, you will also enjoy limited access to Premium articles, exclusive newsletters, commenting, and virtual events with our leading journalists
Already have an account? sign in
Join our new commenting forum
Join thought-provoking conversations, follow other Independent readers and see their replies