Alvaro Arbeloa interview: Real Madrid full back gets inside the mind of Chelsea manager Jose Mourinho
Madrid defender witnessed Chelsea manager's implosion at Real first hand. In this exclusive interview, he tells Pete Jenson why the Portuguese falls out with his players, fights the football authorities – and is brilliant at his job
Pete Jenson
Friday 30 October 2015 19:20 Comments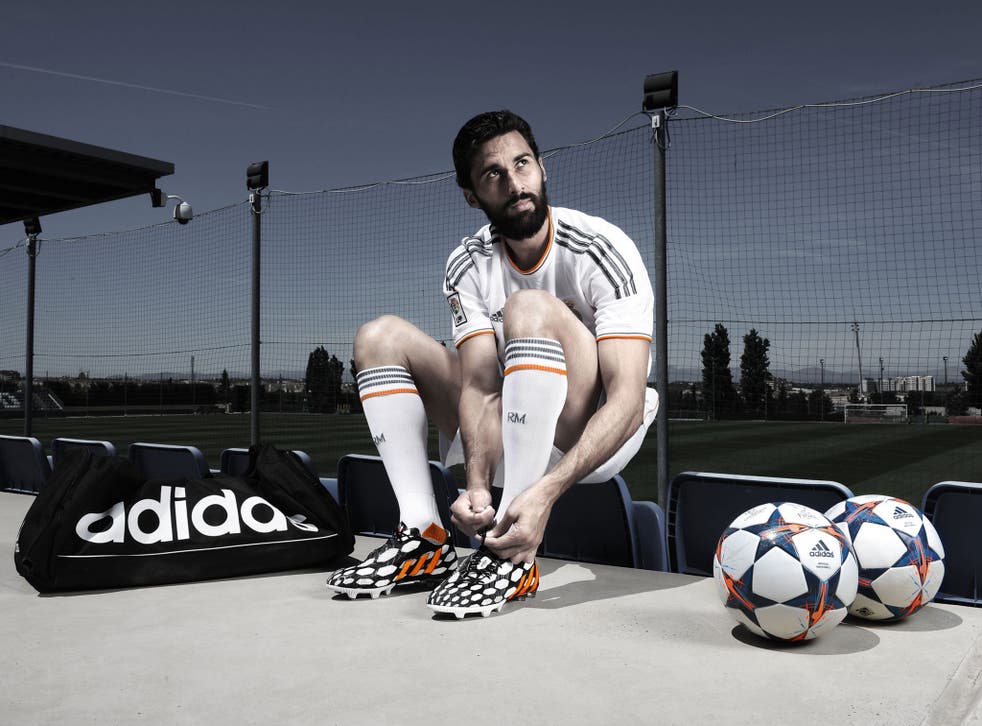 For anyone currently undecided if Jose Mourinho remains a football genius or has become a managerial time-bomb, Alvaro Arbeloa makes for compulsive listening.
He believes his former manager at Real Madrid – who faces Liverpool today knowing defeat could mean the sack – could still one day walk back into the Bernabeu; he says that if players are burned out after two years playing for him, it's their problem not his; and he believes that if he quit football today he would still go down as one of the greats.
Cards on the table: the former Liverpool full-back is a Mourinho defender in every sense of the word. But he also paints a revealing portrait of Mourinho's final season at Madrid, 2012-13, where the similarities with this campaign at Chelsea are striking.
Having won the league the year before, Mourinho's team were out of the title race by November. Star players were dropped and it was Jürgen Klopp beating him in the Champions League semi-final that finished him.
"He was like a bullet-proof vest for the players," Arbeloa tells me, recalling Mourinho's first year in charge. "If someone was picked on by the critics he was the first to defend him. He fought against the fixture list; against the kick-off times if he thought they went against us; or against a referee if he thought he had been unfair to Real Madrid. He fights for the interests of the team without bothering about the fact that in the end his image is damaged because of it – he gets labelled as the moaner."
Now 32, Arbeloa is in the last year of his contract at Madrid. A World Cup winner, he will be a good free transfer for someone next June and he hasn't ruled out a return to the Premier League where he believes professionals are treated with more respect. "I was a bit surprised to see the boy with the video phone recording Mourinho because that is not something that usually happens in England," he says of the recent exception to that rule. "There is usually more respect than that. It's a shame. I'm not sure that any other coach has been bothered and harassed that way."
Arbeloa is an oddity in as much as he's prepared to stand in Rafa Benitez's corner as well as Mourinho's. He joined Liverpool when the Spaniard – now his boss at Real – was in charge in 2007 and they almost won the Premier League in 2009. In 2010, he had just won the World Cup with Spain when Mourinho arrived at Real Madrid and he played a big part in the first two seasons when the club won the Copa del Rey and La Liga.
"What no one takes into account when they judge Mourinho's time in Spain is that perhaps if he had not come to Madrid when he did, [Pep] Guardiola would have kept on winning [with Barcelona]. We were up against a team that a lot of people talk about as being, if not the best, then certainly one of the best in history. And he was up against a coach like Guardiola who could have been at the club for 25 years like [Sir Alex] Ferguson at United – that's how perfect a fit he was for the club – but Mourinho was capable of bringing them down from the mountain. He doesn't get enough credit for that."
Knocking Barcelona off their perch is the reason many Real Madrid supporters would welcome him back. The apocalyptic third season is why just as many would not.
Premier League Power Rankings: Week 11

Show all 17
Madrid were out of the title race well before Christmas. "Seeing how hard it had been to get the better of Barcelona and to win La Liga and to then, in a sense, give it away so quickly, Jose didn't take it at all well," Arbeloa remembers.
"He demanded all the time more from us. And when there are a lot of demands, and when in the end there is friction, it wears down the dressing room a bit. I used to see him with dark rings under his eyes and thinking: 'this guy is not sleeping, he is not relaxing'."
Mourinho's successor at Real Madrid, Carlo Ancelotti, is the supreme ego smoother. It's clear from what Arbeloa says that Mourinho is not.
"He is not able to say: 'How's it going? What's happening? How do you feel?' to a player who isn't trying. If he has a player who isn't giving 100 per cent then he isn't capable of putting an arm around his shoulder."
He wouldn't be the first great coach to not indulge under-performers but what of the public criticism of players? Arbeloa sees it as a last resort: "If you give everything but it's not your day he is never going to come out and criticise you. But if he sees that he defends a player in public and nothing changes then he thinks 'well, maybe I'll wake them up another way'."
This season Cesc Fabregas, Eden Hazard, John Terry and Nemanja Matic have all been picked out. In his last season at Madrid, he took on Iker Casillas, Sergio Ramos and Cristiano Ronaldo.
Spats with the former two are well documented; the deterioration of his relationship with Ronaldo was a slow-burner, although there are stories of one heated dressing-room exchange between the pair with Arbeloa among the peacemakers keeping them apart.
"When a coach spends long enough at a club there are always flare-ups. It happened with Mourinho but look at the Ferguson boot incident with Beckham. Every coach, when the pulse is racing, can say something and a player jumps up and responds but Jose, in the three years he was here, we practically never had that kind of situation."
Mourinho's style of football was criticised, too. His team liked to let the other side have the ball, wait for them to make mistakes, and then punish them. Klopp decided his Dortmund team would play exactly the same way against Real and the tactic worked.
Arbeloa says: "Everyone gets labelled. Here they say that Benitez is very defensive and yet we are the team that takes the most shots at goal. You don't win the Premier League the way Chelsea won it last season only playing on the counter-attack. They have top players and they can play perfectly well when it's the other team that sits back and most of the time teams were doing that last season. You can't tell me that players such as Matic and Fabregas don't know how to play."
He also has no time for the theory that Mourinho burns his players out after two years. "We should be able to cope with the maximum being demanded of us. If us players burn out in the third season I don't think it's Mourinho's problem."
Energy is something Mourinho himself never seems to lack. At times he looks like someone who once he stares down at the chess board and sees that he's three moves from being put in check-mate, flips it up into the air sending the pieces flying. Does he hate losing so much, he would rather just lose the plot?
"He is not used to losing, it really burns him up inside," says Arbeloa. "But I think ultimately it is that inner energy that enables him to turn things around. If he accepted it better – if he settled for second best, if he said: 'you can't always win', he would be just like any other coach. Perhaps that is what distinguishes him from the rest."
He almost says: "that's what makes him special". It's been a long time since Mourinho, or anyone else called him special without it being a reference to the tired old moniker. Is he running out of suitors should he leave Chelsea?
"He has won the league in England, Italy, Spain and Portugal and two Champions Leagues with two different clubs. You can't have any doubts about him. He still guarantees success. His problem is that he has spoiled people – every club he has managed, he has won things. He could retire today and he would go down as one of the best coaches in history. So imagine what he can still achieve in the future."
Could that future even include a return to Real?
"I've been asked before and I always say: 'yes, why not?' He is very direct and he tells people straight and that upsets some. There are a lot of people that are waiting [for him to fail] but there are a lot more people waiting to see him turn things around. I don't think the door at Real Madrid is shut to him."
Register for free to continue reading
Registration is a free and easy way to support our truly independent journalism
By registering, you will also enjoy limited access to Premium articles, exclusive newsletters, commenting, and virtual events with our leading journalists
Already have an account? sign in
Join our new commenting forum
Join thought-provoking conversations, follow other Independent readers and see their replies