Pep Guardiola 'killed my confidence' at Man City, Angelino reveals
Spaniard says Julian Nagelsmann has given him the trust required to thrive, something he never felt he had at the Etihad 
Melissa Reddy
Senior Football Correspondent
Wednesday 24 February 2021 16:23 Comments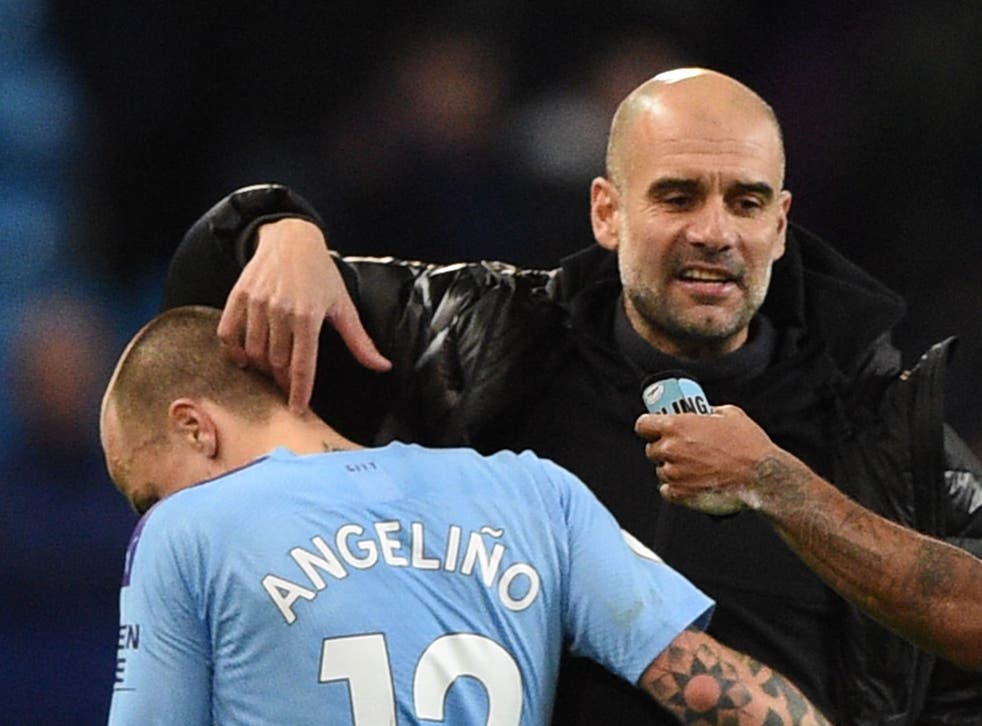 Angelino has admitted a frustrating spell under Pep Guardiola at Manchester City threatened to derail his career, before becoming a standout performer in the Bundesliga and Champions League with RB Leipzig.
The 24-year-old had been on loan at the Red Bull Arena since January 2020, but the German club triggered their £16million purchase option last week to secure his talents on a four-and-a-half-year deal.
Angelino, an attacking weapon for Leipzig regardless of where he is stationed on their left side, has contributed eight goals and 11 assists already in the campaign.
But he was restricted to just 15 senior appearances during his period with City, whom he joined in 2013 as a teenager from Deportivo La Coruna.
Temporary spells at New York City, Girona, Real Mallorca and NAC Breda marked most of his time on their books, before Angelino joined PSV on a permanent deal in 2018.
City activated their buy-back clause to recruit him a year later, but it was not to the benefit of the player.
When asked about the contrast between Leipzig manager Julian Nagelsmann and Guardiola during a Zoom interview from his club's expansive training base, Angelino said: "They both like to play with the ball, get the ball quick, there is one thing that is a big difference: one gave me the confidence and played me and the other didn't.
"I'm just thankful to Julian for the trust and, sometimes you need - I don't want to use a bad or wrong word - you need courage to put a player in and he did that from the first game."
Building on that, Angelino reviewed his time at City as "a 50/50 experience. On one side I really learned a lot from Pep, but I obviously I didn't play as much as I wanted to or deserved to."
Drilling down into his relationship with Guardiola, he said not feeling any faith in his abilities from the manager "killed me. For me, confidence is everything. When you don't have the trust, like I do here with the coach – it affects everything. I was judged for pre-season – two games – and then I didn't get my chance for a few months. It's hard to play one game every two months."
Nagelsmann is on record about Angelino's tirelessness, saying the player does not like to be rotated nor be told to lessen his extra shifts after training.
"I had a rest when I was with Pep for six months," he offered in response to his manager's comments.
"That was enough. I don't want it again. That's why I want to be on the pitch… I've had enough holidays."
Register for free to continue reading
Registration is a free and easy way to support our truly independent journalism
By registering, you will also enjoy limited access to Premium articles, exclusive newsletters, commenting, and virtual events with our leading journalists
Already have an account? sign in
Register for free to continue reading
Registration is a free and easy way to support our truly independent journalism
By registering, you will also enjoy limited access to Premium articles, exclusive newsletters, commenting, and virtual events with our leading journalists
Already have an account? sign in
Join our new commenting forum
Join thought-provoking conversations, follow other Independent readers and see their replies