As it happened
ended
1519338185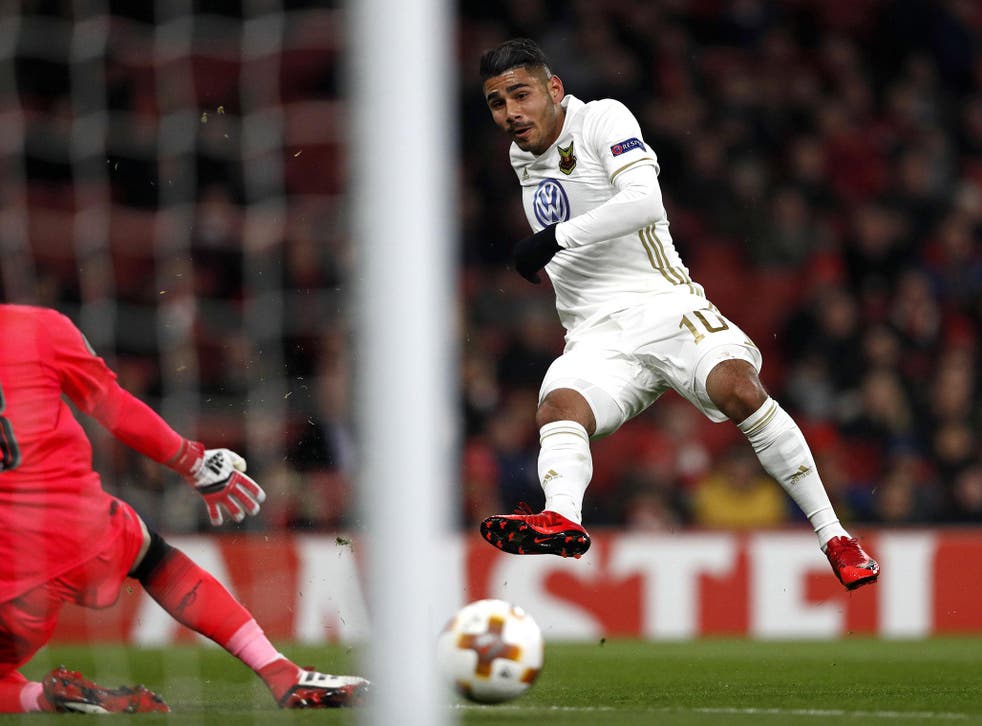 Arsenal survived a fright to reach the last 16 of the Europa League, after two goals in 69 seconds brought Ostersund back into the tie, before Sead Kolasinac killed the game.
Relive the match in our live blog:
---
1519325577
Hello and welcome to our LIVE coverage of Arsenal vs Ostersund in the Europa League!
Liam Corless
22 February 2018 18:52
1519325787
Arsenal team news
Perhaps surprising to see Hector Bellerin and Jack Wilshere in the starting XI, especially with qualification all but wrapped up and the League Cup final to come on Sunday.
Liam Corless
22 February 2018 18:56
1519326467
Fans arrive at the Emirates ahead of tonight's game 
Liam Corless
22 February 2018 19:07
1519326749
Ostersund team news
In case you were interested, this is how the visitors line up for tonight's match:
Liam Corless
22 February 2018 19:12
1519327009
A reminder of how the first leg in Sweden went down:
Liam Corless
22 February 2018 19:16
1519327565
David Ospina starts for the Gunners tonight and he will also line up ahead of Petr Cech in Sunday's Carabao Cup final against Arsenal at Wembley.
Earlier this week, Arsene Wenger explained why. He said:
"It's always a difficult decision but I think they are clear about that.

"Since the start of the season, it's clear. He played in the whole competition. I have two world-class goalkeepers and I decided from the start on to have clarity in the games they play. I maintain that."
Liam Corless
22 February 2018 19:26
1519327950
Wilshere the skipper
The midfielder will wear the armband for Arsenal tonight.
Liam Corless
22 February 2018 19:32
1519328426
Jenas: World Cup place still a possibility for Welbeck
Jermaine Jenas reckons Danny Welbeck can still work his way back into Gareth Southgate's plans for the World Cup.
The striker starts tonight's game and a few moments ago Jenas had this to say about his England chances:
"Danny Welbeck's had a lot of serious injuries and he's never really got any rhythm going in his game.

"Tonight is a good opportunity for Danny. He needs some goals and if he can get himself into the right areas and be as composed as he needs to be to putt he ball in the back of the net.

"It's good to see him back for Arsenal and for England. That's still there for Danny Welbeck in the summer. If he can get himself in form he's got a real chance [of making the World Cup squad]."
Danny Welbeck's shirt hangs in the Emirates' home dressing room prior to tonight's match 
Liam Corless
22 February 2018 19:40
1519329156
Pre-match quotes from Arsene Wenger
On whether qualification is a formality:
"Unfortunately it's not a formality and we have to show that we are focused. We have to be intelligent and we need to produce a good performance."
"It's a similar team to the team we played in Ostersund. Ozil doesn't play because he is sick. Tonight is the priority because this is an important competition for us."
Liam Corless
22 February 2018 19:52
Join our new commenting forum
Join thought-provoking conversations, follow other Independent readers and see their replies