'Playing Arsenal is like Christmas': How Graham Potter transformed Ostersund and inspired Sweden's north
As Ostersunds FK prepare to face Arsenal in the Europa League, Swedish legend Henrik Larsson, who lost to Potter with Helsingborg, helps explain the talented Englishman's unique methods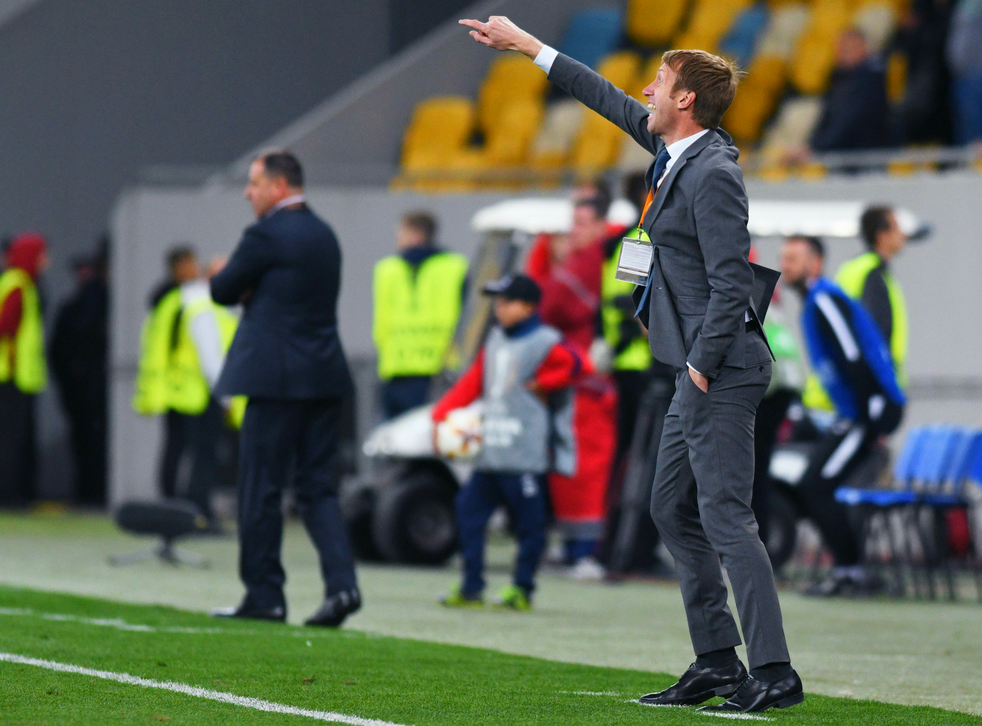 For a stark indication of Arsenal's regression in recent years, look no further than Thursday evening's visit to subzero Ostersund. Around the same time their London rivals take on Barcelona and Juventus in the Champions League, Arsenal are heading to a small town in the vast Swedish tundra better known for ice skating than football, for the first leg of their Europa League last-32 tie.
Ostersund's population of 50,000 could fit inside the Emirates with room to spare; their football club, formed in 1996, is younger than Alex Iwobi. To call it a mismatch would be an understatement and as Arsenal arrive in Vinterstaden – the Winter City – they may reflect with a shiver on exactly how they got here.
For Ostersunds FK, on the hand, the visit of a European giant reflects a magnificent ascent under their inspirational English manager, Graham Potter. In his first managerial post, the former university football coach has dragged Ostersund from the fourth tier to the top flight in only six years, and qualified for the Europa League after bulldozing their way to the Swedish Cup.
Potter was living a settled life in West Yorkshire with his young family when the opportunity came along to put years of coaching and studying to the test. The gamble has paid off spectacularly, and its effects have rippled out from the Jamtkraft Arena.
"Our success has made a huge impact on the whole town and the whole region," says club secretary Lasse Lindin, one of Ostersunds FK's founding fathers. "This part of Sweden is as big as Belgium and Holland together, but it's only 125,000 people. There has been a negative feeling living here – the first thing young people say when they finish school is 'I want to move to Stockholm'. Our success has made people believe and understand that you can do a lot up here. You can have success in the biggest sport in the world, and you can do it by yourself."
When a 36-year-old Potter arrived, Ostersund were playing in front of 500 fans, half of whom wanted them to lose. They had no video, so he would drive nine hours just to scout a player; the isolation left his wife in tears every day for six months. "Where?" potential recruits would ask. But Potter was persuasive, selling Ostersund as a place to improve free from distraction. He quickly unified a group of misfits behind a slick passing game rarely seen in Sweden, and they have been picking off the biggest clubs in the land ever since – especially at home in their northern wilderness.
One of those victims was Henrik Larsson, whose Helsingborg side lost 2-0 here in Ostersund's first season in the top flight. "The way he is able to change his pattern of play during games is so impressive," Larsson tells the Independent. "I remember scouting them when I was at Helsingborg. They played all different kinds of systems, starting off a match one way, and then halfway through they started playing a different system, and then they ended up with a third system. And all the players knew exactly what they were doing."
Potter's training sessions are almost entirely with the ball, and are focused on each player finding a solution to the specific problems he will face on the weekend. He has a distinctive approach to man management, honed during his masters degree on leadership and emotional intelligence, centred around a culture in which it is OK for players and staff to make mistakes, as long as they learn from them. It goes beyond training; the club now put on an annual performance for the town to take players out of their comfort zone – Swan Lake was an unequivocal hit.
"I remember the first year, I sat down and had a chat with Graham," says Landin. "Most football coaches only talk about formations, but Graham was talking about the learning process and how to build a human being. He was totally different as a football coach. For me, as a former teacher, it was amazing. He understands that the players and the staff are humans, and knows how to get as much as possible from every individual without taking the group feeling away.
"And of course he is a very, very good coach; he knows how and what to do in the game to get points. That happens not every game but nearly every game, that you can see how he can make changes at half-time to make a big impact. I try as often as I can to attend his pre-match meetings. It's very interesting to understand more about the tactical solutions drawn up for the next game. He can identify changes without taking away our way of playing."
Ostersund's first dalliance in Europe has seen the club knock out Hertha Berlin and Galatasaray to get this far. Against the Turkish giants Landis says Potter instilled an indestructible belief, and after Ostersund earned the draw they needed in the second leg, the Istanbul club's famously hostile support gave them a standing ovation.
Arsenal present a somewhat tougher test, the second favourites for the Europa League (after Atletico Madrid) possessing world-class talent, the likes of which have not graced the Jamtkraft's astroturf before. "Arsenal should win, 10 times out of 10," says Larsson. "But I'm telling you: I hope they don't underestimate Ostersund because then they will have a very tough time up there."
For Ostersund, Thursday's match is a challenge but it is also an occasion to celebrate. "Arsenal is something special, it's like Christmas for us," says Landis. "Everyone in Sweden has a special relationship with English football because we've had it on TV since the 60s. The rest of Sweden thought we were a bit crazy up here because we said we were going to compete in Allsvenskan and play in Europe. Now people in Sweden have taken Ostersund to their hearts. They think it's good in football, and in life, when you see a small club doing something like this."
Potter's Nordic revolution will go on a while longer whatever the result, but pulling off the unimaginable against Arsenal would write his story's most inspiring chapter yet.
Join our new commenting forum
Join thought-provoking conversations, follow other Independent readers and see their replies