Arsene Wenger reveals he will decide whether Jack Wilshere has an Arsenal future in December
Wilshere will be sold in January if he doesn't break into the first team by then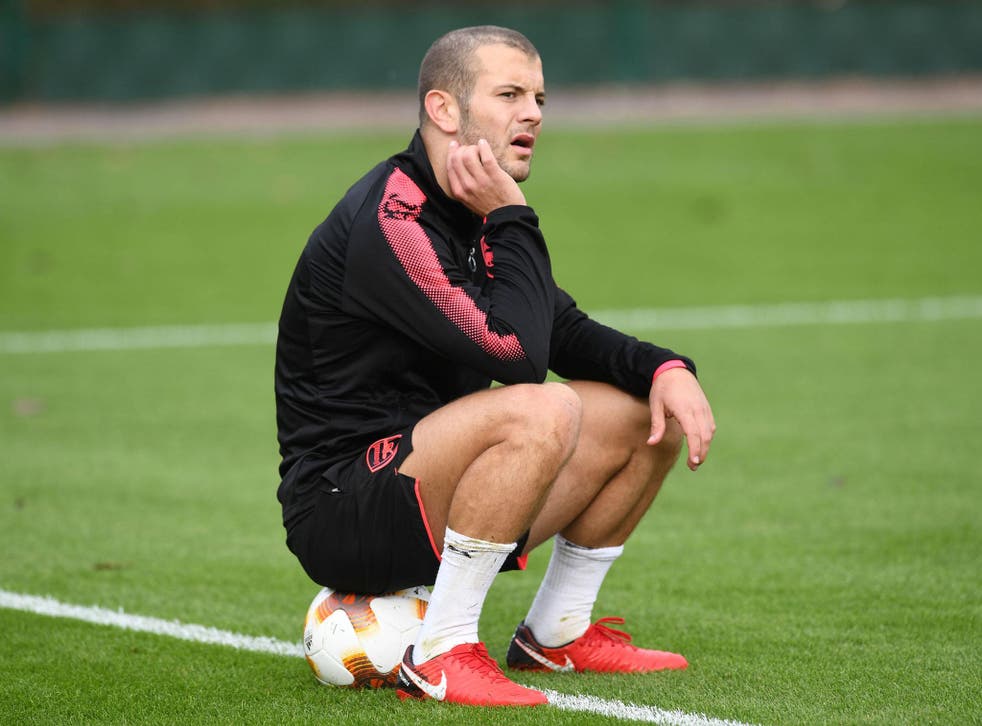 Arsene Wenger will decide next month whether Jack Wilshere has earned a new Arsenal contract, giving the club the chance to sell him in January if he has not.
Wilshere will make his fifth start of the season on Thursday night, against Red Star Belgrade in the Europa League, part of his campaign to prove to Wenger that he still has a future at the Emirates. He has still not forced his way into the Premier League side, meaning these low-level games against ordinary opposition are the only way he can prove whether this will be his last season as an Arsenal player or not.
So far this season Wilshere has started away at BATE Borisov and in Belgrade, as well as twice in the Carabao Cup, as he tries to rebuild an Arsenal career that looked finished last year. His contract expires next June, so the clock is ticking on a decision about his future. Wenger will make up his mind next month, meaning that if he does not choose to keep Wilshere, he can sell him in the January transfer window.
Arsenal vs BATE Borisov: Player ratings

Show all 12
"I said many times that [Wilshere's future] would be decided in December," Wenger said. "I wanted to give him six months not to think about that and see where we go." Now Wilshere only has two months left. After this game there are two more Europa League group stage games as well as the Carabao Cup quarter-final against West Ham United. He will have to get into the Premier League team at some point to stay.
Wilshere will continue in his more advanced role tonight, effectively as an inside-forward in Arsenal's 3-4-2-1 system, alongside Theo Walcott, behind Olivier Giroud. It is where Mesut Ozil and Alexis Sanchez play for Arsenal and if Wilshere continues to improve, he could conceivably replace one of them next year if they leave.
"In my head he's more a higher up player [than a midfielder]," Wenger explained. "I see him more as a player who can affect the game in the final third than a box to box player. I see him more as somebody who has a quick response, quick reactions in the final third and the quality of the pass in the final third. He turns well the game forward, he can chip a little ball, he can pass people on the short space. That's why I think the system suits him well."
Despite Wenger's reluctance to play Wilshere in the Premier League, he still wants Gareth Southgate to recall him for the England friendlies later this month against Germany and Brazil at Wembley.
There was a time, at the start of Wilshere's career, when Wenger was anxious about his over-exposure to international football, and he famously argued hard against his inclusion at the 2011 European Under-21 Championship. But after years ruined by injury, Wenger is now keen for Wilshere to play for England as often as possible. He championed his ill-advised inclusion at Euro 2016 – when Wilshere last played for England - and now wants him to involved later this month.
"I think he's ready, personally," Wenger said of Wilshere. "He was not three weeks ago, he is today. I personally think a super-fit Jack, I don't know how you can keep him out of the England squad. I spoke to [Southgate] about Jack before the Swansea game. I don't know if he will be called up. He just asked me how he is and I said no restrictions. He's in a very good way."
Wenger also believes an England call-up would be a psychological boost for a player who has had enough bad news recently. "I am convinced it would help him, personally," Wenger said. "When you have been so frustrated at so many times, every positive experience is welcome. It would be a positive as well because you have the World Cup and you have a new manager who has not called him up yet. So that for certain would play a positive part in his head."
Register for free to continue reading
Registration is a free and easy way to support our truly independent journalism
By registering, you will also enjoy limited access to Premium articles, exclusive newsletters, commenting, and virtual events with our leading journalists
Already have an account? sign in
Register for free to continue reading
Registration is a free and easy way to support our truly independent journalism
By registering, you will also enjoy limited access to Premium articles, exclusive newsletters, commenting, and virtual events with our leading journalists
Already have an account? sign in
Join our new commenting forum
Join thought-provoking conversations, follow other Independent readers and see their replies