Arsenal vs Galatasaray: Arsene Wenger has no answers as injury crisis stretches Arsenal midfield
Arsenal have a crisis in midfield and just four fit senior defenders
Steve Tongue
Wednesday 01 October 2014 18:25 Comments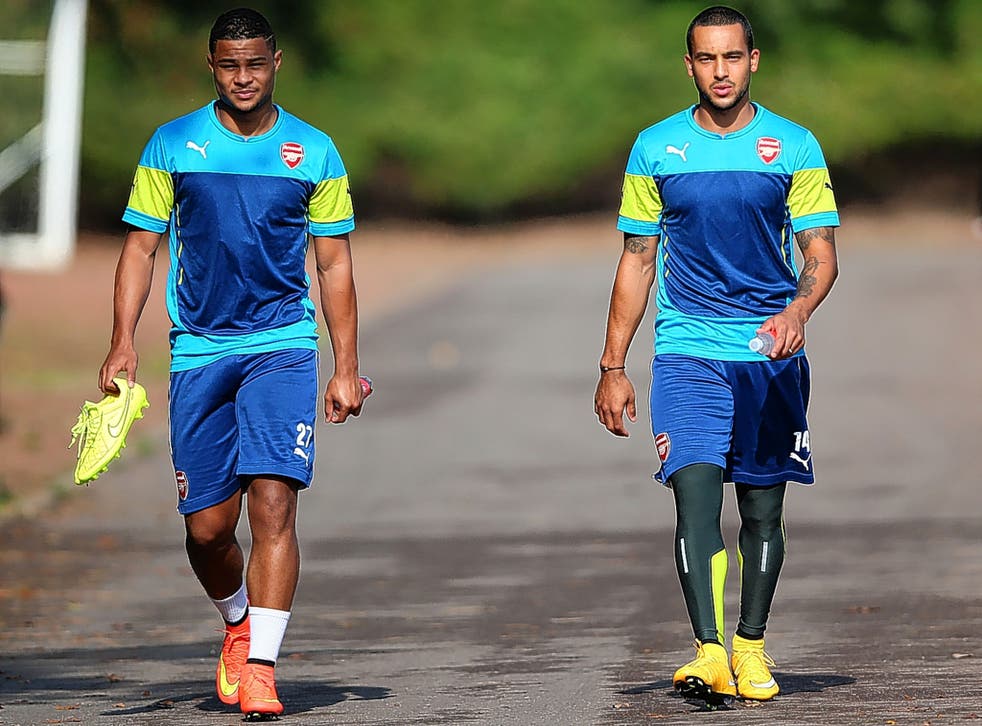 In the 1939 film The Arsenal Stadium Mystery, a player dies on the pitch. Things are not quite that bad at the Emirates currently, but the number and range of injuries is worrying minds as meticulous as Arsène Wenger's, who admits that, unlike Inspector Slade of Scotland Yard 75 years ago, he has yet to find the answer to the puzzle.
After a review this summer into why Arsenal picked up so many knocks, the club appointed Shad Forsythe, who had worked with Germany's World Cup-winning squad, as "head of athletic performance enhancement".
Yet they go into tonight's second Champions League group match at home to Galatasaray with at least half a dozen senior players missing, from Theo Walcott, who damaged his knee in January, through Olivier Giroud, who signed a new contract on Tuesday, to new signing Mathieu Debuchy, who will be out for three months.
Now you can add a trio of midfielders whose injuries in the 1-1 draw against Tottenham on Saturday could not all be put down to excessive derby day aggression.
Mikel Arteta and Aaron Ramsey were immediately ruled out of both tonight's game and Sunday's trip to Chelsea, although Jack Wilshere's ankle has healed sufficiently for him to have a place in the squad. Abou Diaby is not being considered; Walcott finally begins full training next week, along with Serge Gnabry.
Various theories have been advanced over the past few seasons for the casualty lists, from Arsenal being such a close-passing team vulnerable to late tackles, to them having a hard home pitch. Wenger, who celebrates 18 years at the club today, does not dismiss the latter possibility, although as he points out: "Even if we look at it, you have to play on the pitch until the end of the season. No choice."
As a student of all aspects of sport, the manager has clearly looked at the problem in some depth, and while unwilling to divulge too much detail, he appears short of clear conclusions: "You don't rule anything out. We made a lot of changes. In the way we prepare, in the way we work on prevention for injuries. It's a question mark, why do you get the injuries? We know a lot more than 18 years ago than when I arrived but still not enough to predict 100 per cent scientifically what happens to everybody."
There is certainly no shortage of cases to investigate, with Wilshere's ankles and Ramsey's muscles causing regular problems, while Diaby has rarely been fit for three years. As Wenger said of left-back Kieran Gibbs, established again ahead of the injured Nacho Monreal, "You need to feel that you trust your body – we sometimes forget that the first quality of a good football player is health."
All in all, it is just as well that Wenger recruited in defence and attack in the last transfer window, while retaining one of the largest midfield contingents of any club. To persist with a 4-2-3-1 formation tonight, he will need most of the fit members of that department against a Galatasaray side who do not look as formidable as sometimes in the past – including 2000, when they beat Arsenal on penalties in the Uefa Cup final.
Without a win from nine visits to England, they are now an ageing side built around the 30-year-old Wesley Sneijder, and needed a last-minute equaliser by Burak Yilmaz to avoid an opening defeat at home to Anderlecht. That still gives them one point more than Arsenal, whose 2-0 reverse away to Borussia Dortmund a fortnight ago was the first time they had lost their opening group match since Internazionale stormed Highbury in 2003, scoring three times before half-time.
It need not discourage them, as in that campaign they had a single point after three group games, then won the other three (including a 5-1 triumph over Inter at San Siro) and finished top.
Furthermore there is no manager more steeped in Champions League know-how after 17 successive seasons than Wenger, who said: "We are not the first team to lose in Dortmund. We are maybe more under pressure to win the game than if we had won the first. But it is the same in the Champions League – you need one good result away from home and then win all your home games."
Register for free to continue reading
Registration is a free and easy way to support our truly independent journalism
By registering, you will also enjoy limited access to Premium articles, exclusive newsletters, commenting, and virtual events with our leading journalists
Already have an account? sign in
Register for free to continue reading
Registration is a free and easy way to support our truly independent journalism
By registering, you will also enjoy limited access to Premium articles, exclusive newsletters, commenting, and virtual events with our leading journalists
Already have an account? sign in
Join our new commenting forum
Join thought-provoking conversations, follow other Independent readers and see their replies