Arsene Wenger praises David Ospina after Arsenal stroll against Ostersund in Europa League
The goalkeeper saved a late penalty to prevent the Gunners leaving Ostersund with a 'bitter taste'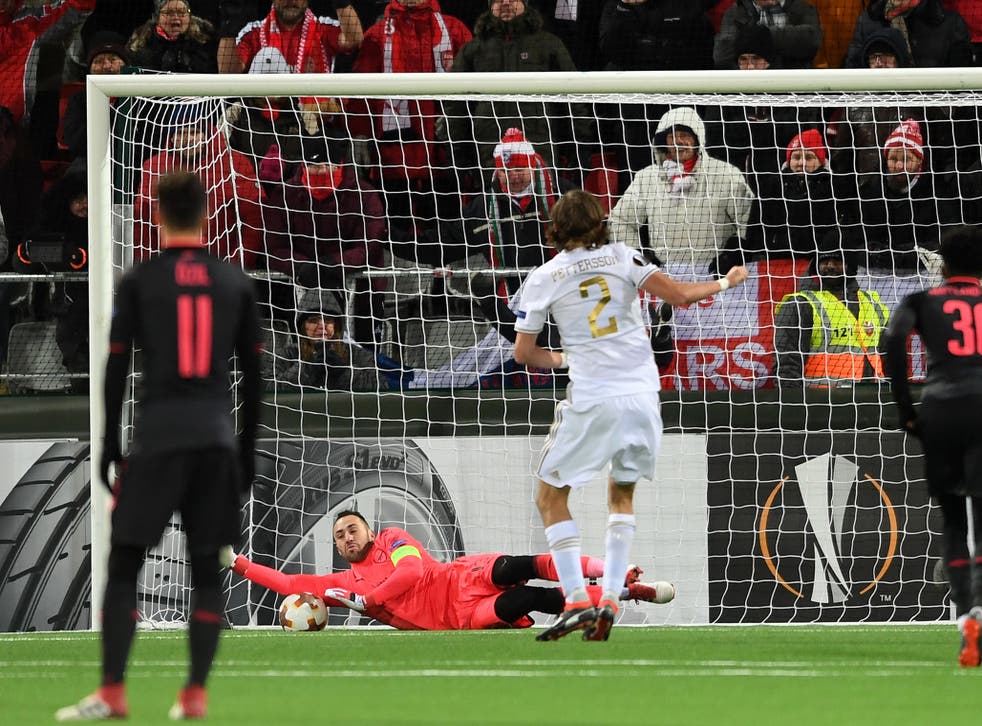 Arsene Wenger praised David Ospina's performance in Arsenal's 3-0 Europa League win after the goalkeeper saved a late penalty to prevent the Gunners leaving Ostersund with a "bitter taste".
Nacho Monreal's tap-in, an own goal and a Mesut Ozil strike handed Arsenal a healthy lead in the round-of-32 tie as they overcame the bitter cold and an astroturf surface in Sweden.
Ospina, Arsenal's captain on the night, made several stops as Ostersund grew into the contest, capping his display by saving Tom Pettersson's spot kick, and Wenger was pleased with both his goalkeeper and his team's overall display.
"For me [the penalty save] was very important, to not tarnish our performance tonight," he reflected. "It would have been a bitter taste.
"We did the job. We started well and controlled the game against a side who are good, you can see it's a quality team, but once we opened the score I think we were in control.
"Maybe we didn't push enough in the final third in the second half, but overall we played a serious game, job done. (They looked) very nervous at the start and we took advantage of it."
Graham Potter's minnows recovered from a sluggish start and were left feeling hard done by to end such a significant night in the club's short history without a goal that their play probably merited.
"Overall they played well," said Wenger. "They didn't give up, they continued to fight until the end. Their captain [the midfielder Brwa Nouri] was impressive, a very good player. They had a positive attitude.
"Watching them tonight, I can understand why they have had so many good results in the Europa League."
Potter lamented his team's slow start to the match but was not prepared to criticise his players, despite some defensive errors, particularly from his goalkeeper Aly Keita.
"It was a difficult start for us, that's fair to say. We weren't ourselves. But the important thing is to put this into context. For Ostersund to play Arsenal in the last 32 of the Europa League, and to have kids looking at the game and seeing world class stars in this arena, is a sort of victory for us."
Despite Arsenal's commanding position in the tie, and the EFL Cup final against Manchester City days after the second leg, Wenger said he would not rest players for the return fixture. "I don't think I will rest players. We will try to win the game again."
Join our new commenting forum
Join thought-provoking conversations, follow other Independent readers and see their replies