Barcelona defender Eric Abidal send Tito Vilanova his support
Coach to undergo surgery and chemotherapy
Thursday 20 December 2012 12:25
comments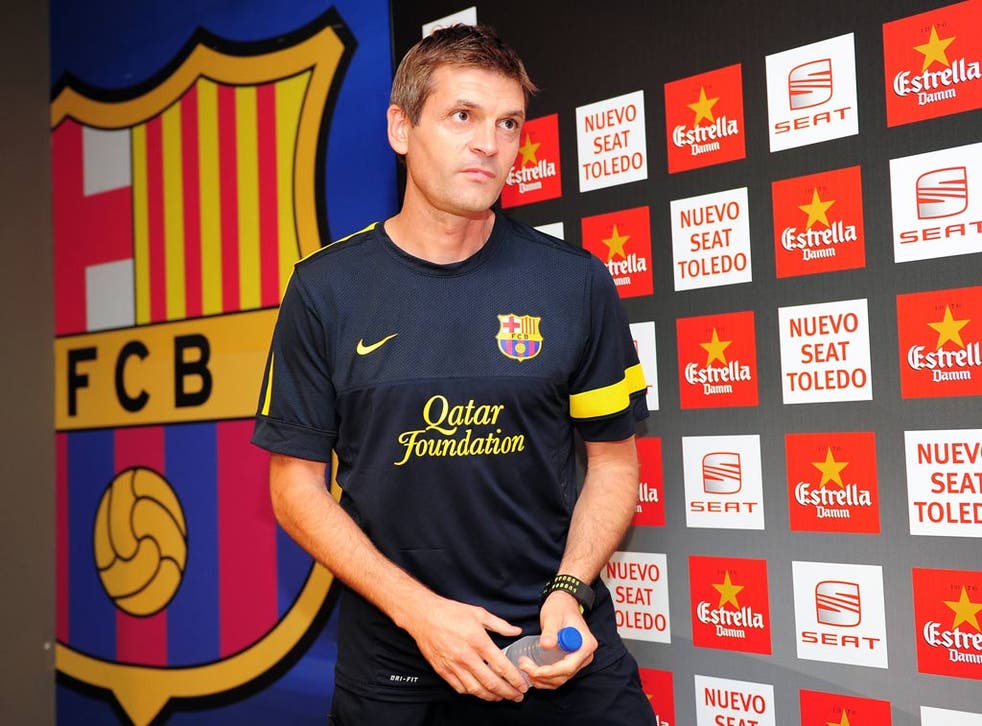 Barcelona defender Eric Abidal has offered his support to Tito Vilanova after his return from cancer treatment yesterday was overshadowed by news his coach faces a new fight against the illness.
Vilanova, 44, was due to undergo an operation on his parotid gland today and faces six weeks of chemotherapy.
Barcelona confirmed the news last night, coincidentally, on the same day Abidal returned to training for the first time since he needed a liver transplant in April.
Abidal's return was a significant step in his bid to continue his career, however, he admitted he had been left thinking only about his ailing boss.
"I confirm you that I have started again the collective training with the group," he wrote on his Facebook page today.
"I hope to come back soon on the fields, but I can't stop thinking of our coach, Tito Vilanova: I wish him and his family, a lot of courage!"
Barcelona were due to release a statement on Vilanova later today as he faced his second surgery in just over a year.
Vilanova, who took over from Pep Guardiola in the summer, initially had a tumour removed from his throat in November last year.
Barcelona held a specifically-convened press conference last night in which president Sandro Rosell offered Vilanova the club's unconditional support.
Rosell, who was flanked by on-field leaders Carles Puyol, Xavi, Andres Iniesta and Victor Valdes, revealed assistant manager Jordi Roura would take interim charge, however, he said he expected Vilanova would quickly return to the touchline.
The club even opened the door for Vilanova to return during his recovery, with a statement saying his "treatment may be compatible with his work life".
"Tito is strong, very strong. He's shown us that and we're convinced he'll back with us very soon," Rosell said.
"We want to express our unconditional support to Tito and his family.
"We thank everyone for their support. We have complete confidence in the team. The club is very strong and united, we're capable of overcoming adversity."
Speculation in the Spanish press has already linked Guardiola, who left the club to take a year-long sabbatical in the summer, with a return, but sporting director Andoni Zubizarreta denied any contact had been made.
Barca travel to Real Valladolid on Saturday before the winter break and Zubizarreta emphasised Vilanova, who has led the La Liga leaders to their best ever start, remained in charge.
"Tito is our coach and will continue to be our coach," he said. "Jordi (Roura) will be on the sidelines for Valladolid, but all the rest is pure speculation."
Zubizarreta also expressed his shock at the news, saying: "It was difficult news to hear.
"Tito's only concern has centred on his children and his family. The only person he has not spoken of is himself."
PA
Join our new commenting forum
Join thought-provoking conversations, follow other Independent readers and see their replies