Who is Lucas Lima? The energetic assist machine and set-piece specialist that Barcelona have signed on a free transfer
Lima is a crafty, creative attacking midfielder and will be missed by Santos. But his habit of picking up niggling injuries as well as his age mean that the transfer is hardly risk-free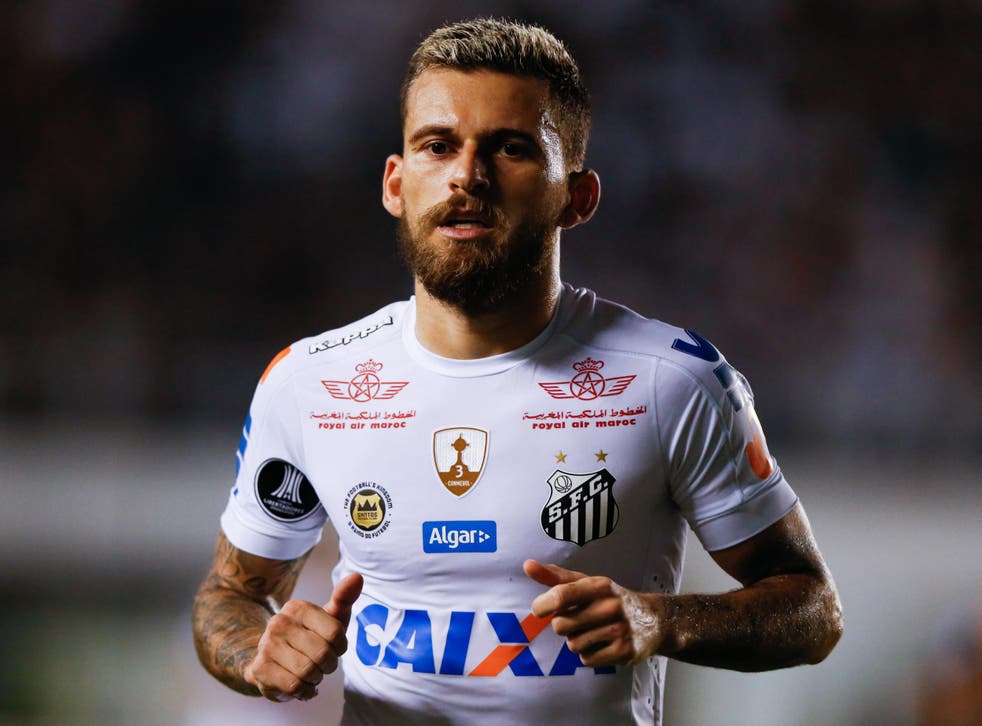 Barcelona have reportedly set up a deal to sign playmaker Lucas Lima from Santos.
According to Fox Sports Brasil, the 26-year-old will sign a pre-contract agreement with the Catalans on 1 July, six months before the end of his Santos contract. That would allow him to move to the Camp Nou in January for free.
The agreement, which has yet to be confirmed by either club, is believed to have been brokered in part by Neymar's father, who has been acting as an adviser to Lucas since November. Neymar himself is also said to be keen for his Brazil team-mate – with whom he has a blossoming friendship away from the pitch – to join him at Barça.
Lucas' departure would be a blow to Santos, who were hoping that the midfielder would extend his contract at the Vila Belmiro. The seasiders put together a sizeable offer by Brazilian standards, with weekly wages of around £22,000 plus bonuses over four years. "It's a good offer," said club president Modesto Roma Júnior last week. "If I was Lucas, I would accept it."
But it appears that a meeting scheduled with Neymar Sr at the start of the week pushed Lucas towards the 'twist' option, with Barcelona clearly an attractive proposition to a talented operator who would have been forgiven for fearing the chances of a big European break were receding.
Lucas has long been one of the best players in Brazil. Signed from Internacional in 2012, he slowly established himself as one of the pillars of the Santos side, running matches from midfield and providing the bullets for the forwards. "Lucas is a class apart," swooned club legend Pepe in 2015. "In that left foot, there's something of Rivellino or Gérson."
His early displays also invited comparisons with his playmaking predecessor at the club, Paulo Henrique Ganso. They do share certain stylistic similarities – GPS-like vision, ability to slip dagger-passes between the ribs of a defensive block – but the younger man is more energetic, more dynamic, more modern. He scuttles into dangerous positions, can dribble his way out of danger and would not look out of place on the left of a midfield three.
At his best, Lucas is an assist machine, picking out team-mates with laser-guided through balls and causing havoc with his excellent set-piece delivery. The chief beneficiary at Santos recently has been veteran forward Ricardo Oliveira, who has thrived on the service and will probably miss Lucas more than most.
There are reasons to be cautious about his prospects in Spain. For starters, he has struggled with niggling injuries over the last couple of seasons, which have disrupted his rhythm and forced Santos to come up with a selection Plan B a few more times than they would have liked.
Then there is the age factor. Lucas is no young buck: he turns 27 next month and as such Barcelona cannot really argue that this is a player they can develop like they might a teenager. He probably has the intelligence to adapt to new demands, but on a fundamental level he's moving as a finished article rather than a work-in-progress. It's either going to work or it's not.
It's a gamble for player and club, then, but one whose consequences Lucas has presumably been considering for some time. He has been steadfast in his refusal to move to China in recent months (he has had more than one lucrative offer) and now looks set to get the rewards for his patience. The question in January will be whether he can leverage his bit part into a starring role.
Join our new commenting forum
Join thought-provoking conversations, follow other Independent readers and see their replies