Borussia Dortmund 3 Malaga 2 match report: Jurgen Klopp shocked by his side's great escape in the Champions League
Borussia Dortmund win 3-2 on aggregate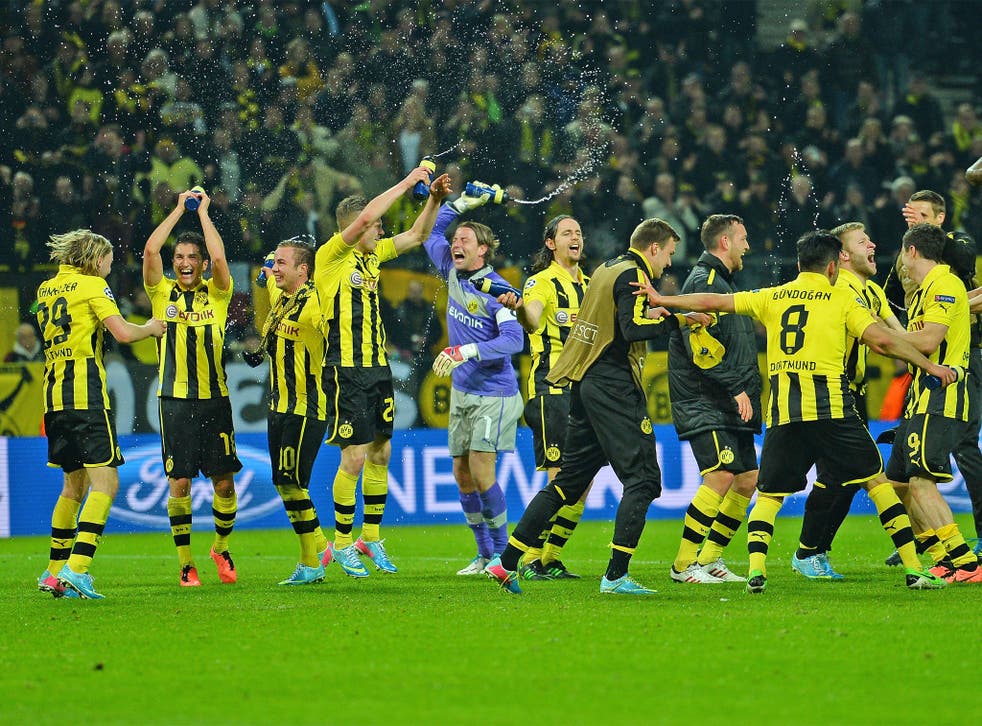 Borussia Dortmund's dramatic Champions League quarter-final win over Malaga left the Germans dizzy with success while their opponents were fuming over the controversial late winner.
The former European champions scored twice in added time, including a seemingly offside winning goal from defender Felipe Santana, that saw them complete a sensational comeback and advance to the last four for the first time in 15 years.
Several Dortmund players in front of Malaga goalkeeper Willy Caballero looked offside when the ball was crossed for the winning goal and Santana also appeared offside when he scored.
"I just can't really believe this," said the Dortmund defender Never Subotic. "This is the craziest moment in all of my football career. Up until now it has been a Hollywood movie, hopefully it will have a Hollywood ending."
The Germans, who last reached the semi-finals in 1998, a year after winning the trophy, looked on their way out when Eliseu scored from close range to put Malaga 2-1 up in the 82nd minute. However, his goal should also have been ruled out for offside as the officiating team led by Scotland's Craig Thomson ensured this memorable contest would be tainted by controversy.
Dortmund, needing two goals to advance after their goalless draw in Spain last week, pulled one back through Marco Reus a minute into stoppage time to rekindle their hopes.
Santana then scrambled the ball over the line from what looked an offside position to complete a dramatic night and protect Dortmund's unbeaten Champions League run this season.
Earlier, Joaquin's 25th-minute opener for Manuel Pellegrini's visitors was cancelled out by Robert Lewandowski's superbly crafted goal five minutes before the break,
"I cannot explain what has happened to me after that," Dortmund coach Jürgen Klopp said. "I think I need to see a doctor. It feels like we have won the trophy."
For the Spaniards it was a complete contrast of emotions. "We are still trying to take in what has happened. The dressing room is very depressed," said the former Manchester City forward Roque Santa Cruz. "It was a game that incredibly we let slip out of our hands In the end they had a lot of luck. Not only for scoring goals but because of the situations as well. The third was offside. They had a lot of luck."
"We are very disappointed. We were four minutes from a semi-final and everything slipped out of our hands in those last few minutes."
Malaga's Qatari owner, Sheikh Abdullah al-Thani, appeared to blame the defeat on "racism", without saying who the accusation was aimed at, and urged European soccer's governing body Uefa to open an investigation into the match. "Thank you very much for the team you have been champions on the pitch. I'm sorry to go out this way injustice and racism," Thani tweeted. "I hope to open a thorough investigation [by] Uefa regarding the Spanish club [going] out this way. Which does not affect the spirit of sport," he added after the final whistle. "This is not football, but racism and clear of all."
Register for free to continue reading
Registration is a free and easy way to support our truly independent journalism
By registering, you will also enjoy limited access to Premium articles, exclusive newsletters, commenting, and virtual events with our leading journalists
Already have an account? sign in
Register for free to continue reading
Registration is a free and easy way to support our truly independent journalism
By registering, you will also enjoy limited access to Premium articles, exclusive newsletters, commenting, and virtual events with our leading journalists
Already have an account? sign in
Join our new commenting forum
Join thought-provoking conversations, follow other Independent readers and see their replies