'We are a step in front': How Carlos Carvalhal's innovative tactics have taken Portugal by storm
Exclusive interview: Former Sheffield Wednesday and Swansea manager's Braga side have been hailed for their brave but equally beautiful brand of football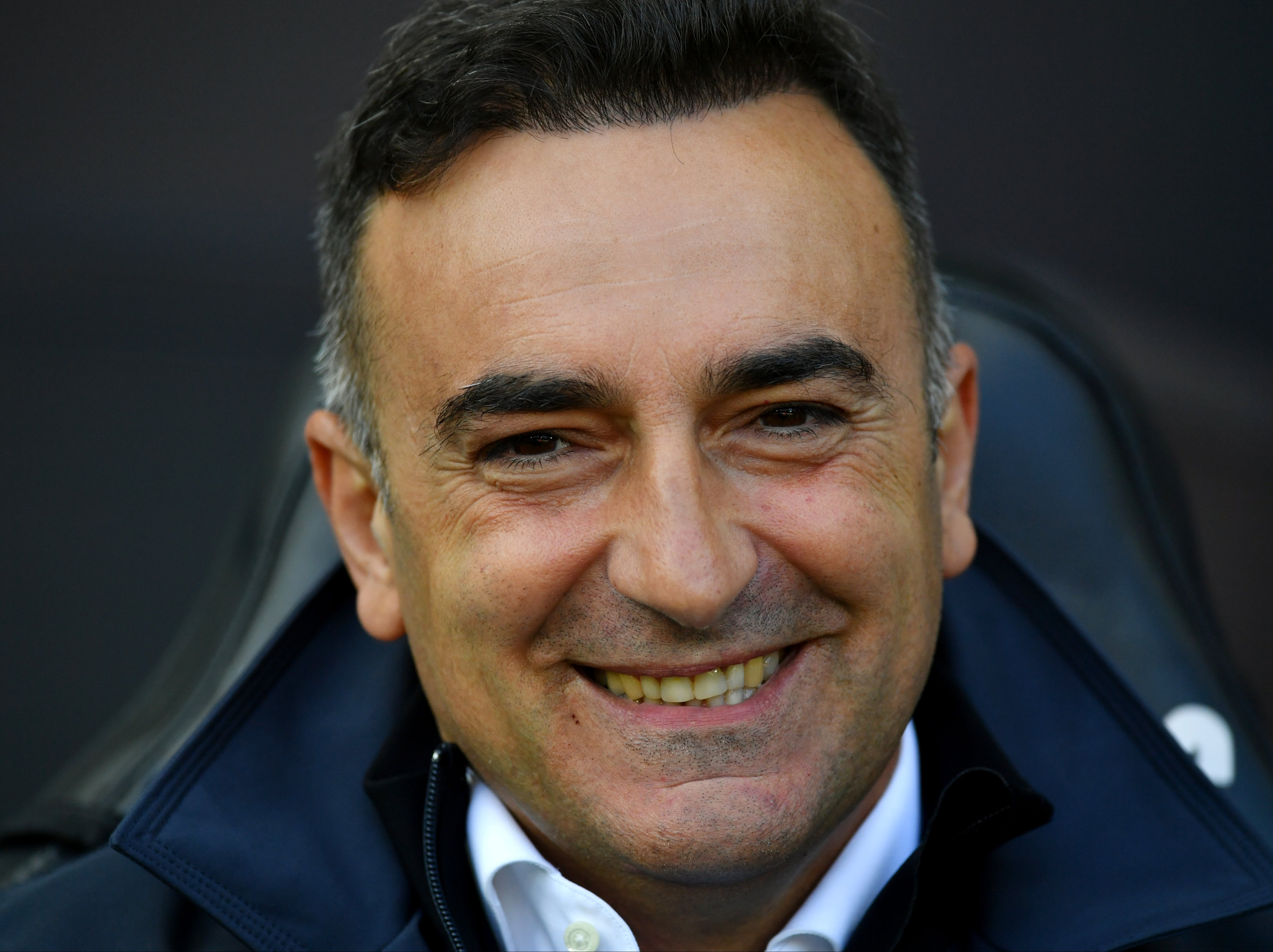 In the summer of 2019, Carlos Carvalhal did something that colleagues didn't expect. Many opposition managers were soon to feel the same.
The popular former Sheffield Wednesday manager had offers from around Europe, but instead decided to go to Rio Ave, who had finished mid-table in the Portuguese Primeira Liga.
"I wanted to try something different," Carvalhal tells The Independent. "A medium team in Portugal allowed that."
Carvalhal had an idea. He now believes it is a genuine innovation.
"In this moment, I must tell you, the last two years - Rio Ave last season, Braga this season - we are not following anybody," Carvalhal enthuses. "We have created our own idea, something different. We are not following anybody. I think we are a step in front, and will be the future."
Read more
If that sounds like a self-aggrandising exaggeration, you only have to look at some of Carvalhal's results, and listen to what has been said after games. Having taken Rio Ave to the highest finish in their history, which was fifth place and Europa League qualification, he was approached by his boyhood club at Braga. They are currently fourth in the league and have made the Portuguese cup final, having beaten both Benfica and Porto this season.
After another chastening match against Braga, where it seemed like Carvalhal's players had a response to every situation, Porto's Sergio Conceicao described them as "the best team in Portugal at this time". Those words - from someone seen as one of Europe's most promising managers - were only the most prominent in a season where all manner of praise has been lavished on Braga. They've been described as "brave", "the toughest opponents in the league", and responsible for a "stunning brand of football".
Hence there is nothing self-aggrandising about Carvalhal. It is in fact his down-to-earth matter-of-fact nature - which so struck fans at Wednesday, and very much comes across as you talk to him on Zoom - that has allowed him to think about things anew. And his new approach at Braga has genuinely wowed the Portuguese game.
If Carvalhal's football is easy to praise, though, it's quite difficult to describe - maybe as difficult as it is to play against. That is perhaps part of its value, and why it's so distinctive. It's a struggle for opposition managers to figure out.
On the surface, Carvalhal's approach seems to have many different modern elements all in the same team, and often in the same minute of football. What is striking about Braga is how they can so quickly go from classic Portuguese-style defensive organisation to ultra-modern German attacking. They are ideas that would usually seem at odds with each other, and impossible to balance in the same side. Carvalhal explains that is almost too simplistic a way of looking at it.
"We don't prepare a team to play with a system, or a 4-3-3 or 4-4-2. We prepare a team to play with various principles of the game. It's provoked debate in Portugal. It is hard to describe.
"In the future, it will not be important the system. More important will be the dynamic, the spaces. For example, if you ask me how we prepare the team, I look to the opponent as a [holistic] ideal. I look at them like pieces, and try to see where are the spaces from how they play, or what spaces we can exploit; where we can push a player to explore. If a defender usually goes to the attacker very fast, there is space open behind him. We try to look for that.
It's all about this: spaces, principles, how we move the ball to create spaces we want. It's not about formation. It's why it's so different. You can see different players in different positions on the pitch."
From a layman's perspective, Carvalhal's football sounds and looks like a natural evolution from the development of the tactical systems of the last two decades, and an attempt to be able to fluidly adapt between their core qualities.
"The main idea is like this," Carvalhal explains. "If you look to England, and I ask you how Manchester City plays, you will understand it's a collective game, an associative game, very good passing. If Liverpool, it's amazing transition, very powerful when they go to goal. In this moment, if you ask someone in Portugal to describe our team, they must say they are very good with the ball, very well organised, very good when they lose the ball, very good when they win it again, very good in transition.
"My proposal is to try to create a culture where a team is very good in a lot of things."
Carvalhal's idea provokes a few interesting questions. Is this the next influential innovation in football? Where does innovation in the game come from? How much innovation is possible? How do you go about re-inventing your coaching career - and maybe the sport - at the relatively experienced age of 57? Most of the great tactical innovations have historically come from young coaches bursting with new ideas, setting a general trend where managers get attached to certain philosophies as the game continues to adapt.
Carvalhal is the opposite of that. "You must try to be different all the time," he laughs.
It was actually Carvalhal's years of experience in different countries - and his last foreign sojourn, to England - that led to a new approach. He began to realise the limits of thinking in terms of formation, or how a team arranges itself.
"This is not about systems, it's about concepts. The way we play is very simple, but also very complex, because we don't move with a system, we move with the principles of the game. We want something when we have the ball. We want something else from the players when we lose the ball, in the transition
"It maybe started at Sheffield Wednesday, where we often played 4-4-2. I started to ask questions to my staff. We went to Swansea, where we changed to three at the back, and in that moment I changed something, and tried something different, but we didn't have the players.
"It's why we went back to Portugal. People expected a high team, but I chose [Rio Ave] because I wanted to try something. It was like I started as a manager last season, like a new step in my career."
It was also something new for players. Carvalhal realised the instructions to them had to be well communicated. This was key.
"In the beginning, when you talk with a player and say you want 'this, this and this', it is clear, but you need time to train. So all the days of pre-season, we worked on organisation, as we knew this season we wouldn't have much time for training. We put everything 100% in pre-season. In the beginning, it's strange for players, but after that they start enjoying, because they understand our philosophy. All of them feel free to create.
"That is part of our game. If you understand the role, and are comfortable in our approach, you can explore the maximum.
"It's like driving a car. The first times, it's complicated, and you need to look at everything. But after three weeks, you don't need to look, and can be more creative. Once you have the foundation, you can create. They are enjoying because they understand everything."
Carvalhal is asked to explain what the ideal move would be in his approach.
"I have seen it a lot of times this season. My team creates a chance using the [full width] of the pitch, then we lose the ball, and react very fast to that. The opponent tries to go to the offensive transition, and we block it, and react very fast again. This is the maximum to me, to create situations, to be organised without the ball, to react very fast, to dominate the game with the ball.
"So what I explain to you is we try to be good in all the moments in the game, not just in one good moment."
Carvalhal displays a way of thinking about the game which has developed over the last few years, but points to how the surface has probably only been scratched in terms of innovation. That stands to reason given it is only the last decade when superior sports science has increased the sophistication of concepts like pressing, while allowing greater integration.
"People sometimes say there is nothing new in football any more, that it's finished," Carvalhal argues. "I don't agree at all. It's everything to innovate. We can innovate a lot of things. This is a complex game. The complex phenomenons, there are interactions between 11 opponents in a large pitch. A lot of things can happen here. Our proposal is to try to control the things the maximum way we can."
It is a proposal that has certainly commanded attention in Portugal - all the more so because it was so unexpected.
Join our commenting forum
Join thought-provoking conversations, follow other Independent readers and see their replies