Champions League final: Angela Merkel turns her back on Bayern Munich's Uli Hoeness as tax row clouds Wembley showdown
Saturday's all-German Champions' League final is being overshadowed by a Bayern Munich saga that has reached the very top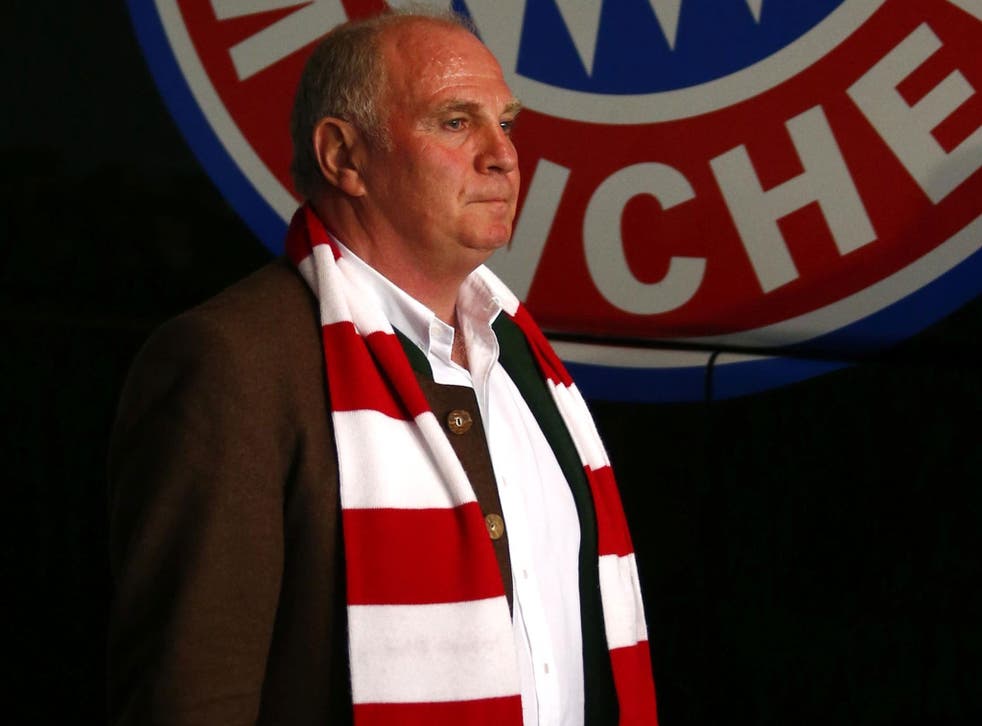 Uli Hoeness was not looking his best. His ample frame was covered by just a dressing gown, it was seven in the morning and he was on his doorstep staring at men from the public prosecutor's office.
Hoeness's house, nestling on the Alpine hills above Lake Tegern, looks like something out of The Sound of Music. The men on the doorstep wanted to search it. It was, said Bayern Munich's president, "the day my life became hell".
Hoeness is arguably the most powerful man in German football. As a player he had won three European Cups with Bayern and the 1974 World Cup with West Germany. By 27, after injury had curtailed his career, he became the club's general manager. At Manchester United he would occupy a position halfway between Sir Bobby Charlton and Sir Alex Ferguson. He was the man who had flown to New York to sign Pep Guardiola, on sabbatical after four glittering seasons as coach of Barcelona. Guardiola takes over at Bayern in July.
The public prosecutor wanted to ask about none of that. The questions surrounded Hoeness's tax affairs, and specifically a deal he had done 13 years before.
Under Hoeness, Bayern Munich make more money from sponsorship and commercial activity than any other club in the world – and the biggest of these is their kit deal with adidas. The allegation was that in 2000 adidas were under pressure from Nike for the Bayern contract. Adidas's then managing director, Robert Louis-Dreyfus, gave Hoeness a gift of five million deutschmarks (around £1.75m). Hoeness used it to raise a £5m loan to provide the capital for his excursions into the stock market, which he played as hard and obsessively as he did the business of scoring goals. The profits ended up in a bank account in Zurich on which he allegedly neglected to pay tax.
Hoeness is co-operating with the inquiry while arguing he intended to declare the tax but his accountant went on holiday. If he cannot convince a court, he faces 10 years in jail. Nobody is clear why Louis-Dreyfus, who died four years ago, should, without consulting anyone, have given him so much money. Adidas still make Bayern's kits.
Hoeness faces several levels of embarrassment. He has appeared on TV arguing against tax rises on the grounds that investors would flee abroad to Austria and Switzerland. In 2000, around the time he began playing the stock market, he more than anyone forced the resignation of the newly appointed national coach Christoph Daum, who had been exposed as a cocaine-user. Daum, he said, was morally unfit to hold the position. When he takes his seat at Wembley for Saturday's Champions' League final, the Borussia Dortmund fans plan to serenade him with a chorus of "Stand up if you've paid your taxes".
When Hoeness had coffee with the German Chancellor, Angela Merkel, three days after the raid on his house, she was unaware of events and they chatted about the final both were due to attend. Once news of the raid reached her office, she was advised not to go to Wembley for fear of being photographed with him. It was becoming an issue for the September elections. When Merkel's spokesman, Steffan Seibert, said: "Many people are disappointed in Uli Hoeness and the Chancellor is one of them," Hoeness saw it as a betrayal. Merkel will go to the final, but presumably watch where she stands.
Elsewhere, Volkswagen, one of Bayern's leading sponsors, are pressing for his removal while Bild, Germany's best-selling newspaper, gleefully published a speech that Bayern Munich's chief executive, Karl-Heinz Rummenigge, made on Hoeness's 60th birthday last year.
"You are the Nelson Mandela of Sabener Strasse [Bayern's headquarters]. The Father Teresa of Lake Tegern," Rummenigge gushed. The paper depicted Hoeness as a nun.
Yet some have stood by him. Lukas Podolski, who was treated sometimes miserably by Hoeness at Bayern, said simply: "We've all made mistakes".
There is another side to Hoeness. He nursed Gerd Müller through alcoholism. When Sebastian Deisler was afflicted by depression, it was to Hoeness that he turned. He is the reason Franck Ribéry, who loathed his former manager, Louis van Gaal, is still at Bayern. And when Dortmund faced insolvency, he organised a loan.
He was dreading last Saturday, when Bayern paraded the Bundesliga trophy through Munich, yet he received a standing ovation that brought him close to tears. There will be more tears at Wembley when they play Bayern's battle hymn, "Stern des Südens" (Star of the South). But Hoeness will hear the line about sticking together in good and bad times and wonder how true it is.
Join our new commenting forum
Join thought-provoking conversations, follow other Independent readers and see their replies