Real Madrid vs Atletico: How Zinedine Zidane is bringing the best out of Gareth Bale and Co
French manager will let players attack final with freedom within a framework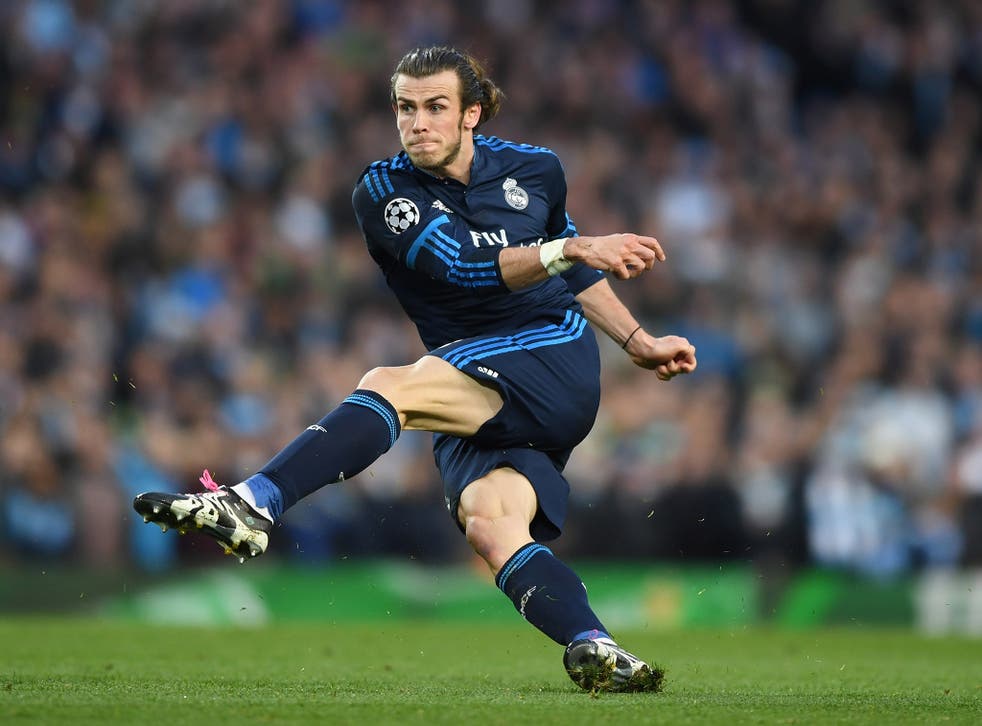 The eternal wait for the Champions League final was getting to Zinedine Zidane this week when, with a slip of the tongue, he said: "I wish it was a little bit closer to the day. We are all desperate to play the final." There was pause and a smile before he added: "Well, I won't be playing of course but you know what I mean."
Shortly afterwards Gareth Bale faced the world's media. "I wish he was playing," he said. "To have the Zidane of a few years ago in the team would be incredible."
Bale grew up watching Zidane playing for Real Madrid and now one is coaching the other in a Champions League final. The connection has been sensational so far. It was Bale's belief and goals during the run-in that took the team to the last weekend of the season with a chance of winning La Liga. And it was his cross-shot, turned in by Fernando in the second leg of the semi-final against Manchester City, that put Real in Saturday's final.
"He gives us freedom and confidence on the pitch and that has shown in the second half of the season," Bale says. But he is also aware that Zidane has made the team hard to beat too.
The Frenchman has been pragmatic since he took the job. He had his fingers burned briefly against Wolfsburg in the quarter-finals when Real Madrid were over-confident and too open and finished the first leg two goals behind. But he learned his lesson. Madrid have not conceded at home in the Champions League this season and they finished their domestic season on a ruthless run of 11 straight wins with Bale scoring four goals in the last four games of the season.
Asked by one reporter in midweek if this game will be better than that "poor and dull" semi-final he said: "For us, it wasn't a poor, dull game at all. We controlled the tie very well. We maybe made Man City look dull and boring because we nullified their threat. For us it was a great game plan and we have another one now for the final."
A repeat of two seasons ago would do for most Real Madrid supporters on Saturday night and Bale admits that having won that final against Atletico in 2014 the psychological advantage could be Real's although he says: "I would rather not be 1-0 down with one minute to go this time. We know how the game is going to go and for us it is just about creating opportunities and taking them when we can because we know they are not going to give us many chances."
Bale took his opportunity in Lisbon two years ago with what was, in effect, the winning goal (he put his side 2-1 in extra time before they went on to win 4-1). Does he remember it vividly, in slow motion almost? "It seemed like it was in slow motion at the time," he says. "When the ball went up in the air, it felt like I was hanging there for two days. I just wanted to get a good contact on it and get the goal to give us the lead. It is an amazing memory and hopefully I can recreate that."
There is definitely a feeling that the players are happier under Zidane than they were under Rafa Benitez. Bale is one of the few who was disappointed to see him go but there is no looking back with regret now. "He's definitely given the team more confidence to express itself and for a player when you are given that freedom and confidence to go out on the pitch and play your own game, that brings the best out of you," he said.
Cristiano Ronaldo went further when interviewed by Spanish television this week. Asked by Spanish journalist Josep Pedrerol: "Is it true that Benitez showed you how to take free-kicks?" Ronaldo laughed: "One can always learn from coaches," he said. "Some things yes and other things no. I have seen things in him [Benitez] that were different to other coaches. Obviously there are things that that nobody can teach you. Either you have it or you don't. I'm not just talking about free-kicks, also how to strike a ball, or how to dribble with it."
The implication was that yes Benitez had looked to coach some of the things that great players do on instinct. And when asked about Zidane, Ronaldo said: "He is smart, he does not say much. He is shy but he is very positive and I identify with that kind of person. He is very professional. I want him to win his first European Cup as a manager and I want him to stay for the coming years. He does not have the experience as a manager but he is trying to find his way and his own style and I like that."
The analysis of Rafa's reign might be a little unfair - he did, after all, insist on the presence of Casemiro and Dani Carvajal and left out James Rodriguez and Isco – all decisions copied by his successor. But it's difficult to beat Zizou for charm. And now with friends like Ronaldo and Bale, Zidane's first trophy could be just about to fall.
Register for free to continue reading
Registration is a free and easy way to support our truly independent journalism
By registering, you will also enjoy limited access to Premium articles, exclusive newsletters, commenting, and virtual events with our leading journalists
Already have an account? sign in
Register for free to continue reading
Registration is a free and easy way to support our truly independent journalism
By registering, you will also enjoy limited access to Premium articles, exclusive newsletters, commenting, and virtual events with our leading journalists
Already have an account? sign in
Join our new commenting forum
Join thought-provoking conversations, follow other Independent readers and see their replies