As it happened
ended
1464471625
Champions League final live: Real Madrid reign supreme as Cristiano Ronaldo penalty seals shootout victory
Follow the latest from the San Siro as Real Madrid and Atletico meet in the Champions League final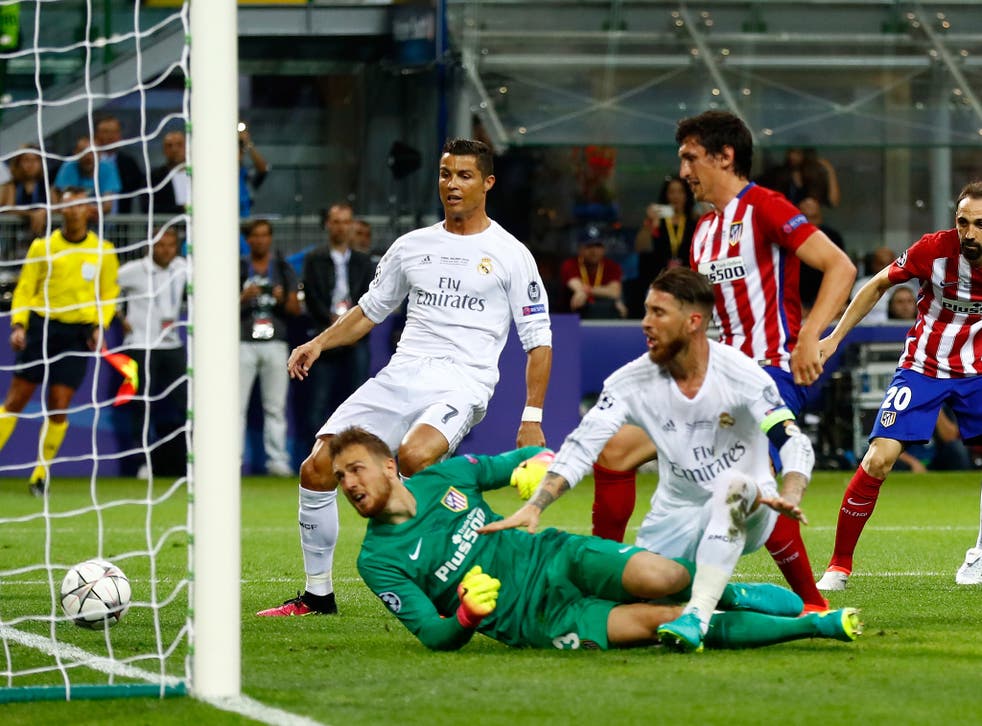 Real Madrid have won their 11th European Cup after defeating rivals Atletico Madrid in the Champions League final in a nail-biting penalty shootout. Follow the latest reaction here.
Real win their 11th Champions League trophy
Atletico have never won the European Cup
Sergio Ramos gives Real first-half lead
Carrasco equalieses for Atletico to take final to extra-time and penalties
Juanfran misses fourth penalty for Atletico
Cristiano Ronaldo scores winning penalty
Follow the live action below…
Please allow a moment for the blog to load…
Previous winners:
2015 – Barcelona
2014 – Real Madrid
2013 – Bayern Munich
2012 – Chelsea
2011 – Barcelona
2010 – Inter Milan
2009 – Barcelona
2008 – Manchester United
2007 – AC Milan
2006 – Barcelona
2005 - Liverpool
1464460557
Ten minutes till kick-off at the San Siro, Real attempting to extend their record number of European Cup wins as Atleti seek revenge for their defeat in Lisbon two years ago..
James Mariner
28 May 2016 19:35
1464461033
Alicia Keys finally leaves the pitch and we have two minutes till kick-off. Something tells me it might be delayed..
James Mariner
28 May 2016 19:43
1464461300
The players are on the pitch, which is still yet to be cleared. Madness.
James Mariner
28 May 2016 19:48
1464461417
1 min RM 0-0 AM Under way - only four minutes late..
James Mariner
28 May 2016 19:50
Register for free to continue reading
Registration is a free and easy way to support our truly independent journalism
By registering, you will also enjoy limited access to Premium articles, exclusive newsletters, commenting, and virtual events with our leading journalists
Already have an account? sign in
Register for free to continue reading
Registration is a free and easy way to support our truly independent journalism
By registering, you will also enjoy limited access to Premium articles, exclusive newsletters, commenting, and virtual events with our leading journalists
Already have an account? sign in
Join our new commenting forum
Join thought-provoking conversations, follow other Independent readers and see their replies