Chelsea vs Maribor match report: Blues dominate at Stamford Bridge but minds wander to Sunday's clash with Manchester United
Chelsea 6 Maribor 0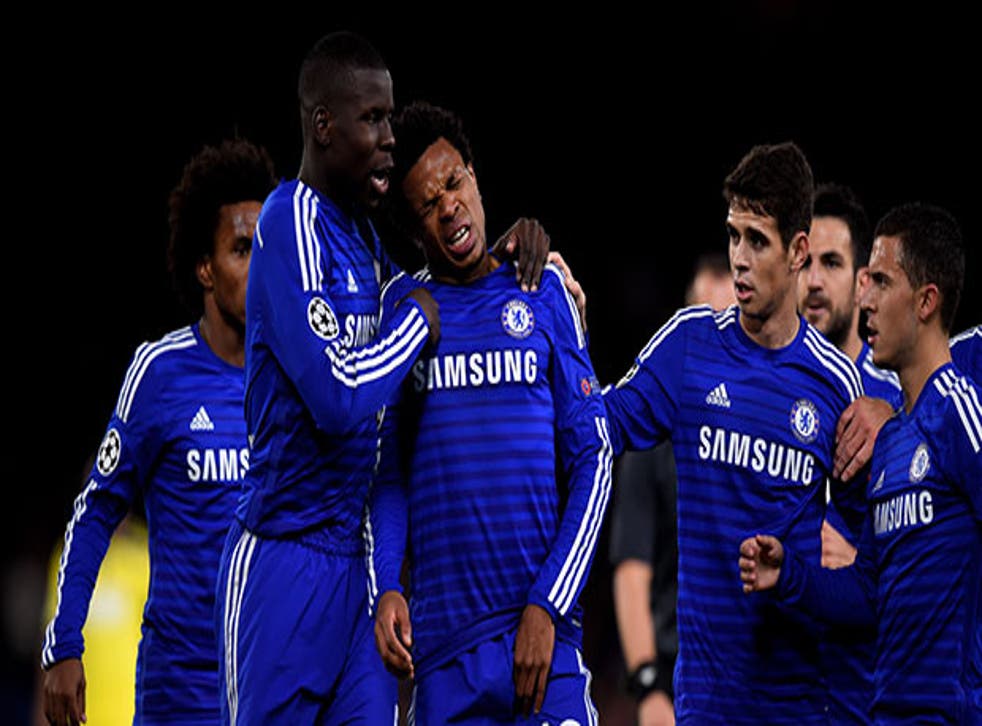 The art of improvisation has long been one of Jose Mourinho's specialities but how he copes with an injury crisis among his strikers at Old Trafford on Sunday, up against his old mentor Louis Van Gaal, will be one of the most intriguing challenges of a coaching career like none other.
This was a night that Chelsea could afford to coast at times, with the proverbial cigar alight, and even after 15 minutes minds were already turning to the game against Manchester United in four days' time. That was shortly after Chelsea lost Loic Remy to a thigh strain, himself the replacement for the injured Diego Costa and so it was they called for Didier Drogba, the last man standing among Mourinho's senior forwards.
Beyond Drogba, who scored his first goal of his second spell at Chelsea, there is the promising Dominic Solanke who made his debut little more than a month after his 17th birthday. This presents a problem to the Chelsea manager, who famously picked a team without a single recognised striker in it when his team played United at Old Trafford in August last year.
Chelsea 6 Maribor 0 - player ratings

Show all 12
He might well consider that option again, unless he is prepared to place his trust in Drogba to reprise some of those old glories against the creaking door that is United's back four. At least the victory over Maribor gave him a chance to take Cesc Fabregas off early to give him a breather. Friday will be the tenth anniversary of the day Fabregas was alleged to have thrown the pizza at Sir Alex Ferguson at Old Trafford. He will be looking forward to Sunday's game.
The Maribor striker Agim Ibraimi missed a second half penalty, rattling the ball against the post of Petr Cech, given a rare first team outing to rest Thibaut Courtois. There was also an evening off for Gary Cahill. As for the game itself, it was over within 22 minutes when Drogba dispatched the second.
In Moscow, Manchester City might have played without a crowd, it was Chelsea's good fortune that they played at times without a competent Maribor defence for long periods of the first half which ended with the home team three goals to the good.
The Slovenian team battled through the qualifying rounds and drew their first two group games against Schalke and Sporting Lisbon, but this time they were up against a different class of opposition and it showed from the start. Remy gave Chelsea the lead within 13 minutes and was taken off two minutes later with a thigh strain sustained in driving his left-footed shot past the goalkeeper Jasmin Handanovic.
It was a well-worked goal with a ball from John Terry into the right channel that Remy took back onto his left foot, going past the full-back Marko Suler with a change of direction, before dispatching his shot. There was a familiar ease for Chelsea with Fabregas pulling the strings and Maribor's frantic counter-attacks a little too easy for the home team to read.
The injury to Remy meant that Drogba was summoned from the bench, always a popular figure in this stadium. The old lion does not quite dish it out to defenders as he once did but he still has that presence when he trots out onto a football pitch. His previous goal, No 157 for Chelsea, that Champions League winning penalty aside, had been in the final against Bayern Munich. There was always a chance that No 158, two years and five months later, might come against Maribor.
It arrived earlier than expected, from the Shed End penalty spot. The midfielder Ales Mertelj stooped low to handle the ball and, alas for him, the Dutch referee Danny Makkelie pointed to the penalty spot. Drogba put it to his favoured side, to the goalkeeper's right and a little bit of history was made.
Having had an early chance, a header over by Damjan Bohar, Maribor were now in a panic and Chelsea unwilling to let them have the ball for any longer than was necessary. The third came from a corner that Chelsea defended and then broke from. It was eventually Fabregas who provided the cross from the right and Terry, having chanced his arm on a break connected with the ball in the area. He was fractionally offside.
Eden Hazard was careless in front of goal, never more so than in the build-up to the fourth goal when he missed Filipe Luis' cross. He retrieved the ball and it was turned in by Mitja Viler at the near post. Nothing was going Maribor's way. Ibraimi missed a penalty and then Branislav Ivanovic looked to have dived to win a second penalty for Chelsea on 75 minutes, which Hazard converted.
Hazard scored a fine second in the last minute all of which leaves Chelsea on seven points and realistically one win in Slovenia away from qualification. The Champions League is proving a stroll, Sunday promises to be much more of a challenge.
Chelsea (4-2-3-1): Cech; Ivanivic, Zouma, Terry, Luis; Fabregas, Matic, Willian, Oscar, Hazard; Remy.
Subs: Drogba/Remy 15, Ake/Fabregas 59, Solanke/Oscar 72
Maribor (4-2-2-2): Handanovic; Stojanovic, Rajcevic, Suler, Viler; Mertelj, Filipovic; Mejac, Bohar; Tavares, Ibraimi.
Subs: Vrsic/Viler 57, Zahovic/Ibraimi 67, Mendy/Tavares 72
Referee: D Makkelie (Netherlands)
Man of the match: Matic
Rating: 6
Join our new commenting forum
Join thought-provoking conversations, follow other Independent readers and see their replies