Cristiano Ronaldo: Gareth Bale posts picture of Real Madrid forward in underwear after El Clasico triumph
The Portuguese forward scored the winning goal in the 85th-minute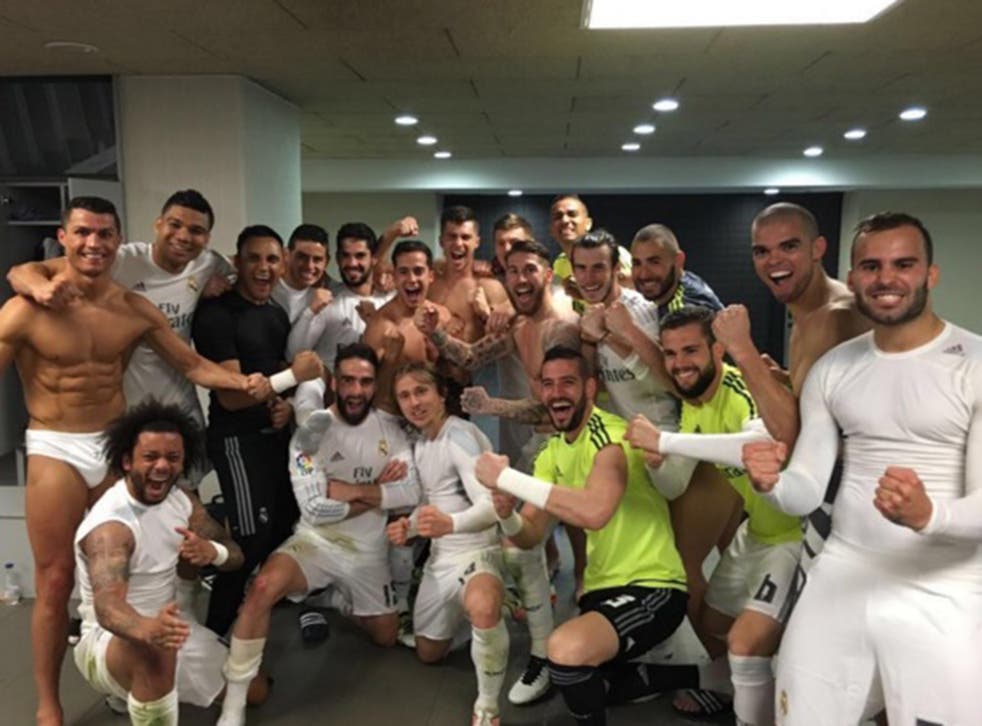 Here is Cristiano Ronaldo celebrating Real Madrid's 2-1 El Clasico triumph over Barcelona on Saturday night in his underpants.
Team-mate Gareth Bale uploaded the image to his Instagram account afer the win, in which Ronaldo scored the winning goal in the 85th minute thanks to an assist from the Welsh forward.
Ronaldo is no stranger to posing in his smalls, he is also an underwear model for Armani of course.
Following the victory, Bale said he believed Real still have a chance of catching La Liga leaders Barcelona after beating Luis Enrique's side 2-1 at the Nou Camp.
Gerard Pique gave Barca the lead after 56 minutes but Real drew level through Karim Benzema in the 62nd.
Barca's first defeat in any competition since February 2015 meant their lead over Atletico Madrid was trimmed to six points. Real, in third spot, are seven points off the pace with seven matches to play.
El Clasico ratings

Show all 22
"If we want to win the league this was a game we had to win," Bale told reporters at the Nou Camp. "Football does funny things to teams when you lose and you never know what could happen.
"All they need is a few bad results and we need a few good ones and we're right back in. Tonight really does put us mentally in a strong position, we can beat anyone on our day.
"Everyone has been saying they're the best team and we beat them in their own backyard tonight," said Bale.
"The most important thing today was to get the win and build confidence for the rest of the season. There's still the Champions League as well," he added in reference to Wednesday's quarter-final first leg against VfL Wolfsburg.
Bale was surprised his headed goal in the 80th minute was ruled out by referee Alejandro Jose Hernandez.
"I can't believe it was disallowed. I made sure I didn't touch him because I know what the Spanish referees are like," said the winger.
"It was a very bad decision in my eyes."
Join our new commenting forum
Join thought-provoking conversations, follow other Independent readers and see their replies