When Dele Alli is in the mood, he can do anything - and against Real Madrid he was ready to play the game of his life
The Englishman ran rings around the European champions, writes Jack Pitt-Brooke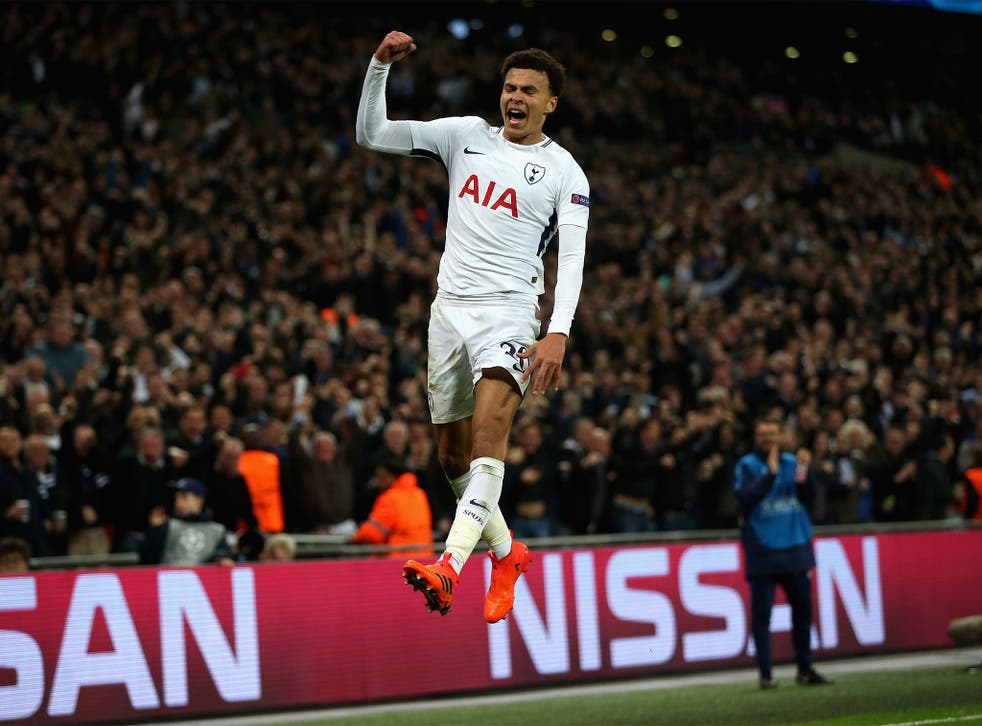 How do you respond to missing the chance that would have beaten Manchester United? By scoring the goals that beat Real Madrid.
How do you respond to criticism that by November your season has still not got going? By producing the performance of your life.
Dele Alli was untouchable for Tottenham at Wembley this evening, scoring twice and creating the third in a 3-1 win over Real Madrid that will be remembered as one of the great nights of the Mauricio Pochettino era. The 1-1 draw at the Bernabeu was good: bold, plucky, slightly surprising. But this was something else. Spurs ripped the winners of the 2014, 2016 and 2017 Champions Leagues to pieces, and the man doing all the gleeful damage, with his fast feet and his wicked grin, was Dele Alli. The only disappointment was how little resistance Real Madrid offered him.
Pochettino has raised an eyebrow or two on Tuesday afternoon when he said that Alli, even after all his disappointments this season, was still on the brink of playing his best football. His "internal motivation" was back, Pochettino explained, and that soon enough he would show his "character and personality" on the pitch again. "Like winter, he is coming."
Pochettino knows his players. This whole night was a vindication for him, but no more so than in the performance of Alli. He proved Pochettino thumpingly right, running rings around Real Madrid, scoring the first two Tottenham goals and starting the move that led to the third. It was a reminder that while Harry Kane has reached a level of world-class reliability, Alli has a different form of brilliance: more elusive, less predictable, more audacious but no less dangerous.
Would you bet the farm on Alli delivering? Probably not. His last European performance, remember, was back here in the Europa League last-32 against KAA Gent in February. Spurs were chasing the tie, Alli planted his studs half-way up Brecht Dejaegere's shin and was sent off. Spurs went out and Alli missed the first half of this season's Champions League group stage as a result.
But when Alli delivers, no-one can stop him, not even the best sides. This game was more like the famous 2-0 win over Chelsea at White Hart Lane on 4 January, when Alli shattered Chelsea's record run all by himself, scoring two headers, winning the game 2-0, and threatening to open last year's title race back up.
Tonight, like in that game, he was playing with freedom close to Harry Kane. And while Real Madrid were understandably concerned with Kane – who their press and manager have been talking up for weeks – they forgot to keep an eye on Alli.
It was clear from the start that Real were not switched on to Alli's dangerous late runs into the box, and the mischief he can cause when he is in the mood. After just 14 minutes he nearly got on the end of Kieran Trippier's volleyed low cross from the right, but was slightly out of place.
No worry. Soon after Harry Winks, who was brilliant again against the best midfield in the world, picked out Trippier's run with a diagonal pass. He volleyed the cross before Marcelo knew what had happened and this time Alli was there to turn the ball in. When Alli nearly scored that goal for a second time, at the start of the second half, Luka Modric was finally aware enough to stop him.
Tottenham vs Real Madrid player ratings

Show all 22
But with Spurs pushing Madrid back with their energy, there were always spaces for Alli to attack. When Christian Eriksen stepped over a pass and Alli picked it up, he could run at Casemiro. He sidestepped the first lazy challenge, then another, before firing in a shot deflected off Sergio Ramos and in.
Not many players can embarrass Sergio Ramos but when Alli is in the mood he can do whatever he wants. He nutmegged the Real Madrid captain and then completed the rout soon after, receiving another Winks pass and skipping away from Ramos in the middle of the pitch. Ramos pulled Alli's shirt but he accelerated away, utterly unworried about whatever Ramos had in mind for him. He stabbed the ball forwards towards Kane, who then found Eriksen, who made it 3-0.
The only frustrating for Alli was that he did not score a hat-trick. With 12 minutes left he ghosted his way into the box yet again, and got on the end of yet another Trippier cross. The header to score was one of the simplest things he had to do all night. But he missed. Even when he is like this, on top of his game and on top of the finest opposition, do not try to predict what will happen next.
Join our new commenting forum
Join thought-provoking conversations, follow other Independent readers and see their replies