History, violence and pyrotechnics: Why the Twin Derby between AIK and Djurgården is Scandinavia's fiercest rivalry
Exclusive interview: Former Sunderland midfielder Sebastian Larsson explains why his return to Sweden was fuelled by a desire to play in the Tvillingderbyt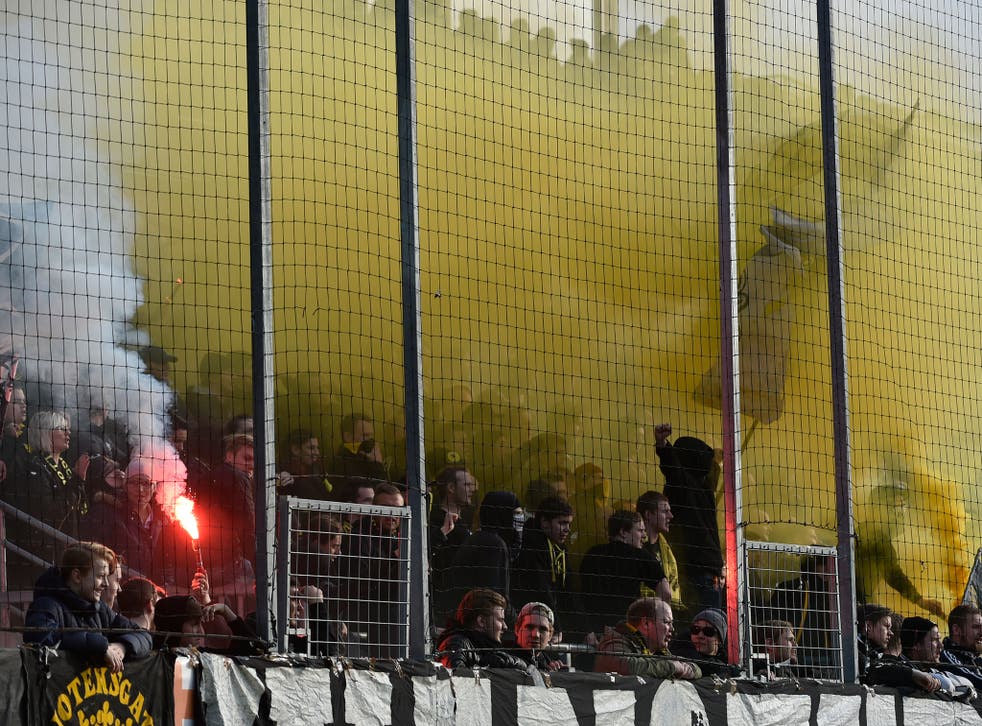 In the build up to March's Swedish Cup semi-final, AIK appealed to move the evening kick-off with their fierce Stockholm rivals Djurgården to 3pm for "safety reasons". Suspiciously, AIK's desired new time slot coincided with Djurgården's ice hockey team playing their own cup match, in what had all the hallmarks of a cynical manoeuvre to split Djurgården's fanbase across the two games.
The Swedish FA rejected the appeal and stuck to 6:30pm, but kick-off was then delayed by an hour when a plume of smoke billowing from smuggled pyrotechnics became trapped by the stadium's closed roof, leaving a thick smog hanging over AIK's pitch like a volcanic eruption. It came only a few months after another derby between the two had been interrupted by violence and rioting, and a flare-wielding 15-year-old had to be ejected from the ground.
It is a handy snapshot of Scandinavia's fiercest footballing rivalry, one which resumes on Sunday, and which has long been fought along battle lines of history, geography and social class.
It is called the Tvillingderbyt – the Twin Derby – after both clubs were founded within three weeks of each other in 1891, and they remain inseparable on 11 league titles each. AIK's heartland is in the northern area of Solna (Djurgården fans mock that it barely counts as Stockholm) while their rivals originate from the island of Djurgården, floating in the archipelago in the centre of the city.
Today the island is home to Gröna Lund theme park, the ABBA Museum and the Vasa Museum (a near-intact 17th century warship which sank in the harbour on its maiden voyage and is hands down the best museum in Europe), but it was once home to a dockyard which provided their first players and working-class roots. Today Djurgården are perceived as the club of Stockholm's trendy middle-class, while AIK hold a more diverse and wide-reaching fan base across the country, either loved or loathed but rarely neither. Stockholm's third team, Hammerby, claim more humble ground as "the people's club".
Djurgården came through the clouds of flare smoke to win that semi-final and went on to win the Swedish Cup, but they have had a tough season since. Last year's top scorer, the tattooed and mohawked Magnus Eriksson, departed for MLS side San Jose Earthquakes and they are mid-table while AIK are top and closing in on the title; derailing them is Djurgården's sole aim. "We don't like any Stockholm club winning the league, except Djurgården," says club chairman Lars-Erik Sjöberg. "If it is not Djurgården then I would take any other club outside Stockholm, 100 times out of 100."
There is a dark allure which follows the rivalry. Filmmakers recently began working on a movie called 'Eternally faithful', based on the hooligans of AIK and Djurgården, and how the ordinary lives they lead were transformed into those of violent thugs by football. Despite filmmakers spending a year with real-life 'ultras' to bed their story in reality, the clubs feared the glorification of violence in their names and pulled use of their brands from the project.
While there have been regular flashes of trouble over recent years, the flashes of colour from the pyrotechnic shows of each set of fans is what they prefer to be known for. The former Sunderland midfielder Sebastian Larsson, who returned to Sweden after the World Cup to join AIK and is now on the verge of winning Allsvenskan, is about to immerse himself in the atmosphere for the first time.
"I guess the pyrotechnics has been part of the Swedish supporting culture for a while now, and they take great pride in showcasing their skills with flags and smoke," says Larsson. "They always have a message they want to get out just before kick-off and they put a lot of time and work into that. Between the two sets of fans, that's a game itself."
In Sunday's meeting he will go up against another familiar face to English football fans, the former West Brom centre-back Jonas Olsson. Djurgården's captain and defensive stalwart has said that the atmospheres he experienced in England and Holland earlier in his career do not compare to Tvillingderbyt. Larsson agrees.
"When I was still in England looking back at these games they were always games I wanted to watch because they are intense," Larsson says. "I know how much it means to the people, especially in Stockholm, the rivalry between the clubs to be the No 1 team in the city.
"Against Hammarby there were 60,000 at the game, a sold-out stadium which is fantastic in the Swedish League, and I guess that had a similarity to Sunderland-Newcastle games, always packed out stadiums, a very loud atmosphere.
"The difference in Sweden with the Stockholm derbies is you allow a lot more of the opposition fans to come to the stadium. We tend to give them one whole section behind the goal, the whole stand, so it becomes a special atmosphere. We've got our side and they've got their side, the hardcore fans, head to head. That's something I hadn't experienced over in England – you've got your singing corners and so on but this definitely stands out. If you've ever seen pictures, it's quite special."
It is a rivalry set against a long, entwined history, played out in vivid colour and boiling passion. Djurgården cannot win the title and have very little to play for, but the beauty of the derby is that the pleasure in derailing the other is almost as satisfying as your own success, and it means the stakes on Sunday are just as great as any time since these two twins began bickering more than a century ago.
Join our new commenting forum
Join thought-provoking conversations, follow other Independent readers and see their replies