Man City fan wants Erling Haaland to replace Sergio Aguero at club
Why do Man City want Erling Haaland? He scores 'their' goal more often than they do
Haaland has made City's trademark goal his own as he prepares to face them in the Champions League
Over the last few weeks, Manchester City's staff have been tracking Erling Haaland's runs for the benefit of their defenders on Tuesday, but it is far from easy. The Borussia Dortmund striker has quite a range. That unpredictability could prove decisive in whether City finally win the Champions League, either this season or in the future.
For all Pep Guardiola's protestations about money, Haaland is obviously the club's number-one target. They have a vision for how he'll fit in the team. That may differ, however, from most people's vision of Haaland as a player.
Haaland's sheer size means it's almost impossible not to primarily associate him with power, and last year's Champions League last-16 goal against Paris Saint-Germain feels like it could be his signature strike. You couldn't have a better display of the kind of awesome force that most of Europe has come to fear. It was almost like football's version of Jonah Lomu. Haaland left a trail of defenders in his wake with an Olympian sprint, before just lashing the ball into the top corner. It was comic-book football.
While that emphasised Haaland's full capabilities, the reality is that kind of goal is much rarer in his repertoire. The vast majority of his strikes come from stealth rather than strength.
If you go through his career goals, the most common image is the Norwegian stretching or striving to tap in from inside the six-yard box, instead of powering the ball in. There was inevitably another example in this season's last-16 tie, against Sevilla, as Haaland set Dortmund's second leg on course by sliding in Marco Reus's pass.
In total, such strikes make up 30 of his 104 goals so far. When you add in his four close-range headers, it means a third of Haaland's career finishes have come in or around the six-yard box.
If many of these goals seem easy, and often like gifts that are so wrapped up they should barely count, the truth is they come from a level of understanding that is beyond most strikers. That is why he's always there.
Alfe Ingve Bernsten, who coached the young Haaland at Bryne FK, says it has always been in his game. He always had that instinct for where to go."When I see him now, it's like when he was 11 or 12," Bernsten tells The Independent. "Some of these tap-ins, they're not ordinary tap-ins. They come from movement, sometimes explosive, sometimes smartness, sometimes suddenly he's two metres behind.
"He's very good at not doing the same runs. He varies a lot."
That's why he's so hard to track. Many will only see that same type of finish, but it comes from so many different runs. Haaland will zig-zag, wait, burst or look to mirror the movement of the centre-backs to use it against them. Defenders will often only realise they've lost him as he's scoring. Haaland's runs between centre-backs were something that Salzburg's coaches specifically worked on, and the forward also took it upon himself to study the movement of many of the great forwards. He works just as hard with teammates, too, often rehearshing moves they plan. The intention is to develop the kind of understanding that seems instinctive.
"On the training pitch, me and Erling work together so hard," Jadon Sancho recently explained. The wider point is that Haaland's own instinct has long been honed by learning, right from the start.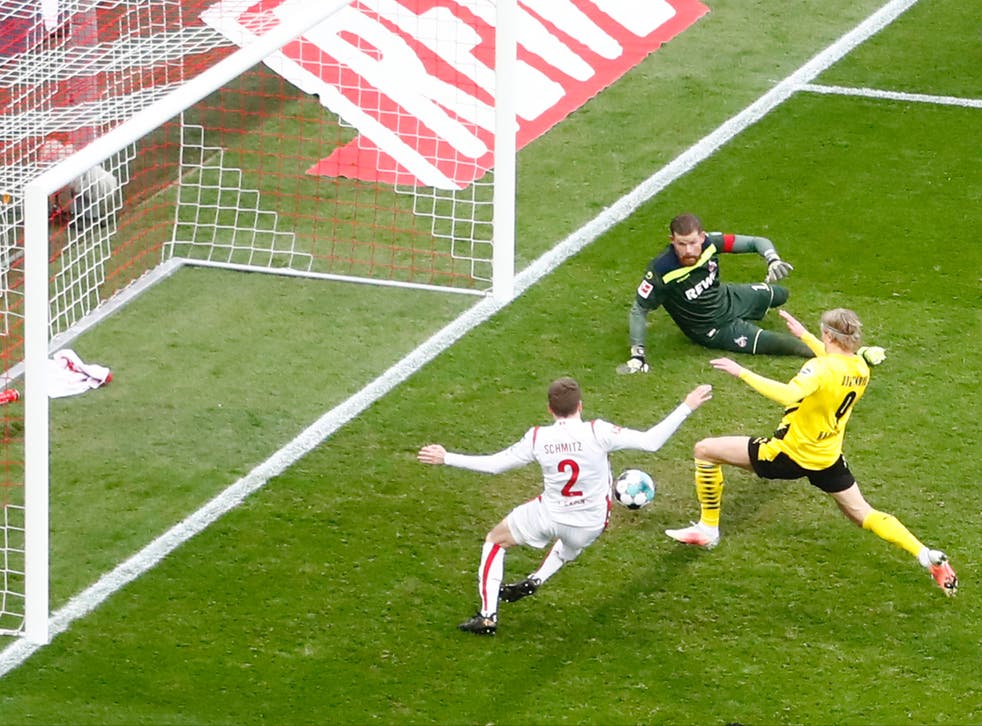 "Erling was almost too good for his own age, so he played more and more with older boys," Bernsten says. "He was a bit shorter than them, and skinny, so in order to keep scoring he had to be smarter in the box. He knew early on what movements he had to make, when to make a feint, when to wait, when to get away. And he has gradually increased his explosiveness, and his smartness. He is a mix of both instinct and education."
He is also a mix of other elements. When you see Haaland's goals, and read how Bernsten speaks, the realisation is that the Norwegian is fundamentally one of those nimble little penalty-box poachers who grew into a powerhouse. The strength came after the stealth.
There's something else recognisable in that, of course, that is so relevant to City. Haaland's most frequent finish is precisely the type of "five-a-side goal" that Guardiola idealises, and his teams specialise in. It's easy to see how he'd fit in to the side. How often have we seen one of City's forwards receive the ball at the back to just tap in, in the manner Haaland has already made his speciality? How often have we seen Sergio Aguero do it?
Well, not as much as Haaland, actually. If it's possible to see a lot of Aguero in the Norwegian, Haaland may see this type of opportunity much more often than the Argentine.
The numbers indicate that. Haaland has scored more of them in his 104 career goals, than Aguero has in his 181 Premier League goals.
In other words, he may be more Aguero than Aguero, at least in terms of what Guardiola wants. It's thereby easy to see why City want Haaland so much. Some sources maintain City believe they already have him. There has already been talk of how Txiki Begiristain and Mino Raiola are willing to set aside previous differences to get a deal done, although that may be tested by the last few days. The feeling is that Raiola's recent tour of Spain is to try and drive up City's offer. Others on the Norwegian and Spanish sides insist Haaland's first preference at this age is La Liga, in order to prolong his career.
His next move is still difficult to predict, as he has so many options.
It's just not as difficult to predict as where he'll move on the pitch. That is City's most immediate concern, and the most immediate way Haaland can influence whether they finally win that Champions League.
Join our new commenting forum
Join thought-provoking conversations, follow other Independent readers and see their replies