Graham Potter: The last English coach in Europe making a name for himself with Swedish side Ostersunds
Exclusive interview: Talking to the Independent, the Ostersunds boss opens up on his journey to Northern Sweden and his side's on-pitch revolution
Wednesday 27 September 2017 17:52 Comments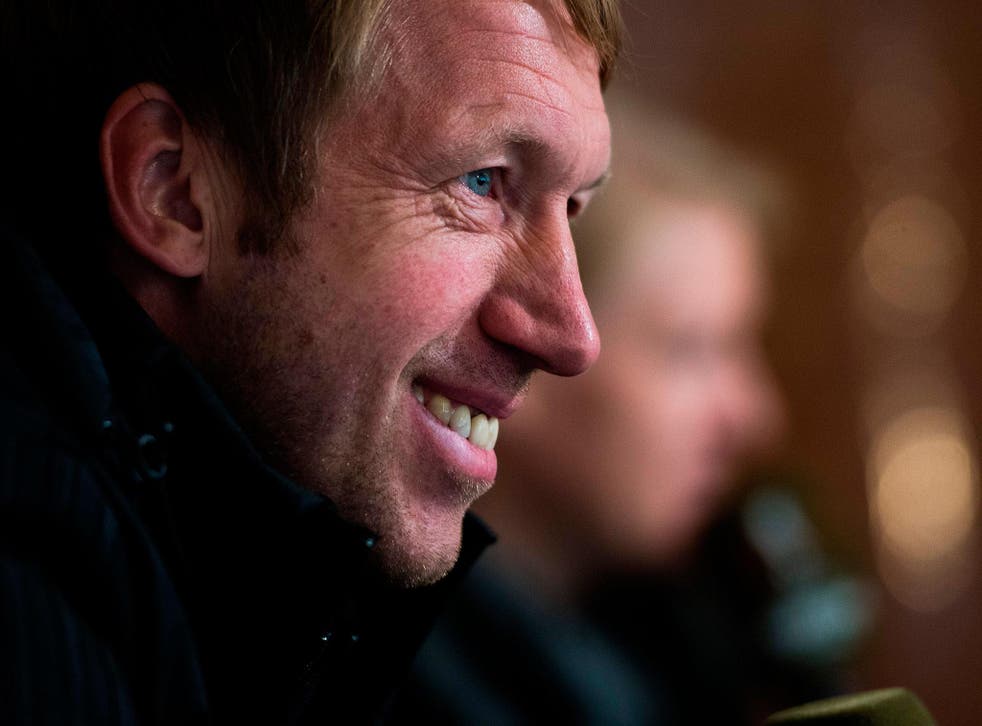 It's a Friday afternoon in a remote area of Northern Sweden but Graham Potter is transporting Independent Sport back in time to the period he spent working at Leeds Met University more than six years ago.
"I was working as a football coach there," he says. "I'd spent three years working there after a couple of years doing the same thing at Hull University. I was basically learning, developing and making mistakes in a pretty safe environment. I took a Master's degree while I was at Leeds too and I was building up a method of working."
In comparison to Potter's slow-burning coaching career, Ostersunds were a club in danger of going up in smoke. Recently relegated to the fourth tier of Swedish football, the club's chairman, Daniel Kindberg, was after a young coach who could help reverse their spiral.
Potter, who played six matches for Southampton in the Premier League in a 13-year playing career spent largely in the backwaters of the English game, has done more than that.
In fact he has delivered a revolution – on and off the pitch. Ostersunds won the Swedish Cup back in April, beating IFK Norrkoping 4-1, to qualify for Europe for the first time. It was the icing on the cake for Potter and led to another typically unique celebration at a club based six hours north of Stockholm.
Ostersunds' players had greeted their first-ever promotion to the Swedish top flight the previous season by putting on a production of Swan Lake. They then followed that with a concert, laid on by the players for the fans, to mark the club's Swedish Cup triumph.
Those two activities may sound like a Leeds Met freshers' week ice-breaking activity but Potter insists they are part of creating an atmosphere where players are comfortable outside of their comfort zone. Invaluable when your first task in the Europa League is a qualifying tie against Galatasary.
"I can't sing, I can't dance, I can't do much else to be honest," he says. "The nearest town here is two and a half hours away and we have to create a different environment, one where we can develop players holistically – we want to improve the person, not just the player. We want to help the players be more comfortable in their own skin, a bit braver, a bit more aware and more understanding of each other.
"We're trying to build a team that's comfortable in uncomfortable situations. From a football perspective, putting young footballers into art, or singing – you're doing something that's not so familiar. It has helped us build a team and build a spirit."
If hosting a ballet for your fans does this to a club then perhaps Jurgen Klopp should add a choreographer to his backroom staff as soon as possible.
Ostersunds' Europa League adventure – and that's certainly how its seen in this corner of Sweden – has seen the club dispose of the Turkish giants and Greek side PAOK on route to the group stages of the competition. An opening win against Zorya Luhansk has now given Potter and his side belief that they can progress through a group containing Athletic Bilbao and their Thursday night opponents, Hertha Berlin.
Wednesday afternoon University matches on windswept pitches in Yorkshire are now a distant memory. Potter, though, is no doubt how important those early days were in forming a philosophy that has now marked him out as one of the most unconventional on the continent.
"I suppose the club took as much of a punt on me as I did on them," says Potter. "Daniel was looking for a young coach and luckily enough I fitted those requirements. I was looking to get back into football and I was suppose I was fortunate to start where results weren't the be all and end all. You make mistakes at the results end of football and you can be out on your ear pretty quickly.
"I didn't have any opportunities to enter the English game, if I'm being honest. This was a big move for us, particularly given that the club were in the fourth tier of Swedish football. It was all about making it work and trying your best.
"It has all happened so quickly. Because you're in it all the time you don't really have a chance to zoom out and look at the bigger picture. It's only when you start to articulate it to people that you realise just how much we've managed to achieve. We've done quite a bit I suppose."
With Swan Lake and an open-air rock concert chalked off his list, it will be interesting to see how the club mark their success in Europe this season. English clubs are loathe to make a song and dance about the Europa League. Potter will doubtless beg to differ.
Register for free to continue reading
Registration is a free and easy way to support our truly independent journalism
By registering, you will also enjoy limited access to Premium articles, exclusive newsletters, commenting, and virtual events with our leading journalists
Already have an account? sign in
Join our new commenting forum
Join thought-provoking conversations, follow other Independent readers and see their replies