The Independent's journalism is supported by our readers. When you purchase through links on our site, we may earn commission.
Europa League: Liverpool welcome Udinese, masters of talent production
New owners of Watford have flourished with Serie A club that profits from developing stars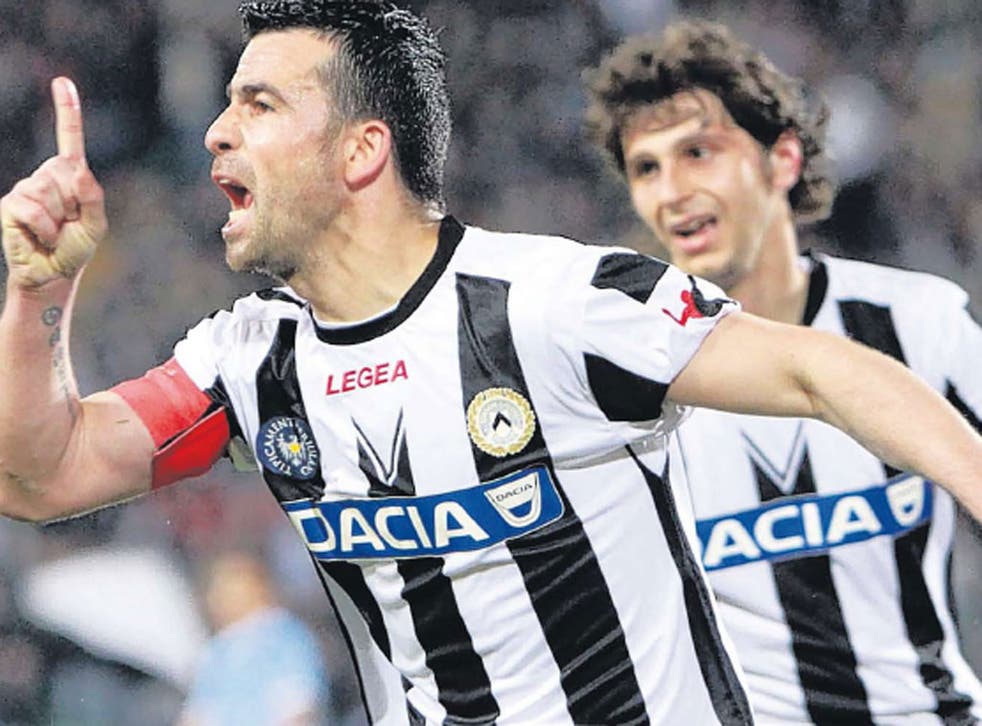 Those who spend their Saturdays at Vicarage Road might want to turn on their television at a few minutes past eight tonight. It will be a chance to see their first team in action.
When Watford appeared to become a wholly-owned subsidiary of Udinese in the summer, the outcry was predictably fierce, not least since a good, young manager in Sean Dyche appeared to have been sacked for the crime of being insufficiently famous. His replacement was rather better known; Gianfranco Zola.
It would be easy to paint Udinese and their 71-year-old chairman, Giampaolo Pozzo, as one of the predators of European football, interested only in using Watford and his other club, Granada, as a proving ground for what is, admittedly, one of the finest academies in Italian football.
However, compared to some of Serie A's chairmen, Pozzo appears coldly level headed. He did once fire Roy Hodgson for the crime of giving an interview to the Daily Mail in which he described Udinese as "a strange club". However, unlike Napoli's Aurelio de Laurentiis, he does not give a press conference after every home game. And, unlike Palermo's Maurizio Zamparini, he does not change managers like some men change television channels.
Pozzo made his money in the unglamorous world of manufacturing power tools and his approach to running a football club is pragmatic. Udinese will produce young footballers as cheaply as possible, either through youth development or through a rigorous scouting network. Then, they will sell them for a substantial profit.
It is a model that has ensured a city with a population substantially less than that of Hastings has in its last two seasons matched Turin, Rome and Milan as a football centre. Alexis Sanchez, Gökhan Inler, Cristian Zapata, Mauricio Isla and Kwadwo Asamoah were five players who ensured Udinese qualified for successive Champions Leagues. They cost the club £5.28m in transfer fees and they were sold for £71.51m.
It is, however, a system with inherent dangers. If the best talent is sold and, if like Inler, Isla and Asamoah they are sold to rivals like Napoli and Juventus, then they have to be replaced. The drain of talent from the Stadio Friuli might account for Udinese's stuttering start to the new season that sees them 15th in Serie A with a single victory – albeit against Milan – from their opening six fixtures.
And in one significant respect Udinese have not cashed in. Twice Antonio di Natale has won the title of capocannoniere – Serie A's leading goalscorer – and three times the side he captains has qualified for the Champions League. But only once have they made it to the competition proper and then, in 2005, they seldom threatened to get out of their group.
Last year, they were eliminated by Arsenal in the qualifiers and in August, at the same stage, they were knocked out by Braga on penalties. The fatal kick was taken by their Brazilian midfielder, Maicosuel, who attempted the kind of delicate "Panenka2 chip with which Andrea Pirlo had deceived Joe Hart in the shoot-out at Euro 2012. Instead, Braga's keeper, Beto, simply stood his ground and watched the ball float into his hands.
Di Natale will be 35 later this month and for the man who could claim to be Udinese's greatest player, the finish line is standing squarely on the horizon. "Even just looking around the stadium makes you feel special; I will probably never be here again," he said before training at Anfield last night. It is the kind of emotion expressed by those at the very beginning and at the very end of their careers.
Barnes: let sterling grow up slowly the way rush did
When John Barnes joined Liverpool in 1987 he was under pressure. It was not just the £900,000 fee, big money then, but the fact he was the first notable black player at either Merseyside club. He was, however, an England international, and he was 23.
Raheem Sterling is playing in a very different era: black players are accepted and racist abuse stamped on, but Barnes sympathises with the pressure his fellow Jamacian-born winger will be under if he plays tonight. "He's got great potential," said Barnes, who was in the last Liverpool team to win the title, "but he has only had five games. I would not want to put him under pressure to rescue Liverpool. The experienced players should shoulder the burden. Raheem is 17. He should enjoy his football. I would urge the fans to leave him alone and let him play. He is dealing with the expectation and I am worried about the fans putting him under more pressure and then, if he goes through three games not performing, getting on his back."
Liverpool won 5-2 at Norwich last weekend but are in the bottom half of the table after Brendan Rodgers took over in the summer.
"It is hard to find your way under a microscope and particularly hard in a team that is not winning many games or playing well. You don't ask a 17-year-old to rescue that situation," said Barnes.
"I had played 30 times for England before I came to Liverpool. I was 23. Even Ian Rush was at Liverpool for a year before he got into the first team. When he did get in he had experienced players around him playing well. If Rushie as a 19-year-old from Chester had been put in the first team and told to rescue Liverpool, it would have been difficult."
Sterling, who received his first call-up for Stuart Pearce's England Under-21s yesterday, has been linked with the senior squad for next week's World Cup qualifiers but Barnes is wary. "You have seen the same expectancy when Theo Walcott went to the World Cup. It probably hurt him for the best part of two years. I don't want the same to happen to Raheem Sterling."
Barnes added: "My advice would be the same as Graham Taylor told me at Watford: 'Don't believe the hype'. He told me when they write good things and you believe them, you have to believe them too when they write bad things. You cannot pick and choose."
Glenn Moore
Probable teams
Liverpool (4-2-3-1) Reina; Wisdom, Carragher, Coates, Johnson; Gerrard, Henderson; Sterling, Shelvey, Downing; Borini.
Udinese (3-5-2) Brkic; Danao, Domizzi, Benatia; Faranoni, Pinzi, Fabbrini, Willians, Asmero; Di Natale, Pereyra.
Referee S Johannesson (Swe).
TV ITV4 8.05pm kick-off.
Register for free to continue reading
Registration is a free and easy way to support our truly independent journalism
By registering, you will also enjoy limited access to Premium articles, exclusive newsletters, commenting, and virtual events with our leading journalists
Already have an account? sign in
Join our new commenting forum
Join thought-provoking conversations, follow other Independent readers and see their replies