Frank Lampard: Past perfect, future tense but still a present danger
Steve Tongue
Saturday 11 May 2013 22:41 Comments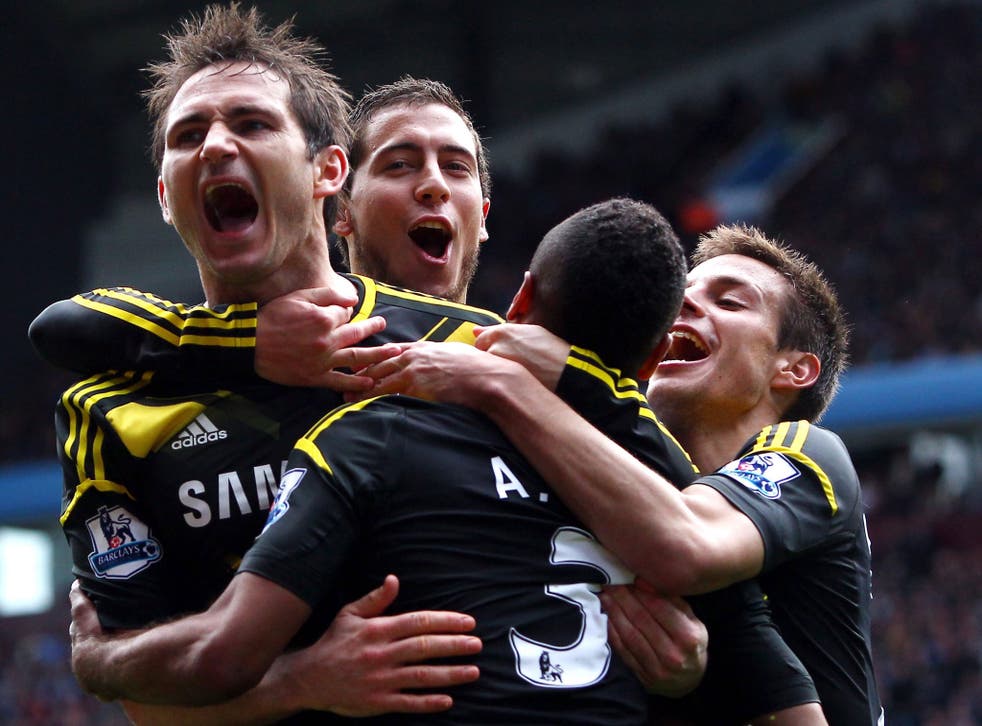 At Chelsea's training centre in Surrey stockbroker country the rain is sheeting down, the wind howling and all but one of the first-team squad have long since sought the warmth of the changing rooms. The exception, insisting on extra shuttle runs and shooting practice, as he has done since the earliest days of his career, is Frank Lampard.
It is no kind of weather for May, but the time of year means that, as usual, Chelsea have a cup final in the offing. Since Lampard arrived from West Ham United, even before Roman Abramovich first dropped in, there have been five FA Cup finals (four won), three League Cup (two won) and two Champions' League finals. The crowning moment was 12 months ago, when Didier Drogba made the Blues champions of Europe with his last kick for the club and Lampard went up as deputy for the suspended captain, John Terry, to collect the Champions' League trophy. The difference this time is that far from being one of the first names on the teamsheet, he is not sure to be listed at all.
Hence the determination to be at his peak when called upon, as he certainly was in yesterday's League game at Aston Villa. "I always try to do those extra bits," he said of his additional shift in the rain and wind. "If I don't do them I haven't got the edge in my game. Particularly when you miss games, rotated in and out, if you don't do that then you can slip into a game and be more lethargic than if you were playing every game."
There's the rub. Playing in every game has not been possible for anyone in this hectic Chelsea season of eight different competitions, but two matches that nobody wanted to miss were last week's top-four tussle at home to Tottenham and this Wednesday's Europa League final against Benfica. A year ago they would have been regarded as Lampard's sort of games. In the critical derby, however, he did not spend a minute on the pitch, Rafa Benitez using David Luiz as a defensive midfielder and starting with the new breed of Eden Hazard, Juan Mata and Oscar, a trio who have all racked up 60 or more appearances already this season; Lampard, once the model of consistency, is still short of half a century.
Ten years ago he feared that Abramovich's millions would mean a short-lived Chelsea career: "We thought it would be a complete upheaval and all the superstars would come in and we'd all be gone."
Now there is a different uncertainty. Will it be another European winner's medal, a new contract under Jose Mourinho and leaving Bobby Tambling's club scoring record further behind? Or a horrible anticlimax to 12 years at Stamford Bridge?
Whether or not Benitez really dares to leave him out of the Amsterdam final now, Lampard is typically mature and matter-of-fact about all the uncertainty. "You have to be professional about it and work hard in training, it's just a different mindset. Every manager's different. With some you can get an idea of whether you're playing; some tell you early, some not. The only way to deal with it is to be professional in the build-up."
Similarly with his contract, which runs out at the end of this season amid doubts over whether he will get a new one: "The easiest part about this season has been playing games rather than sitting speculating at home, because when you think about it too much it becomes detrimental, but when you're playing and training and wanting to do well for the team it's easier. I'll enjoy the last games and then at the end of the season I'll look at the situation and see where it leaves me personally.
"Didier handled himself fantastically all last season. He didn't talk about it, no one knew his plans until after the match and he did his stuff and left as an absolute legend, as he should have done."
If leave he must, then every Chelsea supporter would be prepared to grant Lampard legendary status too. He arrived in the summer of 2001 for £11 million following relegation for West Ham, where his days were dogged by lack of appreciation and accusations of nepotism because his father was assistant manager to his uncle, Harry Redknapp. That was the motivation for the extra training stints and desire to prove detractors wrong.
The Chelsea he joined under Claudio Ranieri were a top-six team but not much more. "I thought when I came here it was a step up and a very big club. I realised even more how big it was when I got here. To be honest I was probably thinking it would be great to challenge for the top six, let alone to go on and do what we've done, so it's gone beyond my wildest dreams."
Then came news that the Russians had landed. "Roman Abramovich completely transformed the club. Bringing in players, changing the training ground, everything that happened around the club, it became a winning club and that was certainly down to him. Every summer you thought, 'Blimey, there's more coming in, am I going to play?'"
Now finishing sixth, as they did last season, is a failure, and third or fourth, while regarded as a trophy success by some, is anathema to Lampard: "I don't like the idea of fourth being a celebration." Cause for celebration is holding up a cup, having played a real part. And reflecting that those runs in the rain were all worthwhile.
Frank's finals
2002: FA Cup Chelsea 0 Arsenal 2
Beset by injuries, Chelsea lose to two goals in last 20 minutes
2005: League Cup Chelsea 3 Liverpool 2 (aet)
Jose Mourinho's first trophy
2007: League Cup Chelsea 2 Arsenal 1
Revenge for 2002
2007: FA Cup Chelsea 1 Man U 0 (aet)
The cup double
2008: League Cup Chelsea 1 Spurs 2 (aet)
Drogba scores, but Spurs come back
2008: Champions' League Chelsea 1 Man United 1 (aet; Utd win on pens)
Lampard equalises Ronaldo's goal but Terry famously misses in shoot-out
2009: FA Cup Chelsea 2 Everton 1
Louis Saha scores after 25sec, Drogba equalises, Lampard hits the winner
2010: FA Cup Chelsea 1 Portsmouth 0
Lampard misses a penalty after Drogba scores eventual winner
2012: FA Cup Chelsea 2 Liverpool 1
Chelsea and Lampard's fourth FA Cup win in six seasons
2012: Champions League Chelsea 1 B Munich 1 (aet, Chelsea win on pens)
Lampard scores in shoot-out and Drogba wins it
Chelsea v Benfica is on ITV on Wednesday, kick-off 7.45pm
Register for free to continue reading
Registration is a free and easy way to support our truly independent journalism
By registering, you will also enjoy limited access to Premium articles, exclusive newsletters, commenting, and virtual events with our leading journalists
Already have an account? sign in
Join our new commenting forum
Join thought-provoking conversations, follow other Independent readers and see their replies