Giggs strikes a blow for the old guard with vintage display
Benfica 1 Manchester United 1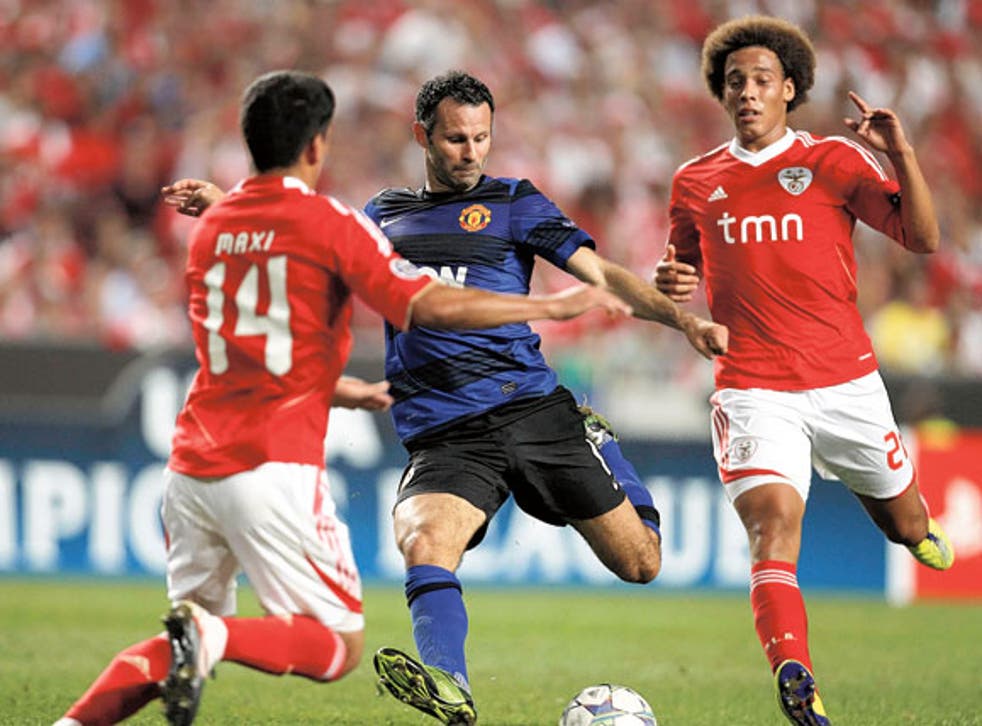 The absorbing aspect of Manchester United's latest journey revolves around those players who are young and new, yet it was in that very old image of the "cocker spaniel chasing a bit of silver paper in the wind" that Sir Alex Ferguson found refuge once again last night.
That picture is the one Ferguson took away when he first saw a 15-year-old Giggs turn a breathless Viv Anderson inside and out at The Cliff, 22 years ago. The pace and the energy might not be quite what they were – Ferguson conceded late last night that it had been Giggs' tendency to sit too deep which limited their incision for nearly 45 minutes – but when he got into advanced positions in Benfica's central midfield area, the potential to cause damage revealed itself. On a night when the beginning of Ferguson's 18th European quest was going badly wrong against a Portuguese side of individual excellence, Giggs quietly took down a ball from Antonio Valencia, 20 yards out, and thumped in another goal which redeemed United and settled them.
The goal came 17 years to the day from Giggs' first in the Champions League and was his 29th in continental football, taking him past Denis Law in United's pantheon of goalscoring greats and leaving only Ruud van Nistelrooy ahead of him. Various other records tumbled. Giggs, in his first start of the season, also becomes the oldest Champions League goalscorer at the age of 37 years and 289, now leaving Raul in his wake.
In some ways, the joy of the old was greater than that of the new, here. Ferguson's caustic response to TV journalist Kelly Cates' question about goalkeeper David de Gea suggested this was one he saw coming. Though De Gea's redundant afternoon in Saturday's 5-0 demolition of Bolton kept his reputation intact, he has yet to excel under the kind of pressure he will encounter when Chelsea arrive at Old Trafford on Sunday.
Anders Lindegaard, meanwhile, has been the best United goalkeeper in pre-season and seized his big moment last night by palming away a shot from the Argentine Nicolas Gaitan and, even better, saving low, athletically and instinctively from the dangerous Spanish substitute Nolito. The manager does not feel he has a selection consideration before Sunday but this performance heaps more pressure on De Gea.
The opening scene for Ferguson's latest European adventure – red cantilevered stands against an azur blue sky – was spectacular. The heat was on United in a literal sense – a scorching Lisbon day was giving way to a balmy evening – and it soon was in a footballing sense, too. This great club is one which has always ascribes to the notion of poetry on the field of play – they waved a banner of the Lisbon poet Fernando Pessoa before kick off – and in Gaitan they certainly have one.
Considered by many here on the banks of the River Tagus to be the new Angel di Maria, the 23-year-old shredded Fabio da Silva in a way which may take some getting over. Chris Smalling, now a consistent tower in United's defence, had effectively taken over the Brazilian right back's role from him. Giggs helped too, in a subtle way, quietly indicating "chin up" to Fabio. But by then the Portuguese were ahead through one of the most sublime pieces of football in the first Champions League week. Gaiton took down a ball on the left and rapidly struck it 20 yards for Oscar Cardozo – one of the two players Ferguson's brother, Martin, had felt were Benfica's best – to chest down, unbalancing Jonny Evans and strike right-footed past Lindegaard.
United's concession of the ball in the final third meant their superior possession was counting for nothing. Michael Carrick was one repeat offender and so too, occasionally, Giggs. The more experienced side Ferguson fielded, with seven changes from Bolton, also displayed less adventure. "I thought our possession in first half of the game was too cautious – although it gives you a certain type of control, it doesn't give you a winning game," Ferguson conceded.
But Giggs altered all that. In small ways, he has changed in the past eight months. The revelations about his private life mean that one of the most articulate players will not longer stop to talk football in the mixed zones after games. But there is no anger in his refusal, just a refusal, and his football remains as free as ever. It is 20th consecutive season in which Giggs has scored for United. Enjoy it while he lasts. The club will never see his like again.
The Valencia-Giggs axis might have produced a second for United minutes into the second half when the Ecuadorean, suddenly causing Maxi Pereira the same problems as Fabio, raced into the area again. Park Ji-sung offered the same from the left. As United gained the ascendancy after the break – Gaitan and Axel Witsel could not maintain the intensity of their first-half threat – Giggs created another pocket of space to release the shot which the Benfica goalkeeper Artur palmed wide of his left post.
Ferguson did not retreat in a way that other managers would, when Lindegaard was being forced to leap to the rescue late on – throwing in Javier Hernandez and Nani, as well as Phil Jones, who brought Fabio's foul night to an end. Any other manager would probably also have spared the veteran's legs the full 90 minutes, too. But Ferguson knows Giggs too well. The cocker spaniel had his full run.
Register for free to continue reading
Registration is a free and easy way to support our truly independent journalism
By registering, you will also enjoy limited access to Premium articles, exclusive newsletters, commenting, and virtual events with our leading journalists
Already have an account? sign in
Register for free to continue reading
Registration is a free and easy way to support our truly independent journalism
By registering, you will also enjoy limited access to Premium articles, exclusive newsletters, commenting, and virtual events with our leading journalists
Already have an account? sign in
Join our new commenting forum
Join thought-provoking conversations, follow other Independent readers and see their replies