In a league of staggering financial inequality, modest Guingamp continue to punch above their weight
Look down the Ligue 1 table, 10 places and 45 points below the cash-rich Paris Saint-Germain, and you will find the most over-achieving team in Europe
Jack Pitt-Brooke
Tuesday 17 April 2018 13:38 Comments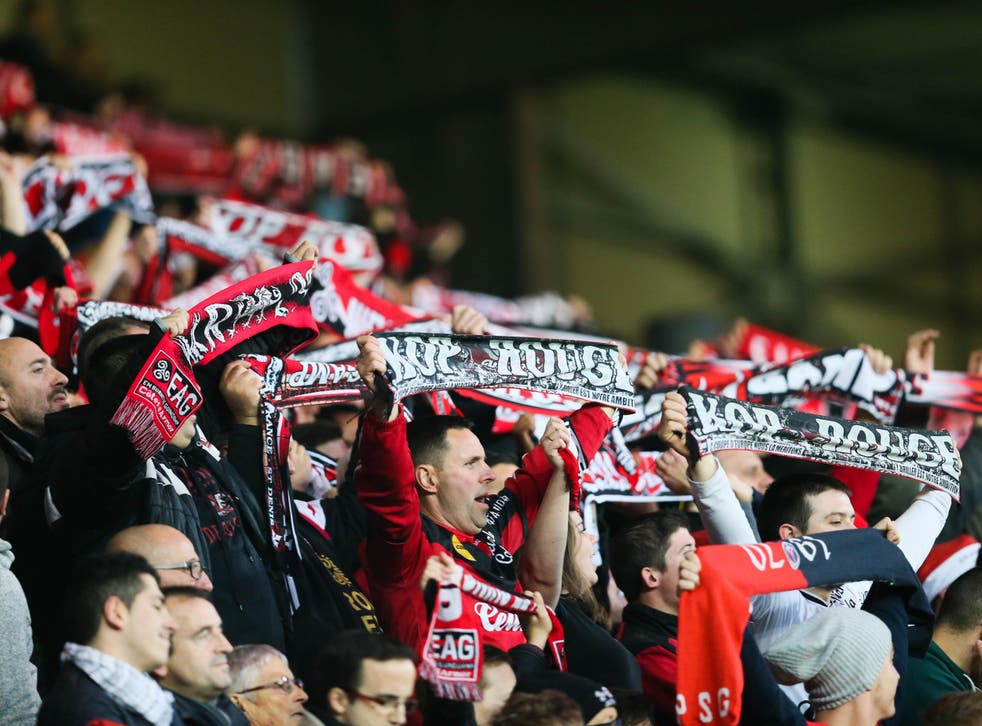 Trophies are absolutes, but achievements are relative. Paris Saint Germain won the Ligue 1 title on Sunday night which, after spending €222m on Neymar and lining up a €200m deal for Kylian Mbappe, is not something to stir your sense of the power of football. Nor is it likely to be enough to keep Unai Emery in a job.
But look down the Ligue 1 table, 10 places and 45 points away, and you will find a team whose achievement is far more real. Even if they are never going to win anything.
En Avant de Guingamp are the most over-achieving team in Europe. They represent a village of just 7,000 people, the smallest place to provide any top flight side in any big European league, found in the middle of nowhere in rainy northern Brittany. This western-most tip of France is not a football hot-bed. Wales chose to base themselves in nearby Dinard for Euro 2016 because of its quiet seclusion.
"It really makes no sense for there to be a football club there," says Alex Hayes, who used to run FC Lorient, another Breton club, when they were in Ligue 1. "This is a tiny town, an oasis of football in the middle of the Brittany countryside."
So while much is often made of the success of Villarreal, that town of 50,000 positively metropolitan by comparison. Hoffenheim – fifth in the Bundesliga – punch above their weight, given their own small-town base. But they have a software billionaire benefactor to back them.
Guingamp have none of that. The frugality of their annual budget, just under €30m, is even more important to their story than the size of their hometown. PSG, for comparison, pay Neymar alone more than that, and have an annual budget close to €550m. Guingamp's budget is consistently the lowest in Ligue 1and yet here they are, in the middle of the top flight, about to start preparing for their sixth consecutive year there.
Simply being there for another year is a triumph enough for the local men and women who run the club. EAG is owned by 145 local businessmen, who know that only by working together could they nurture the club's spirit. To reinforce this, last year the club introduced a shareholding system called 'Kalon', which is Breton for 'heart'. That allows Guingamp fans to buy one share each for €40, and have their name on a wall by the Stade de Roudourou. So far they have 15,206 such shareholders, more than twice the size of Guingamp itself.
The biggest clubs in Ligue 1 are all foreign owned: PSG by Qatar, Monaco by Russian oligarch Dmitry Rybolovlev and Marseille by the American Frank McCourt. Lille sold up to Spanish investor Gerard Lopez, formerly of Lotus F1, last year. Now they are embroiled in a legal battle with former manager Marcelo Bielsa, stuck in the relegation zone, 13 points behind Guingamp.
"We are the opposite of what we see around us," Guingamp president Bertrand Desplat tells The Independent. "There are a lot of investors now from all over the world, from Qatar, from China. But we are the opposite. We are owned by 145 small local businessmen. Not Chinese or Russian apparatchiks. Only local people."
So how do these local people actually do it? How do you overachieve this much in a sport this competitive and this open, where nothing is kept secret? And when the obvious ways to make a team good – players, coaches, facilities – require spending money.
The answer is by prioritising what money cannot buy: values. That might sound hackneyed, but it is how the club explains its own success. When Guingamp sign any player, he is sat down beforehand for an hours-long meeting where the history and values of the club are explained to him. He is presented with a document entitled 'Engagements', the commitments or obligations the player has to the club. Most of all to uphold the club's four core values: work, humility, fighting spirit and solidarity.
But the evidence shows that the players are willing to do just that. That is why the team overachieves on the pitch, solid in mid-table despite their budget. Why they were the last team aside from PSG to win the Coupe de France, regaining the trophy in 2014 they first won in 2009. And why the academy has produced so many good players over the years.
Anthony Knockaert started his career at Guingamp, learning the game there before making his big move to Leicester City in 2012. Laurent Koscielny was spotted by Guingamp scouts at 17 playing for non-league Limoges, persuaded to turn down Lens to come to Brittany, and was given a solid grounding in the game there. Gianelli Imbula, who Stoke paid Porto £18million for, started at Guingamp before joining Marseille.
And players who play for Guingamp never forget it. Back in 2002-03, Guingamp had a young Didier Drogba and Florent Malouda, signed on the cheap from the lower leagues. They loved it there and in May 2012 the pair returned to the club to celebrate its centenary. It was just eight days before the 2012 Champions League final but Drogba and Malouda stayed late, meeting fans, staff and ex-team-mates. They told the pair that Guingamp would be their 'lucky star' in Munich. Eight days later, Drogba's penalty won the Champions League.
Football never stops turning and now there is another generation of youngsters developed at Guingamp's new academy. Drogba's 17-year-old son Isaac has just joined. Marcus Thuram, son of Lillian, is in the first team. Marcus Coco, another 20-year-old midfielder, is a Liverpool target already. There is plenty of foreign attention for Ludovic Blas. The club gives these players a chance and accepts they will eventually leave. Because they will then be replaced by the next cohort.
The unlikely isolation of Guingamp may in fact make it a better home for teenage players than Paris, Lyon or Marseille. "In Guingamp, there is nothing to do but play football," Desplat says.
"No bars, no discos, no big city. There are lots of people here to make you feel good, and to give you confidence. But to focus on football. Because there is nothing else to do. Never forget that we are the smallest town in Ligue 1. We should be playing at the sixth or seventh level of French football, not the top."
Register for free to continue reading
Registration is a free and easy way to support our truly independent journalism
By registering, you will also enjoy limited access to Premium articles, exclusive newsletters, commenting, and virtual events with our leading journalists
Already have an account? sign in
Join our new commenting forum
Join thought-provoking conversations, follow other Independent readers and see their replies