Gus Poyet tells his Real Betis players not to enjoy visit of Real Madrid
Former Sunderland manager could do with victory over Zidane on Saturday and will have special instructions for his team, he tells Pete Jenson in Seville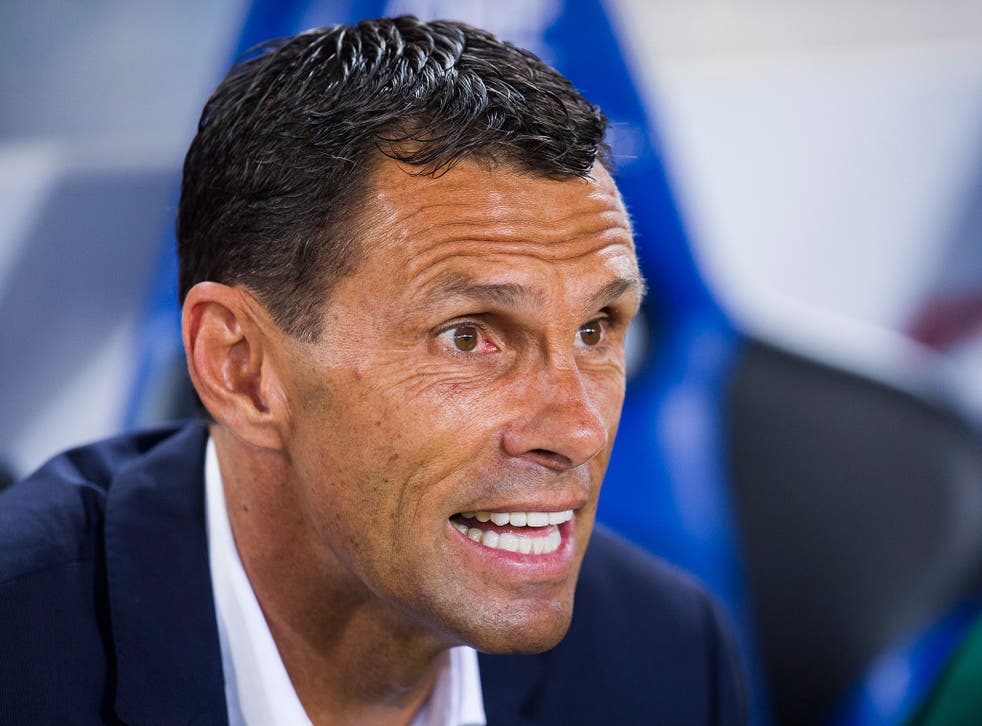 It's 37 degrees in October on the streets around Real Betis' Luis del Sol training ground but that isn't what's bothering Gus Poyet. In his air-conditioned green and white office he is contemplating the visit of Real Madrid and their 100m Euro forward Gareth Bale who he once coached as an athletic but not entirely convincing left-back.
That was during his spell as assistant manager at Tottenham under Juande Ramos. When he looks at Spurs now he sees not just potential title-winners but a team who could dominate English football for several years. But more of that later, there are more pressing things on the horizon for the Betis manager.
"I remember that Juande Ramos wanted to put him [Bale] higher up the pitch. But at that time Gareth still considered himself a left-back. In his mind he needed space [in front of him]. If he played further forward then he was not going to have the space to run into and get past you.
"Of course, it's one thing having space in front of you but if you are playing at the back you need to know how to defend. That was the other side of it," he says of Bale's inevitable departure from those early days at left-back.
"The year he had at Tottenham when he turned everybody's heads, he just went to another level. He has adapted to a style of play and he takes responsibility. Him going to Madrid and being the player that he now is has helped him make the Wales team one of the big teams right now in international football."
Poyet, who has been in charge at Betis since the summer, says there should be no need to motivate his players before Saturday's game. "When I was a player here in Spain at Zaragoza the first thing you would look at when the fixtures came out was when you were playing Madrid and Barcelona. I wanted to play those games. So this week I imagine the players will have been thinking – 'train well, pay attention to the ideas and then play'."
The former Brighton and Sunderland manager could do with a win after a stop-start season so far. But so could visiting coach Zinedine Zidane who is already under pressure after four straight draws.
Since holding midfielder Casemiro got injured they have struggled and they are now missing Luka Modric and Sergio Ramos too. "People say four months ago Zidane was a better coach," Poyet says. "No. Zidane four months ago found the solution to Madrid's problems by playing Casemiro. And he won the Champions League. Casemiro gets injured and now they say he's a disaster."
He laments the fickle nature of supporters and the impatience of club owners. "My decisions are based on factors that those on the other side can't always see," he says. "I could take the microphone before games and say: 'ladies and gentlemen I have picked this left-back this afternoon for the following reason'... but you can't manage like that.
"I've spoken about this with former team-mates. With Roberto di Matteo, with Gianfranco Zola, with Dan Petrescu and there is always a friend who says: 'Don't do it any more! Get yourself off to the beach! Go and play golf!' But we do it because we love it."
Another incentive to carry on is that one day he will get that two or three year run at the job and things will start to take shape as a long-term project. "Mauricio has done something very good and almost unique," he says of Pochettino's work at Tottenham.
"He has taken certain decisions in terms of the formation of the team and the age of the players – decisions about the rejuvenation of the team. And he has known where to put the experience and where to give young players the chance. And the results have been extraordinary. Two years ago he was playing with a midfield that had 20 or 21, 22 years. And he has moulded them to his needs. He finds [Eric] Dier and he wants him to do a job in the beginning he is not used to because he comes as a centre-back or full-back. He now has a group of players with a set of characteristics perfect for the way he wants them to play.
"He has some very young players in certain positions and he has brought them through with the help of loans in some cases. And he has been able to add players who can do specific jobs and this is why it gets to me when managers are not given time because it is the time that enables you to find specific players for specific roles. Victor Wanyama! Bang! 'I need Wanyama, get me Wanyama'. And that takes you on to another level. It beats the panic of 'oh, I need a left-back, a right-back, I've been offered this one on a free, we can take this one'.
"The great thing about Tottenham is that they are going to have seven or eight players who will all be at that perfect age 26-27 years, playing for Tottenham. And that is very difficult to achieve. I hope he [Pochettino] stays. Because if he can keep that group together until they all reach that age...wow, it will be spectacular. You don't know where the other big-spending clubs will be in that moment but don't be in any doubt that what you build with time is much stronger than what you build with money."
There is no money at Betis and not usually much time either. Loans are important and he believes that Chelsea loanee Charly Musonda has what it takes to become a top player if he keeps developing.
"He just lacks that ability to make the right decisions. An old Uruguayan coach Sergio Macaren told me when Zidane was at Juventus that he was the best player in the world at the time because he was the player who made the best decisions all the time. It's the decision-making that really defines a player. If Charly starts to make the right decisions with the final ball he can be special.
"He gets in very similar positions a lot of the time but one of the most important things for a player of his characteristics is that after doing everything he does at 120mph he can then make the right decision and it can be difficult."
Which brings things back to Bale who can apply the brakes and freeze-frame everything to make the right decision after a lightening 60-yard dash clear of defenders. He will be a problem for Betis and Poyet on Saturday.
Will he tell the players to just go out and enjoy it as some coaches do when they face the best sides in La Liga?
"Well, if things had gone well for us against Barcelona earlier in the season then I would say yes. But I wrote 'enjoy it' on the board before the game and we were hit for six! So 'enjoy' no, that word is out!"
Register for free to continue reading
Registration is a free and easy way to support our truly independent journalism
By registering, you will also enjoy limited access to Premium articles, exclusive newsletters, commenting, and virtual events with our leading journalists
Already have an account? sign in
Register for free to continue reading
Registration is a free and easy way to support our truly independent journalism
By registering, you will also enjoy limited access to Premium articles, exclusive newsletters, commenting, and virtual events with our leading journalists
Already have an account? sign in
Join our new commenting forum
Join thought-provoking conversations, follow other Independent readers and see their replies