Javier Mascherano interview: Barcelona defender on what makes the Nou Camp so special
Former Liverpool midfielder on life at the Nou Camp and as a central defender
Pete Jenson
Friday 19 February 2016 15:36 Comments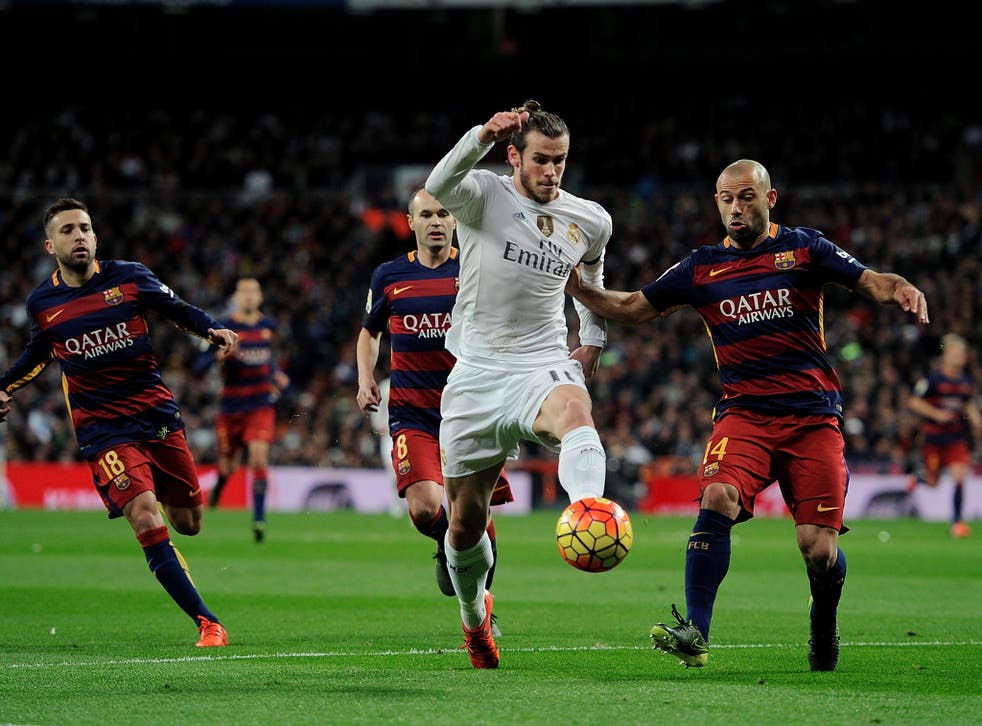 Anyone who thinks Barcelona have won the Champions League three times in the last seven years just because of pass, pass, pass and Lionel Messi, has not been paying attention according to Javier Mascherano.
"El Jefecito" ("the little boss") lays down a few home truths about the team currently favourite to become the first to win the tournament in successive seasons.
"Those on the inside don't have to adapt to those coming from the outside. No, no, no," he says. "It's those arriving to the club from the outside who have to adapt to those already here. The players who have come up through the system are the ones who pass on the culture of the club."
Barcelona travel to England next week to see if they can knock Arsenal out of the competition as they did in 2010 and 2011 and the focus will be on Leo Messi, Luis Suarez and Neymar when they touchdown on Monday. But speaking at Barcelona's Joan Gamper training complex, a short distance from the new base of the club's legendary Masia academy, Mascherano talks about that respect for the club's "home-produced" players and also of the mental toughness of the players who have won so much in such a short space of time.
"What is so special here is that the players – and not just the three up-front but players such as Sergio Busquets, Andres Iniesta and Gerard Pique – have been winning all there is to win for so many years, and yet they still have that hunger for more.
"Even just a little bit of praise can weaken you. So imagine when there is not just the praise but the medals on the table too. But these players have marked out the route and those that join the club are obliged to follow in their footsteps.
"That is the special thing here: the homegrown players, the people of the casa, have laid the path and those that have arrived afterwards follow it."
It's something that perhaps Manchester United had with the Class of '92; Chelsea with John Terry and Frank Lampard; and Liverpool, where Mascherano played for a spell, with Jamie Carragher and Steven Gerrard – Barcelona take it to another level.
"Yes, of course, Liverpool had Carragher and Gerrard. But there were two of them. When there are seven or eight it's a lot easier. When you got to the Liverpool dressing room the first thing you would look for is to see if Jamie and Stevie had arrived and if they had then everything was OK. But what happens when one of them is missing? Or if they are both missing? It's not so easy. I think that's the secret."
Mental toughness is the other quality he believes underpins this domination of European football. "Great players are very good technically but they also have a huge amount of character, because without it you will never get to see that great technique because it vanishes under pressure. I have had so many team-mates who have been technically better than me. But they have lacked that desire and mental strength. This team has that."
None of which means Mascherano does not marvel at Messi along with the rest of us. "Football is not as easy as it looks from the television gantry," he says at one point, before adding: "but for Messi it is.
"He is someone you never stop being surprised by. Iniesta is the same. There is always a piece of skill during a match or a training session where the normal thing would be that it doesn't work out, but with them it does. I have seen Iniesta dribble on the edge of our area so many times and you say to yourself: 'how has he done that?' If he loses the ball then they score. But he doesn't lose it."
When Mascherano joined Barcelona from Liverpool in 2010 he did so as a midfielder. But Barcelona already had the best midfield unit in the world with Iniesta and Xavi Hernandez flanking Busquets.
Was it always the plan to become a defender? "No, no, no. I had no idea. And sincerely, after five or six months of being here it looked as if I would not be staying for very long. My strengths seemed to be in complete contrast to the style of the team," he says.
"Throughout my whole career I have been a physical player who contains the opposition; a defensive player who doesn't get involved in the attack. But here the style of play is to always go on the attack!"
So he became a centre-back – one picked out as a potential weak link but who won two Champions League medals without putting a foot wrong in the finals. "I knew in terms of being a regular starter I was not going to be able to take Busquets' place. It's impossible. He is very, very good. And for Barcelona he is perfect."
He says he could only have made the positional transition at this club, where a high-defensive line often sees him next to Busquets on the pitch. "I still feel like a central midfielder and one day I will not play any more for Barcelona and I will go and play somewhere else and I'm sure I will do so as a central midfielder," he says.
"Being a central defender for Barça it is not like being a centre-back for any other team. The part of the pitch that you end up playing in is very similar to the part you would inhabit if you were playing in midfield. The only thing that changes is that I receive the ball facing the pitch, and not with my back to the play. If you take me back to defend in my area the whole time, then obviously I am going to suffer more because of my physical stature."
He would not have been the first player to struggle at Barcelona because he was unable to change to suit their style. There are plenty of Arsenal players – both past and present – on that particular list with Cesc Fabregas, Alex Song, Alex Hleb and Alexis Sanchez among them. After the original pessimism he says he drew on the same strength that saw him make it at Liverpool.
"I was at West Ham and I wasn't playing and then I went to Liverpool and you could say: 'If I'm not playing at West Ham, how am I going to play for Liverpool when they have Gerrard and Xabi Alonso?' It was a challenge and it was the same situation here."
So which was the better midfield – Barça's fabled three or that Liverpool trio of Mascherano, Alonso and Gerrard? "It's difficult," he says, admitting that while one was perfect for Barcelona, the other had the perfect balance.
"I was there to contain and to offer balance; Xabi was there to distribute and Stevie was there to distribute as well but also to arrive in the area and finish. That Liverpool team played some very good football. It was one of the best sides I have played in."
The Liverpool experience brings a big smile to Mascherano's face. It also takes him back to the subject of what a football club should and should not be.
"Liverpool is a club where you need to be there to enjoy it. It's not worth owning Liverpool if you are going to always be 20,000 miles away. It's a club that belongs to the people. And you will never understand that if you are never there."
The club has changed hands since Mascherano left but it remains in the control of people making decisions from another continent. At least they now have the right manager. "Jürgen Klopp is a perfect coach for Liverpool. He is very much of the people. He likes to get close to people and that is what the people of Liverpool are like. I always say that nowhere have I been treated as well as I was treated there."
Does that affection for Liverpool mean that if Pep Guardiola came calling this summer wanting Mascherano to do for him at Manchester City what Alonso did for him at Bayern Munich he would turn him down out of loyalty to his former club?
"No, no, Pep is not going to call me," he says laughing down the suggestion. "He will not call me, no, no, no. But returning to the Premier League? I don't know. My feeling for Liverpool does not mean I'm tied to them. If in the future a Premier League team was interested in me and I had the chance to go back, you can't say: 'No, I would only play for one team'. I don't know what I would do."
Beyond the next move as a player, management surely awaits. Everyone who has ever played alongside him sees it as his destiny. Few understand this sport better than Mascherano and even fewer are able to communicate their understanding so eloquently.
"Playing at being a coach is very easy," he says playing down the possibility. "From this side of the fence things look very different and when you cross over it is not the same. I would certainly like to try. I would start in Argentina, for sure."
And then would he coach in Europe, maybe at Liverpool? "Let's see how good I am first," he laughs again as things get increasingly hypothetical. "I think maybe Stevie and Jamie might get there before me. Perhaps they will want an assistant."
If they did, they could do a lot worse than choose a man steeped in success.
Register for free to continue reading
Registration is a free and easy way to support our truly independent journalism
By registering, you will also enjoy limited access to Premium articles, exclusive newsletters, commenting, and virtual events with our leading journalists
Already have an account? sign in
Join our new commenting forum
Join thought-provoking conversations, follow other Independent readers and see their replies