Jose Mourinho defends decision to leave Paul Pogba out of Manchester United's starting XI for Sevilla draw
Mourinho left out United's record signing for the second time in three games on the basis that he was still not at 100 per cent fitness, preferring Scott McTominay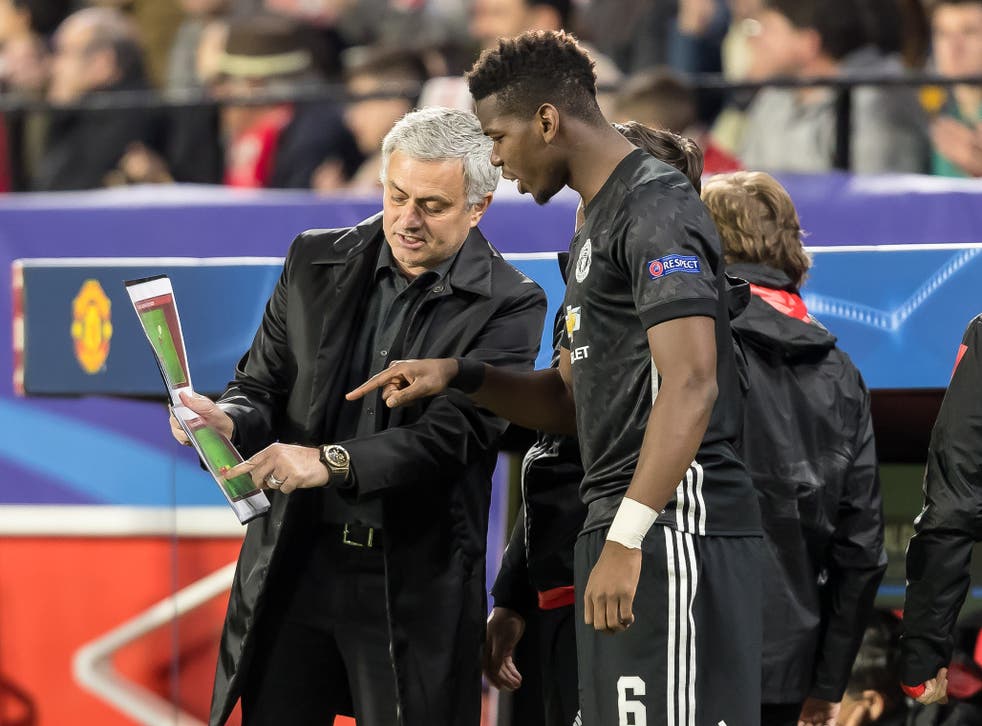 An irritated Jose Mourinho defended his decision to leave Paul Pogba out of the starting XI for the 0-0 draw against Sevilla, instead trying to deflect attention onto his replacement Scott McTominay.
Mourinho left out United's record signing for the second time in three games on the basis that he was still not at 100 per cent fitness, preferring the 21-year-old McTominay in a cautious midfield alongside Ander Herrera and Nemanja Matic.
As it happened, Herrera's early injury - "a bad injury," Mourinho admitted - saw Pogba play most of the match anyway. Yet Mourinho still bristled when asked about him in the press conference afterwards. "In my pre-match interview, in four questions I had three about Paul, and Paul was not even playing," the Manchester United manager grumbled. "That's a bit strange."
"Respecting you and your work, I understand your question. But if I was one of you, I would ask if the Manchester United manager agrees that Scott McTominay had a fantastic performance, and my answer would be yes, he had a fantastic performance.
"He looked a sernior player, a player with great maturity, with tactical sense, with a sense of responsibility, good in possession, good in pressing. He looked like a man with dozens and dozens of matches in the Champions League when this is only the second one [in the starting XI]. A fantastic player - Ever Banega - wasn't, because he didn't have the space to be the Banega that all of football admires. He stopped him playing."
Having answered a question nobody asked, Mourinho then applied himself to assessing Pogba's performance, which he did in less gushing terms. "Paul tried to give the team what I asked," he said. "Of course he lost a couple of possesisons, but he also gave us stability, because we had a good percentage of ball possession away from home against a good team like Sevilla."
A goalless draw in Seville was, Mourinho said, "not good, not bad", and looked forward to the first Champions League knockout game at Old Trafford since the David Moyes era. "David [de Gea] made two great saves," he said. "Apart from that, the game was even. Sometimes you have 15 shots, but 13 of them were what I call statistic shots. So I feel the result reflects what the game was."
Chris Smalling, meanwhile, said the result now made United slight favourites to progress. "I think it has," he said. "Bar the end of the first half where David made a couple of good saves, they didn't really have clear-cut chances. They tired in the last 20 minutes."
Join our new commenting forum
Join thought-provoking conversations, follow other Independent readers and see their replies