Harry Kane and Christian Eriksen fire Tottenham to brilliant comeback to leave Juventus tie in the balance
Juventus 2 Tottenham Hotspur 2: Spurs rallied after Gonzalo Higuain's early brace, with Harry Kane and Christian Eriksen scoring to leave the tie finely poised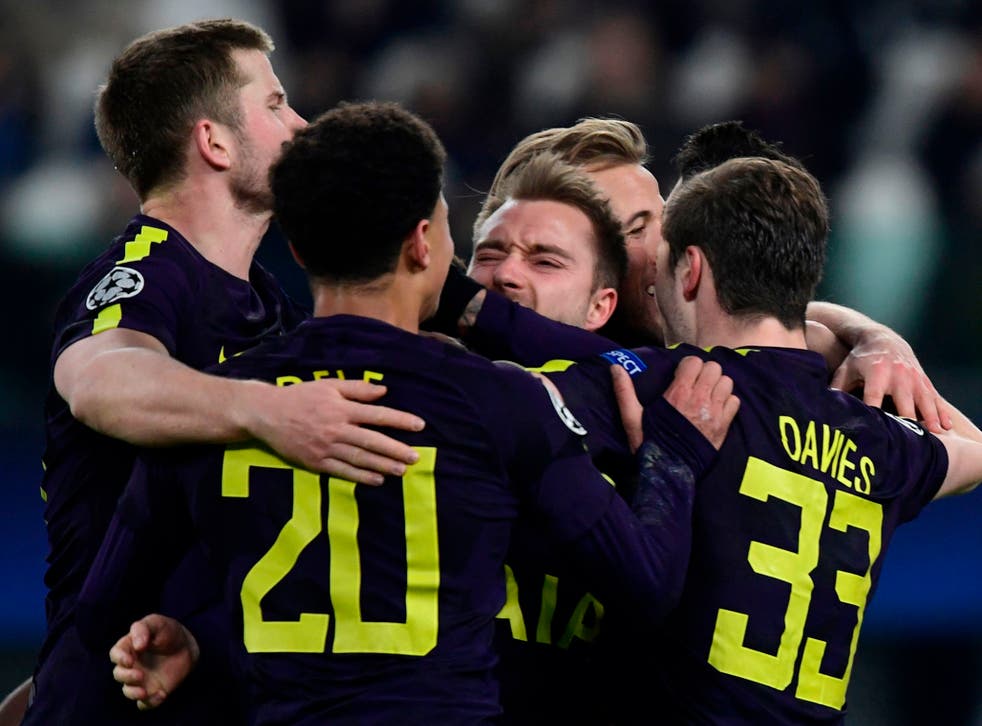 A curious emotional vacuum settled over the stadium at full-time. Tottenham and Juventus shook hands with a kind of suspicion, neither side quite sure how to react. Were they the burglars or the burgled? Who, exactly, had merked who?
Certainly Tottenham were the dominant side in some respects: playing the Italian champions off the park for large periods, enjoying 67 per cent of possession, camping out in Juve territory, silencing the disgruntled home fans. Harry Kane scored again, Mousa Dembele had the game on strings and Christian Eriksen ran the midfield like a boss.
On the other side of the ledger, of course, was the fact that they trailed the game from the second minute, and had they lost would have nobody to blame but themselves. Once more, Tottenham were bedevilled by individual errors in a big game.
The featherweight clearance by Jan Vertonghen that led to Juventus's opening goal within 75 seconds. The peasant scythe by Ben Davies that handed them a second after just eight minutes. The Red Bull tackle by Serge Aurier that gave away a second penalty on the stroke of half-time, and a chance for Juventus to put the match and very possibly the tie to sleep.
But Gonzalo Higuain missed his penalty, Juventus did not put the game to sleep, and in hindsight it was the transformative event of the game. Eriksen's lawn-mowing free-kick with 20 minutes remaining earned Tottenham a precious draw and the edge in this tie. They will be hugely encouraged by the way they recovered from going 2-0 down. They may even, in time, come to see this as one of their proudest European away performances.
To get there, though, Tottenham first had to walk through a nightmarish landscape entirely of their own making. The game was just seconds old when Vertonghen cleared the ball straight to Miralem Pjanic, Dembele bringing him down as he charged at goal.
As Pjanic trotted up to the free-kick, nobody spotted Higuain peeling away from the melee, and thus nobody followed him. With a brilliant swivel, the ball dropping and spinning over his shoulder, Higuain swung his right boot through the ball and sent it back across Hugo Lloris, into the far corner. The clock showed 74 seconds.
The blood rushing to Tottenham's heads was mostly embarrassment. Heavy touches and misjudged passes abounded. On eight minutes, Federico Bernadeschi was brought down by Ben Davies - who had a wretched game, all told - as he tried to control a deep cross. Higuain converted the penalty,
Yet in a strange way, going 2-0 down seemed to liberate Tottenham. Almost as if they no longer needed to fear the worst, for it had already happened. They began to dominate possession, perhaps even enjoy themselves. Juventus fans jeering their own team after one aimless clearance too many.
Tuesday's Champions League action in pictures

Show all 29
There were chances too: a simple header for Kane after Eriksen's delicious cross. And 10 minutes from half-time, Tottenham were rewarded for their endeavour, Eriksen winning the ball back in midfield, Dele Alli sliding through Kane, who rounded Buffon and curled the ball into an empty net.
But Juventus still threatened on the break. Higuain had earlier smashed the ball wide, having done all the hard work after a galloping counter-attack. Now Douglas Costa sent Aurier for a bag of cheesy chips and powered into the area, pursued shoulder-to-shoulder by Aurier.
The Ivorian blinked first. He scythed in. Costa went down. Another penalty. Higuain went hard and high. Too hard, and too high. The crossbar was still jangling as the teams trooped off for half-time, Tottenham feeling perplexed and yet strangely grateful.
The second half, meanwhile, was far more conventional. More even, too, as Juventus began to work the ball up the left flank to Costa, and Aurier - now booked and out of the second leg - was more wary of engaging him. Lloris saved well, first from Bernadeschi and then from the otherwise quiet Mario Mandzukic.
Twenty minutes from time, Dele Alli won a soft free-kick from Chiellini: flicking the ball around him, sinking into him, and then going down at his feet. Seasoned Alli observers will note that this is not the first time the words "going down" and "Dele Alli" have occurred in close proximity to each other, perhaps not even the first time this week. But Alli's antics should under no circumstances detract from what Eriksen did next, because it was stunning.
The Juventus defence leapt, expecting the dipping up-and-under from Eriksen. Instead, it was the under-and-under: under the wall, all along the ground and off the fingertips of Buffon into the corner of the net. Tottenham celebrated liked cheeky rascals. Juventus, meanwhile, almost had to count the score on their fingers to be sure of it.
And this was, perhaps the nub. Juventus tried to reclaim their advantage in the final minutes, Vertonghen redeeming his error at the game's start with a vital sliding clearance at its end to cut out Costa's cross. But over 90 minutes they were too passive by half, retreating back into their own territory too readily, perhaps even showing Tottenham too much respect. They will see this game as a massive missed opportunity. Tottenham, meanwhile, have a golden opportunity at Wembley to claim another famous European scalp.
Join our new commenting forum
Join thought-provoking conversations, follow other Independent readers and see their replies