Juventus vs Barcelona: Five things we learned as Ousmane Dembele delivers Champions League win
Dembele and Messi scored Barcelona's two goals in a convincing win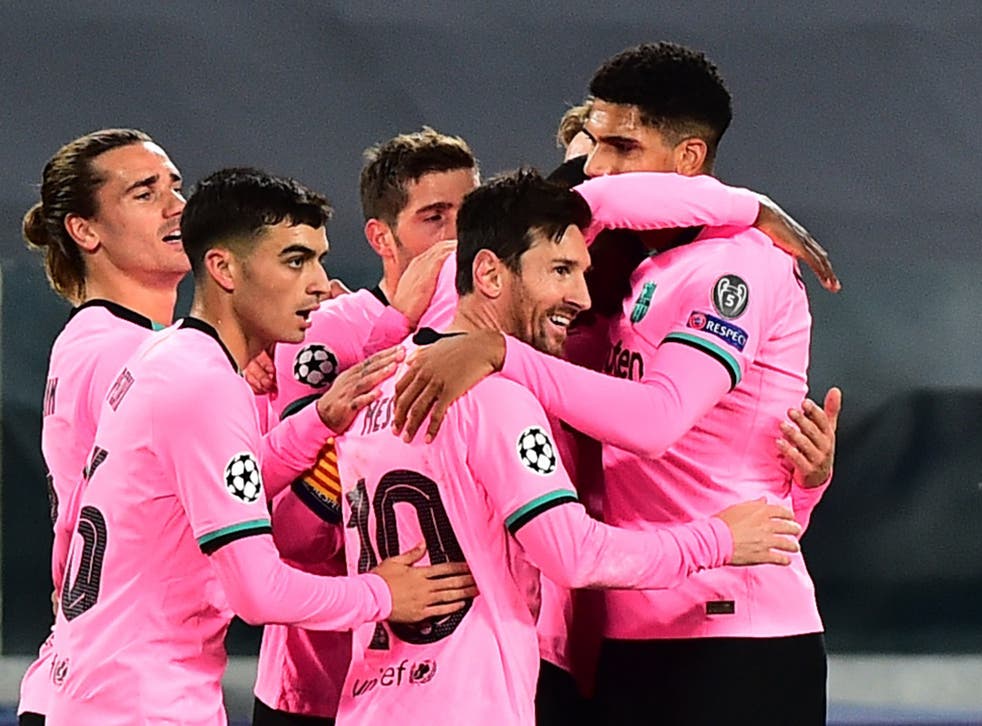 Dembele's new chance
The idea that Lionel Messi is surrounded by sub-par footballers is far from the truth. The biggest issue going forwards is the one-dimensional nature of Barca's player profiles. Miralem Pjanic, Antoine Griezmann, Philippe Coutinho and of course Messi himself are all supremely talented on the ball but lack the explosive pace that is missing from this team, but in Ousmane Dembele they have a real livewire. Getting the best out of Dembele is far from easy but he was impressive in Turin, with sharp turns and direct running, and deserved the fortune involved in his deflected goal. With the club in disarray following the Messi summer-saga and the resignation of the board, the possibility of a revived Dembele offers fresh hope.
Pirlo still searching for identity
We can all picture exactly the kind of footballer that Andrea Pirlo was, but on this evidence it is hard to decipher what kind of coach he will be. The 3-4-3 system seemed to leave Paulo Dybala, playing on the left of a front three, on the fringes of the game, while the young Swede at left wingback, Dejan Kulusevski, struggled to keep Ousmane Dembele in check. Meanwhile Mireh Demaril's sending off for a second bookable offence summed a lack of control in midfield – not yet a team in Pirlo's image, then. After three draws in Serie A and this Champions League defeat, it seems Juventus are far from their dominant best of recent years. It is early days both for Pirlo's Juve and Pirlo the manager, but on this showing there is plenty of work to be done to establish an identity.
Morata is Juve's bright spark
The biggest positive for Pirlo was the performance of Alvaro Morata, who looked his sharp best in the penalty box, scoring a hat-trick of disallowed goals in what must go down as one of the most frustrated games of his career. Morata has three goals this season and deserved to add to that tally here as he led the line with intelligent movement and alert finishing. It remains to be seen whether he and Cristiano Ronaldo will develop a fruitful relationship, or whether the return of Juve's talisman will see Morata's role diminish. The only game they started together this season saw Ronaldo score twice at Roma with an underwhelming Morata withdrawn before the hour, but on this form he will be very hard to leave out of the side.
Alba-Messi wavelength lives on
Two of Barcelona's old guard, Jordi Alba and Lionel Messi, remain a dangerous partnership for opponents even after all these years. The move was as predictable as ever: Messi passed back into midfield, the ball worked out to the left for an arriving Alba, and off Messi set into the six-yard box looking for the low cross. The cross came but this time a crucial interception by Leonardo Bonucci prevented what would have been a certain goal. It is predictable stuff, but stopping it remains one of the great challenges when facing Messi and Barcelona.
Ronaldo was missed
Ultimately this match lacked that edge that Messi v Ronaldo brings. Their old rivalry may well be resumed at the Nou Camp in a few weeks time, feasibly the last time they will ever play against one another, so make sure to stop and soak it up.
Register for free to continue reading
Registration is a free and easy way to support our truly independent journalism
By registering, you will also enjoy limited access to Premium articles, exclusive newsletters, commenting, and virtual events with our leading journalists
Already have an account? sign in
Register for free to continue reading
Registration is a free and easy way to support our truly independent journalism
By registering, you will also enjoy limited access to Premium articles, exclusive newsletters, commenting, and virtual events with our leading journalists
Already have an account? sign in
Join our new commenting forum
Join thought-provoking conversations, follow other Independent readers and see their replies