Lionel Messi and Cristiano Ronaldo bring peace to el Clasico conflict
Mutual admiration for 'out of this world' duo even halts the feuding between Real and Barça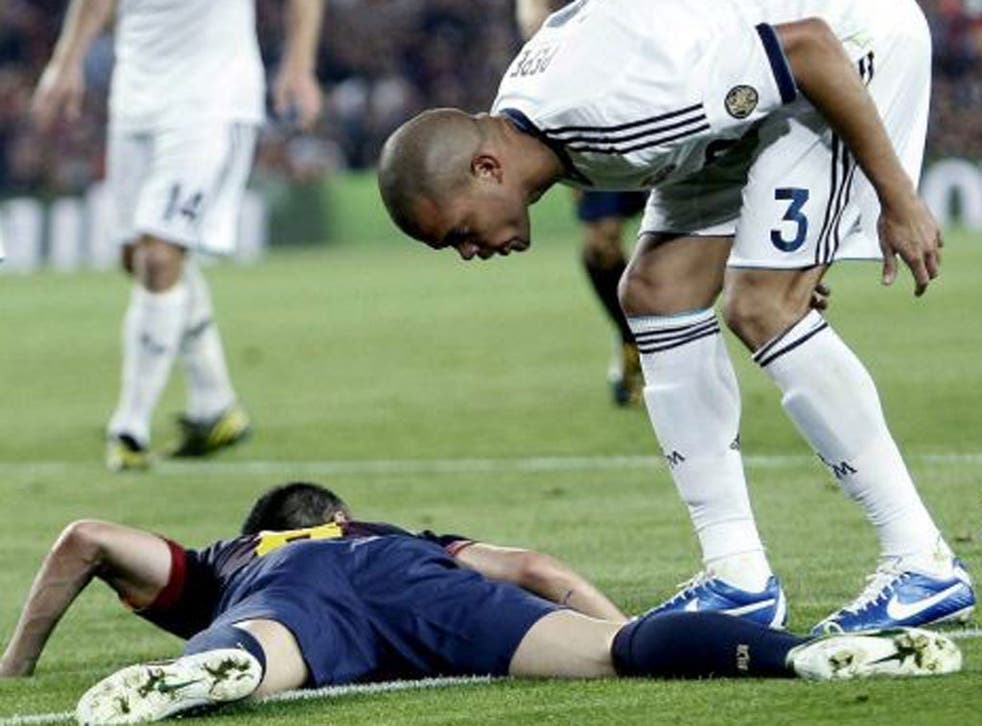 Even Pepe could not muster up a breach of the peace after the weekend's clasico left both Real Madrid and Barcelona in a peculiar state of mutual awe. The video nasties from previous seasons have traditionally made fertile ground for days of recrimination from both sides but Cristiano Ronaldo and Lionel Messi's brilliance overshadowed all inklings of post-match bitterness.
The Portuguese defender Pepe had been asked on Sunday night about Barcelona's penalty claim in the second half when Andres Iniesta went down under his challenge and his reply – "We know what they are like, a team of play-actors" – might have whipped up a storm in any of the previous 13 clasicos since Jose Mourinho joined Real but the flames were not fanned.
The Barcelona coach, Tito Vilanova, responded by saying Barcelona could easily "make a video of Pepe's fouls" but peace had broken out and it seemed churlish to disturb it. After all speaking before Vilanova, Mourinho – who has done his fair share of firestarting across the last two seasons – had just proclaimed Messi and Ronaldo, who both scored twice in the 2-2 draw, inseparable in their "other-planetary" excellence.
The fact that on the same night Atletico Madrid's Radamel Falcao scored in Atletico Madrid's 2-1 win over Malaga even meant the talk of a two-team league could be silenced. The argument that Real and Barcelona are so strong because they eat everyone else's portion of pie when it comes to TV revenue, is having to be temporarily parked. It may still in part be true, but Atletico under Diego Simeone are currently level on points with Barça and Falcao is scoring at even more prolific rate than Messi and Ronaldo.
He has 11 goals in seven games this season, eight of them in La Liga. With eight each also for Messi and Ronaldo that's 24 goals from the Spanish league's top three scorers – something that cannot be matched anywhere else in Europe.
Much of the calming of tensions between Real and Barcelona has come from so many of their players sharing success on the international stage again this summer. Real's Alvaro Arbeloa and Sergio Ramos both made a point of embracing every Barça player in the tunnel before Sunday's game and next month both Iker Casillas and Xavi Hernandez will collect the country's prestigious Principe de Asturias prize for sport – an honour usually awarded to a single winner.
Players from Real and Barcelona were even united in taxes yesterday when it was confirmed they will have to have to pay tax on the bonuses awarded them by the Spanish Football Association for their European Championship triumph. In the past what has been won abroad, has been taxed abroad and an agreement Spain had with Austria meant the players were taxed in Austria at just 20 per cent for the bonuses earned in 2008. But this time the €300,000 awarded to each member of the squad for their triumph in Ukraine in July will be taxed in Spain.
The unity needs to be maintained over the next seven days as Spain travel to Belarus and host France in two important World Cup qualifiers. Then the back slapping will have to stop, at least if Mourinho's side are to catch their rivals. He still only has three wins against Barça as Real coach with five draws and six defeats. The draw on Sunday leaves Real eight points adrift in the table and though the Champions League remains the priority this season, the gap must be closed.
Join our new commenting forum
Join thought-provoking conversations, follow other Independent readers and see their replies