Liverpool 2 Internazionale 0: Kuyt and Gerrard leave it late to make Liverpool advantage pay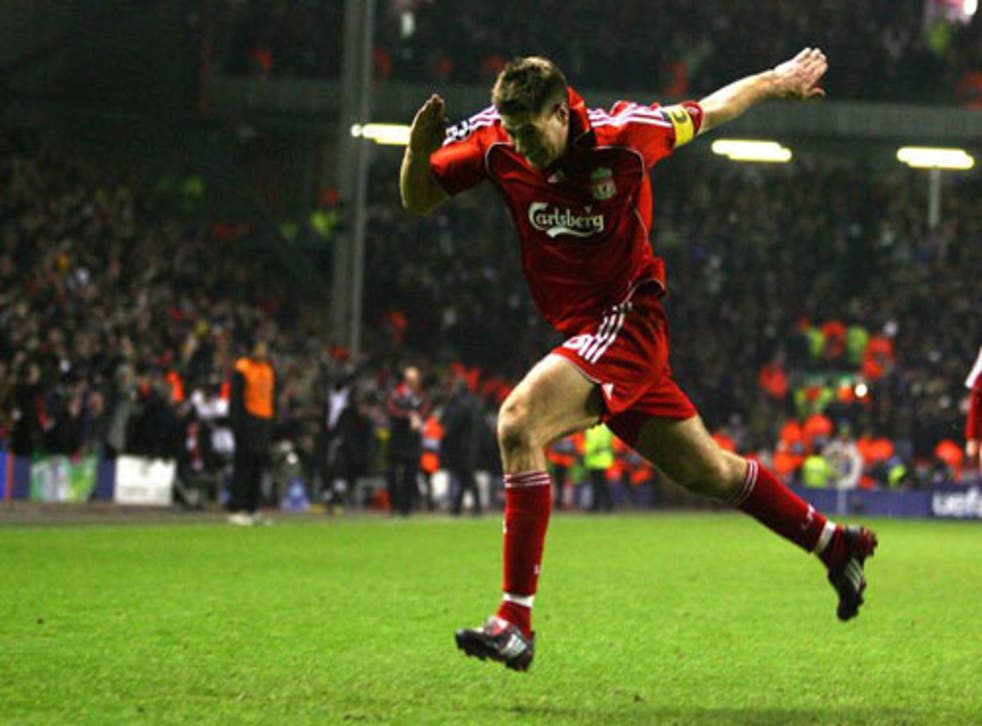 Those fickle gods of the Champions League have not yet given up on Rafael Benitez, no matter how disenchanted some elements of Liverpool's support have become with their manager. Beaten by Barnsley on Saturday; conquerors of the champions of Italy five days later. This is the Benitez way and last night Anfield just seemed content to buckle up and enjoy the ride.
Put this game up there with Olympiakos in December 2004, Milan in the final the following May and the madness of victory over Barcelona this time last year. As usual Liverpool did it the hard way, playing against the 10 men of Inter for an hour and waiting until the last five minutes to score their goals through Dirk Kuyt and Steven Gerrard. Anfield took the familiar journey from frustration to elation and now the second leg on 11 March at San Siro looks a far less daunting prospect.
This was Liverpool's 100th win in Europe at Anfield and at times it felt as it they were fighting against Benitez's innate conservatism as well as an Inter side who had lost Marco Materazzi for two yellow cards in the first 30 minutes. Faced with a makeshift Inter central defence that badly lacked height, Benitez bizarrely fought the temptation to throw on Peter Crouch until the 64th minute and only after then did Liverpool really look like a team who realised their time had come.
It was Inter's first defeat in any competition since September and once again Benitez has been dealt a formidable get-out-of-jail card by his players. The scalp of another European giant will give the Liverpool manager the breathing room he requires after the walls have closed in on him in recent weeks. Yet look closely and this was a typical Benitez victory, delivered in exciting, seat-of-the-pants style but with all the baffling tactical choices along the way.
Asked to explain how he could square a night like this with the embarrassment of Saturday's FA Cup exit, the Liverpool manager flatly refused to acknowledge the inconsistencies of his team. "Different competition, different situation," he said. "Against Barnsley we created and this game was more or less the same. Maybe we even had fewer chances [against Inter] and yet we scored two goals."
Roberto Mancini, his Internazionale counterpart, said that "the referee got it wrong" on the crucial red card for Materazzi and, indeed, it seemed unusual that one of football's most Machiavellian figures – not to mention an Everton old boy – allowed himself to be sucked in to making two such basic errors. His first booking was the harsher of the two, given for running across Fernando Torres on 12 minutes. Then he pulled the shoulder of the striker, who made the most of it, and the only Italian in Inter's side was heading for the tunnel.
That was Benitez's first stroke of luck for the evening, although it was not to prove his last. Liverpool broke through only in the 85th minute, by which time both Inter's centre-halves were off the pitch – Ivan Cordoba was carried off injured on 76 minutes. Only then did this haphazard, all-guns-blazing Liverpool attack finally strike home. As usual it was difficult to work out whether this was Benitez's genius or the pure chaos of another Liverpool European night.
Certainly, Benitez deserves credit for leaving on Kuyt when most would have happily seen him come off when Jermaine Pennant was thrown on with 18 minutes remaining. Yet the decision to play the raw Brazilian Lucas Leiva ahead of Xabi Alonso seemed to invite trouble. "What really pleased me was the attitude of the players and the commitment of the supporters," Benitez said. "I had confidence because the team was playing well. We were passing the ball and trying to create chances. We know that to score two goals in the last few minutes is much better."
The Liverpool manager could almost persuade you that he had it planned all along, but the rising panic of his team in the closing stages told you otherwise. Javier Mascherano was the pick of the side and as the pressure grew before the hour Mancini opted to strengthen his midfield.
The Inter substitutes' bench was a directory of fading international superstars – Patrick Vieira, Hernan Crespo, Luis Figo and Nuno Maniche. Vieira came on with 55 minutes gone and looked a shadow of his former self. The old titan of Arsenal's midfield is evidently not the player he once was and his first mistake presented Liverpool with their best chance of the first hour.
A pass from the Frenchman in midfield ricocheted off a team-mate and turned into a devastating throughball for Torres. The striker broke through and, with only Julio Cesar, to beat his shot was tipped around the post by the Inter goalkeeper. One minute later Sami Hyypia's header from close range went over and finally Inter were under siege.
Liverpool were deserving of a penalty on the hour when Gerrard squeezed past Vieira on the touchline inside the Inter area and the Frenchman raised his hands to stop the ball going past him. Crouch then came on and only a block from the Brazilian Maxwell prevented him from finishing after he had pulled the ball down. Liverpool threw everything at Inter and, in the 85th minute, prevailed.
The delivery from the right, from Gerrard in particular, had been poor but Pennant's cross eluded Crouch and Torres to find Kuyt at the back post. His shot, driven into the ground, deflected off Nicolas Burdisso to beat Cesar. Anfield was on its feet.
That was two goals in two games for Kuyt after 13 straight games without one.
Then, in the 90th minute, came the goal that could make all the difference. Gerrard cut in from the left and hit a low skidding shot that beat Cesar and went in off the post. The Kop was singing Benitez's name once more as the competition that has served him so well over the last four seasons came to his rescue again. The question he must ask himself is how long he can keep up this bizarre tale of disaster and triumph.
Liverpool (4-1-4-1): Reina; Finnan, Carragher, Hyypia, Aurelio; Mascherano; Kuyt, Leiva (Crouch, 64), Gerrard, Babel (Pennant, 72); Torres. Substitutes not used: Itandje (gk), Riise, Benayoun, Alonso, Arbeloa.
Internazionale (4-4-2): Cesar; Maicon, Cordoba (Burdisso, 75), Materazzi, Maxwell; Zanetti, Stankovic, Cambiasso, Chivu; Ibrahimovic, Cruz (Vieira, 55). Substitutes not used: Toldo (gk), Figo, Crespo, Maniche, Suazo.
Referee: F De Bleeckere (Belgium).
Join our new commenting forum
Join thought-provoking conversations, follow other Independent readers and see their replies