Why another famous Champions League comeback may be out of Liverpool's reach
Writing Jurgen Klopp's side off remains a risk, but it seems a more calculated one in a cruel season
Melissa Reddy
Senior Football Correspondent
Wednesday 07 April 2021 08:44 Comments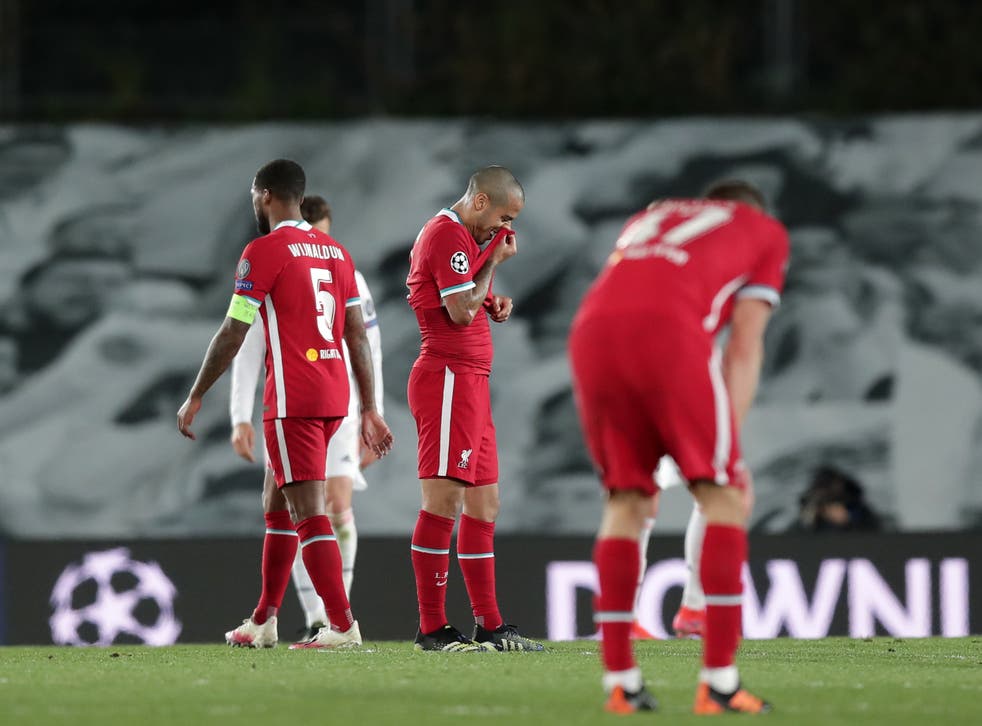 It is a risk to have witnessed the unexplainable magic against Borussia Dortmund in 2016, which was usurped by the barely believable scenes against Barcelona three years later, and feel that Liverpool do not have much hope in overcoming a 3-1 defeat by Real Madrid at Anfield. 
Yes, they are a club famed for defying logic on European nights under the lights on their own turf. But they are not what we know them to be, they weren't at Estadio Alfredo Di Stefano on Tuesday night, and they certainly haven't been at home.
Liverpool's last win at Anfield was in mid-December. Their eight matches on Merseyside since then have produced two draws and six defeats on the spin. It has been the away form of Jurgen Klopp's men that had sparked a mini-revival and fostered confidence, but that folded in the Spanish capital. 
The manager's selection was courageous but was immediately undercut by the fear and passiveness of his players. Real were streets ahead of Liverpool in every respect: control, tempo, intelligence and energy. They deserved to be out of sight by the interval, by which Vinicius Junior could have claimed a hat-trick. 
"I didn't like our game in the first half," Klopp admitted. "We were just not really in the game, that's our mistake and that's where we have to be really clear in our self-criticism, to be honest."
Read more
Trent Alexander-Arnold and his peers could not cope with Vinicius Junior's dynamism and directness. With the Spaniards able to adopt a more measured game in the second leg and spark on the break, it doesn't make for pretty predications in favour of Liverpool.  They malfunctioned in every sense defensively in Madrid, not pressurising Real's midfield - Toni Kroos in particular - and being so passive in key phases.
"We judged situations wrong," Klopp conceded. "We want to pass the ball back to the goalie… Trent with the header… But in other moments we just gave them the opportunity to use the speed they have for going in behind too easily by losing the balls in the completely wrong moment. 
"Because when you analyse Real Madrid, all the natural individual quality they have, a lot of things are really switching the sides and accelerating and passing the ball in behind. 
"They have three of the best midfielders in the world. If they win the ball then Modric and especially Kroos, and Casemiro, they chip the balls there and then you are under pressure and you don't know where the striker is because they run around. 
"These mistakes can happen. That's not my problem of the game because these kind of things can happen against Real Madrid, but if you only lose one ball it could happen - but we lost too many. That is my story and if you want to go to the semi-finals, and that's absolutely OK and fair, you have to deserve it with the performance you put on the pitch and we were not good enough to win this game."
When you pick through the carcass of their surrender, navigating a mass of individual errors, there is another clue to their non-performance: Liverpool had zero shots of any kind in the first half and Mohamed Salah's goal was the only effort of target they managed in the match. Their failure on the ball, to have consistent footballing moments troubled Klopp more than their defensive floundering. 
"The only good news is there is another game, but it's not like we have an advantage now," he said. "We are under pressure of course and we have to show we can deal with that." 
It is difficult to imagine Liverpool being poorer in the second leg, but it is also very hard to paint the portrait of them advancing at an empty ground that has ceased being a fortress. 
"It is completely different," Klopp agreed.  "If you want to have some emotional memories, then you watch the Barcelona game back and 80 per cent of this game was the atmosphere in the stadium. 
"So, yes, we have to do it without that. But it is not that I sit here and think, 'Comebacks are our thing, we do it all the time.' We did from time to time but we always had supporters in the stadium. We don't have that this time so I don't know if we can do it, but I can promise you we will give it a proper try."
Trying against Real, in this position, with the pedigree they have on this stage and based on the evidence of this opening leg, may unfortunately not be enough. Writing Liverpool off remains a risk, but it seems a more calculated one in a season that has been cruel to them.
Register for free to continue reading
Registration is a free and easy way to support our truly independent journalism
By registering, you will also enjoy limited access to Premium articles, exclusive newsletters, commenting, and virtual events with our leading journalists
Already have an account? sign in
Join our new commenting forum
Join thought-provoking conversations, follow other Independent readers and see their replies