Maccabi Tel Aviv vs Chelsea: How Jordi Cruyff's code turned Maccabi into Israeli powerhouses
The former Barça and United winger tells Jack Pitt-Brooke bringing in standards from his playing days won three titles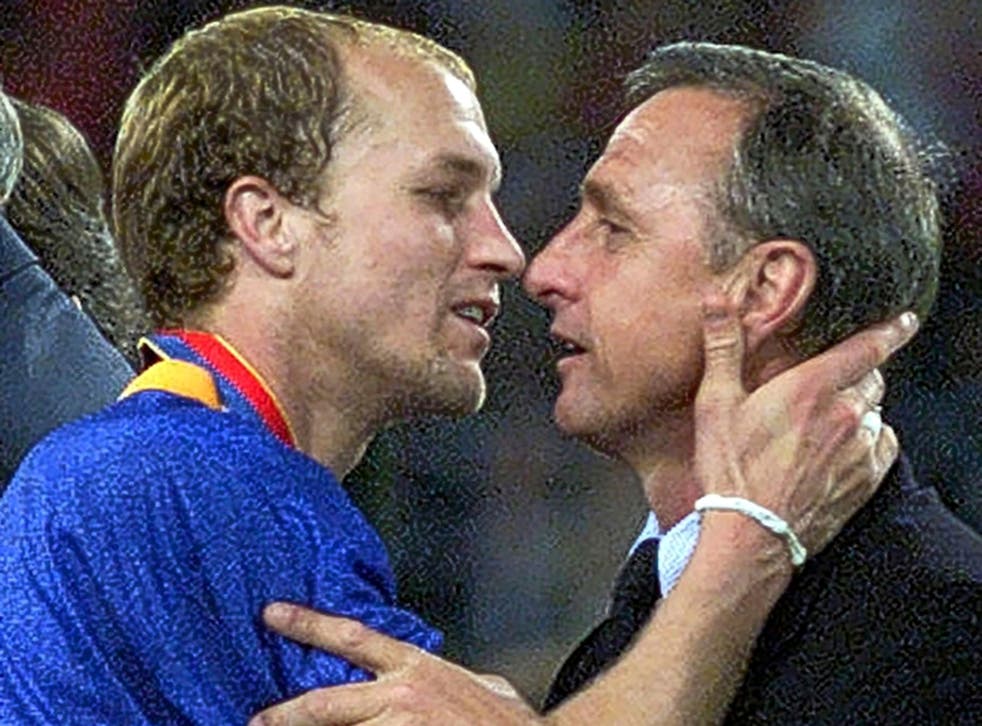 Maccabi Tel Aviv recruited Jordi Cruyff as sporting director to bring them his experiences from playing for Barcelona and Manchester United, to create the environment and structures of a big European football club in Israel, where they did not exist.
Cruyff has done exactly that, which is why Maccabi have won three consecutive Israeli titles and are hosting Chelsea this evening in the Champions League. They are probably the strongest club side in the history of Israeli football.
Slavisa Jokanovic is Maccabi's coach, arriving in Israel in the summer after realising that Watford were not especially keen on keeping him following their promotion to the Premier League. But he is the fourth coach at Maccabi since Cruyff arrived, and none of them has stayed for more than one season. Maccabi's success, ultimately, is the story of Cruyff's vision, backed by Canadian retail billionaire Mitchell Goldhar.
It was Goldhar who recruited Cruyff in 2012, hoping that he would bring his knowledge of the top end of the European game, and that those lessons would work, even in the limited and unfashionable Israeli top flight.
"Mitchell wanted to bring a professional environment, professional attitudes, a professional structure," Cruyff explains to The Independent. "Where people, as he always says, don't cut corners. And when you fall down, you quickly stand up stronger."
"When the club gives people a professional environment, you can demand professionalism from everybody working in the club. That was the step we had to make, to make things European."
Cruyff started with the training ground, ending the open-door policy to fans and journalists, and closely monitoring the players. "We had everybody training with the GPS system, every day, and in every single game of the year," Cruyff says. "The players cannot cut corners any more. You cannot cheat the GPS system."
Then, Cruyff moved on to the canteen. "The food in Israel is amazing," Cruyff says. "We had to find a way so that the players could eat more responsibly, as they have breakfast and lunch at the club. Like a lot of things, some players don't need it, some do, so we just did it the best way for everything."
Away from the players, Maccabi needed top coaches, and Cruyff has appointed Oscar Garcia, Paulo Sousa, Pako Ayestaran and now Jokanovic. His job is to work with the coach – "work together, those words in capital letters" – on all aspects of the job other than preparing the team for the next game. It has succeeded very well indeed.
"The first thing we did is find coaches from countries like Spain and Portugal, which have a Mediterranean mentality, who understand Mediterranean mentality and lifestyle, the patience it gives," Cruyff says. "They have come here and adapted very quickly. Because the life in Tel Aviv is very similar to life in Spain or Portugal, as well as the emotional aspect of how people live football."
On the pitch, Maccabi want to play the right way, so have looked for coaches whose teams pass the ball. "Because we are a team that is supposed to dominate the game, have possession, and is obliged to win every single game, you need a coach who is used to that," Cruyff says. "One who likes to build up from behind, to play dominating football with a passing style. The club cannot have a counter-attacking coach. The budget obliges us to be a team that plays to win every game."
Cruyff insists that this is "not about his philosophy", but about the demands of the club. He certainly has his own ideas about how the game should be played, though, ideas that originated with his famous father. "He is obviously inspirational," says Cruyff. "The kitchen table at home has been a huge information centre and study centre for me. In a lot of things, he has taught me a lot, the way I try to solve problems, a lot has been inspired by him."
Jordi says Johan is "much more revolutionary" than he is, which is true. But Jordi Cruyff has done something different, taking those ideas and standards to a new place, and watching them grow.
Join our new commenting forum
Join thought-provoking conversations, follow other Independent readers and see their replies