Marco Rose: The Jurgen Klopp disciple hoping to knock Manchester City out of the Champions League
Rose was once part of Klopp's promotion-winning Mainz side, now he is the hottest managerial property in Europe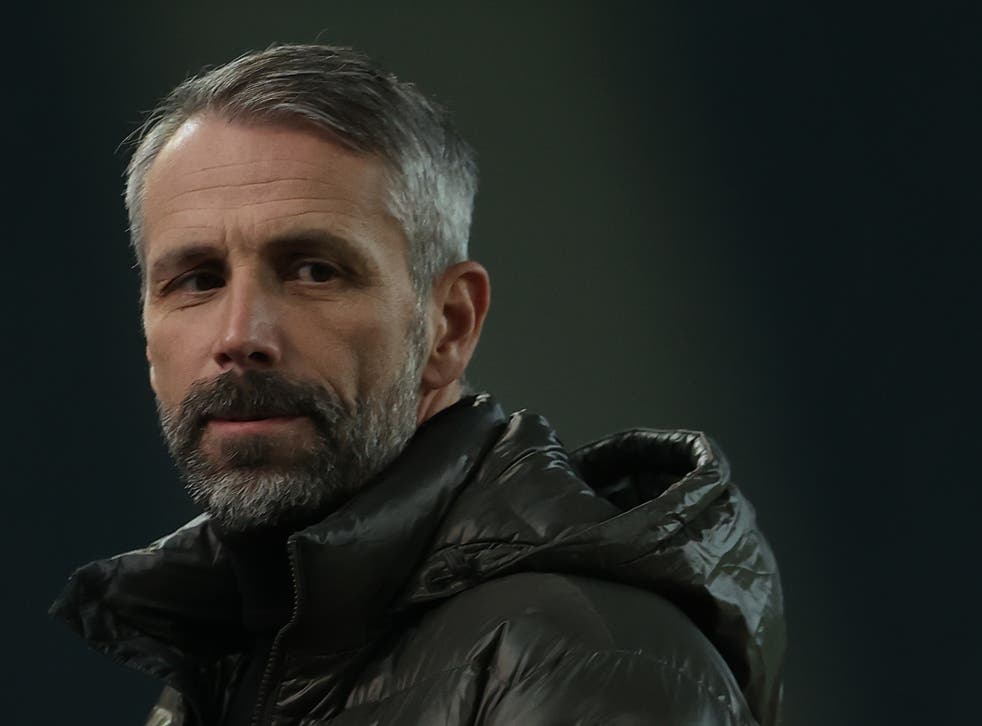 The prediction came 17 years ago, late at night at the Favorite Parkhotel on the banks of the Rhine.
It was there that the players and staff of Mainz 05 were celebrating promotion to the Bundesliga. After several painful near misses in seasons past, Jurgen Klopp and his players had squeaked into the final automatic spot on the final day of the 2003-04 season.
Spirits were understandably high. Drink, predictably, had been taken, and maybe that was why Klopp felt confident enough to share a few long-held convictions.
Taking a moment out of celebrating the first major success of his coaching career, Klopp turned to two of his players and told them he was sure they would become coaches themselves one day. He was proved right on both counts.
Sandro Schwarz went onto manage Mainz himself, achieving a respectable mid-table Bundesliga finish two years ago. Schwarz is now in charge of Dynamo Moscow, working alongside Dynamo sporting director and Klopp's estranged assistant Zeljko Buvac.
Read more: Man City's relentless streak and the uncomfortable questions it raises
The other player was Marco Rose, then a jobbing journeyman left-back delighted to finally have a crack at being a Bundesliga player.
Now, he is the head coach of Borussia Monchengladbach, aiming to knock Pep Guardiola's Manchester City out of the Champions League knock-out stages, and one of the brightest young managerial talents in Europe.
And as if comparisons with Klopp were not already inevitable, Rose will follow in his former mentor's footsteps by taking charge of Borussia Dortmund next season.
Rose credits Klopp as the leading influence on his coaching career. "He shaped all of us," he said upon taking the Gladbach job two years ago. "We picked up a few things in terms of football, but above all it was the way he was with people [that was influential]."
As with all up-and-coming coaches, Rose is keen to be seen as his own man. "Maybe there are a few parallels with Jurgen, but I've also found my own style," he added.
Even so, a clear line runs between their time together at Mainz and the first Gladbach side to play a European Cup knock-out tie since 1978.
Rose has described his core principles as "emotionality, hunger and being active", about as 'Kloppian' a vision as possible.
"We want to be very active against the ball, sprint a lot. We want to win high balls and have short ways to the goal. We don't want to play high and wide, but fast, dynamic and actively forward."
It was those principles which attracted Ralf Rangnick and the Red Bull project. Rose joined the Salzburg franchise as an academy coach in 2013, stepping away from senior football after a single season in charge of fourth-tier Lokomotive Leipzig.
If that would traditionally be viewed as a backwards step, his career in the years since has travelled on a constant upward trajectory.
Having moved up the ranks at one of European football's most respected youth development programmes, Rose led Salzburg's Under-19s to an unlikely UEFA Youth League win in 2017.
Salzburg hit five past Paris Saint-Germain and overcame a City side which included Jadon Sanchoc, Brahim Diaz and Phil Foden as an unused substitute on their way to the final, where they beat a Benfica outfit captained by Ruben Dias.
An internal promotion to take charge of the first team followed, as did back-to-back Austrian Bundesliga titles and a run to Europa League semi-finals in 2018.
Though Rose was unable to end Salzburg's long wait to play in the Champions League proper, his work laid the foundations for their first-ever group stage appearance last season and their impressive showings under his successor Jesse Marsch.
Meanwhile in Mönchengladbach, Rose led his new employers to the top of the Bundesliga after 14 games last season, beating Bayern Munich in early December to spark hope of a first league title in 43 years.
Gladbach ultimately had to settle for a fourth-place finish and Champions League football, though an intense, vertical style of play served them well on their return to European football's greatest stage.
Rose successfully negotiated Gladbach through a group involving Real Madrid, Inter and Shakhtar Donetsk - a 10-0 head-to-head record against Shakhtar was enough to finish as group runners-up - and he is not about to compromise on those principles.
"If there is something that Manchester City don't like, then it's not having the ball," he said defiantly on Tuesday. "We need to play with courage and defend with passion. I have a team that is absolutely capable of that."
This season has proved more challenging, though. Rose's side currently sit eighth in the Bundesliga, without a win in four games and nine points adrift of the top four.
The Dortmund link has not helped. The disappointment at Rose's decision was clear in a statement released by Gladbach sporting director Max Eberl last week, while the persistent speculation tainted otherwise excellent relations with the club's supporters.
As a member of Gladbach's fans group told Suddeutsche Zeitung: "We have cancelled the concrete mixer for the foundations of the statue."
That Rose should be head-hunted in such a way is no surprise, though. Gladbach's name may carry a great heritage and a certain prestige, but they are decidedly beneath Dortmund in German football's stratified food chain.
Dortmund, meanwhile, have accepted and even embraced their status as a launchpad for the next great talents of Europe's elite, whether that be with Sancho and Erling Haaland as players or Klopp or Thomas Tuchel as coaches.
Whether Rose is the next remains to be seen. The man himself understands football moves fast. "Today you're a hot stock, tomorrow a cold potato," he once said when there was a great clamour for his services at Salzburg.
Others, though, are convinced he is destined for the very top. Klopp made another bold claim two years ago when reunited with his former player on television in Germany, insisting that Rose "can have any job and do any job too".
If he stops an imperious City side and knocks Guardiola out of the Champions League early, then that will already seem like another perceptive prediction.
Join our new commenting forum
Join thought-provoking conversations, follow other Independent readers and see their replies