Relentless Man City outclass Arsenal as Premier League title beckons
Arsenal 0-1 Man City: Raheem Sterling scored inside two minutes as Pep Guardiola's side extended their winning run to 18 games in all competitions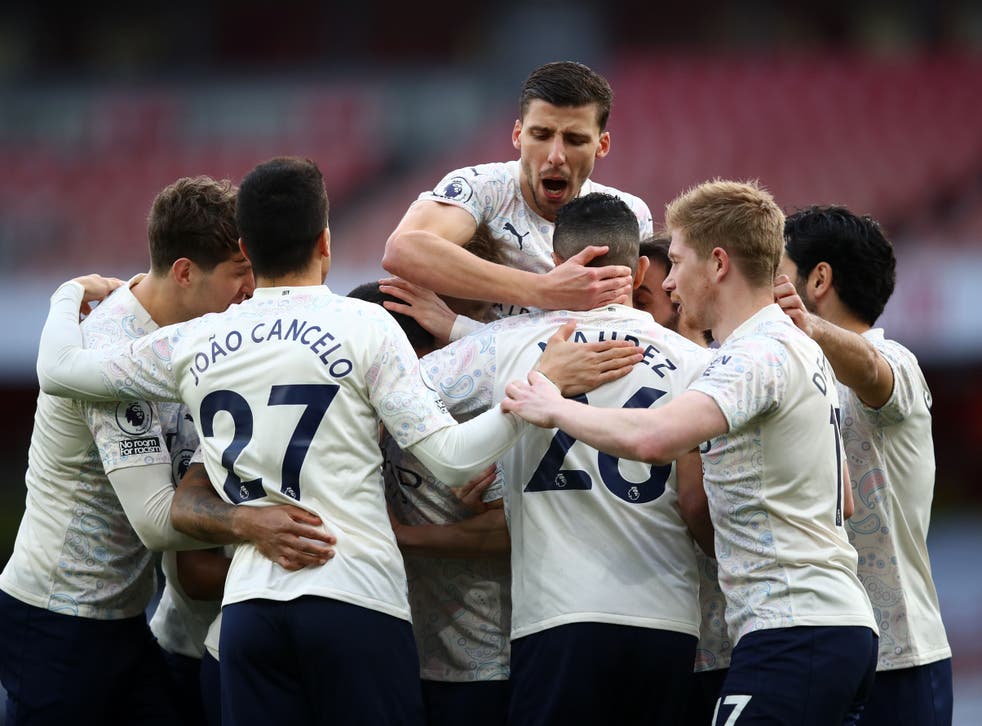 A game won after just 77 seconds, to almost confirm a title won after about five months of the season. This 1-0 win over Arsenal was Manchester City's 13th successive league win, putting them one off the old Premier League record set by Arsene Wenger's 2003-04 'Invincibles', and it's hard to see where it's going to stop. The current Arsenal actually put in a credible attempt, but City were always a level above. They have been several levels above everyone else.
That is illustrated by how they are on the brink of a run that used to be considered hugely difficult to match - before City themselves smashed it - in a season where any kind of winning streak at all looked impossible.
City have withstood the pressures and complications of this season, in a way that does warrant renewed discussion about what it means for the competitiveness of football, but for the moment means that talk of a quadruple will develop again.
Arsenal missed the opportunity to go ahead of Tottenham Hotspur, but then facing City right now isn't really an opportunity for anything except how it feels to get beaten. They are so hard to get close to it - in any sense.
Even allowing for how good City are, the opening goal was such a bad one to give away. Arteta should be livid with that. His team looked as if they had done no defensive preparation, given how easy they were just picked open. Riyad Mahrez ran at Kieran Tierney and admittedly played a supreme, Kevin De Bruyne-like cross, but Raheem Sterling was left free to leap and head in. Whatever about the fact that the forward is seven inches shorter than Rob Holding, the greater problem was that he gave him over a yard of space. Sterling was left to just head in unchallenged.
If that made Arsenal look unprepared, it set up a period where the whole game looked like Arteta was again just preparing matches for Guardiola.
The manner with which City passed the ball around for the next half-hour made it feel as if the Basque's players were no more than cones set out, albeit this time in Arsenal jerseys. The game really did look like a training exercise, which is the kind of symbolism Arteta would surely like to avoid.
A fair counter-point might be this was actually real strategy, and the logical choice for Arsenal at that point was to just hold their ground and try to consolidate. City did initially look like they were in the mood to run away with the game, and trample all over Arteta's team, but the home defence gradually took some of the sting out of it.
They even started to switch the play of the game when the Basque ordered Tierney to get up the pitch rather than standing off Mahrez and dropping deep. It had the effect of actually proving more effective in subduing the Algerian, by also creating more of a threat for City. Arsenal began to get real openings through the combined movement of Buyako Saka and Tierney. The young winger might have had an equaliser, only for his shot to deflect off Pierre-Emerick Aubameyang.
It was one of only a few breaks, though. If Arsenal had managed to minimise the impact of City's attacking quality, though, they soon felt the impact of their new defensive quality. There's just so little space to break into with this iteration of Guardiola's team. There's also real physical force there. Aubameyang felt this when careening down the line late on, only to be shunted to the turf by the resurgent John Stones.
It is the perfect platform when you have forwards on this kind of form, as City seemed content to bide their time. De Bruyne would often force the issue with real finesse, mind, such as one brilliantly creative curled chip that floated narrowly wide having beaten Bernd Leno.
A volley shortly afterwards was caught well but not accurately enough. As game as Arsenal were throughout this period, there was still just a sense of the game being played out to its inevitable conclusion. The entire league campaign is beginning to feel the same.
Register for free to continue reading
Registration is a free and easy way to support our truly independent journalism
By registering, you will also enjoy limited access to Premium articles, exclusive newsletters, commenting, and virtual events with our leading journalists
Already have an account? sign in
Register for free to continue reading
Registration is a free and easy way to support our truly independent journalism
By registering, you will also enjoy limited access to Premium articles, exclusive newsletters, commenting, and virtual events with our leading journalists
Already have an account? sign in
Join our new commenting forum
Join thought-provoking conversations, follow other Independent readers and see their replies