Champions League: Phil Foden hands Man City last-gasp win over Borussia Dortmund in quarter-final first leg
Man City 2-1 Dortmund: Premier League side must still be wary of their German opponents in the second leg
Mark Critchley
Etihad Stadium
Tuesday 06 April 2021 22:26 Comments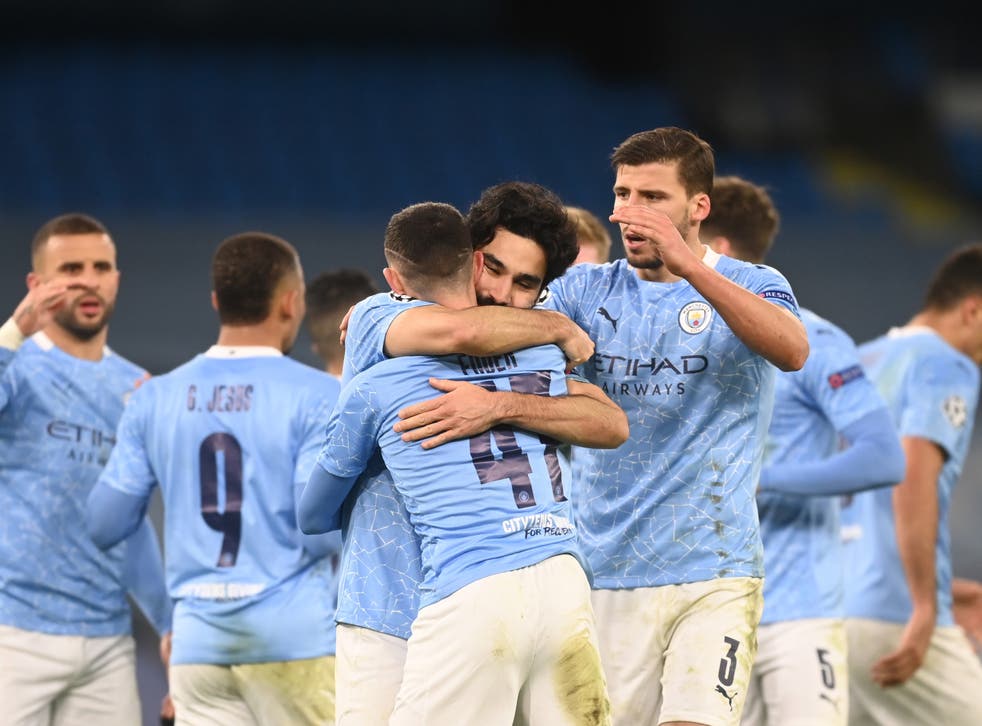 The relief was written all over Phil Foden's face. The Manchester City youngster's 90th-minute winner, coming minutes after a Borussia Dortmund away goal and despite several misses of his own, has given Pep Guardiola's side a slender but potentially significant advantage to take to Westphalia next week.
The margins were tight for the decisive goal, as they had been all evening during a breathless Champions League quarter-final first leg at the Etihad. Mats Hummels only just played Ilkay Gundogan onside, allowing his former Dortmund team-mate to lay Kevin De Bruyne's cross off to Foden for a simple tap-in.
Yet with an away goal to their name, Dortmund are by no means out of this. All the attention was on golden boy Erling Haaland before kick-off but, on this appearance against one of his many potential suitors, he showed can provide his team-mates with important goals as well as score them himself.
An exquisitely clipped ball around the corner was finished off by Marco Reus, who cancelled out De Bruyne's opening goal six minutes from full time and appeared to give Edin Terzic's visitors the upper hand ahead of next Wednesday's second leg. The scores should have been level much earlier but referee Ovidiu Hategan ruled out a legitimate Jude Bellingham goal before VAR could intervene.
Bellingham impressed on this first club return to these shores but another talented English youngster would ultimately make the difference. Foden's winner gives City the opportunity to finally progress to a semi-final under Guardiola, though they have been in stronger positions in the past and yet still fallen short.
Guardiola, at least, could not be accused of overthinking this one. The absence of a recognised striker caught the eye, as did Raheem Sterling's name among the substitutes, but this was the same system that has kept City on course for a quadruple and the same line-up that started the last-16 second leg against Borussia Monchengladbach. Pre-match preparations lasted just "five minutes" according to the City manager. If anything, he was underthinking it.
Read more:
That did not prevent Dortmund from making the better start, though. Terzic's side were bright in the opening stages, with Bellingham testing Ederson early as City struggled to prevent their visitors from playing incisive, defence-splitting balls down the gut. This is often the problem with this season's Dortmund, though. Everything can look fine one moment, then collapse the next.
Emre Can thought he had spotted another opening through Raphael Guerreiro down the left, only for his pass to be easily intercepted by Riyad Mahrez. Terzic and the Dortmund bench groaned in unison and those groans were only about to grow louder. A devastating burst of speed and power from De Bruyne sent City away, then an inch-perfect pass out wide to Phil Foden put them in behind.
Foden sent a low ball across the face of the goal – the type of pass that Guardiola has trademarked in Manchester over the last five years – but it was slightly too far in front of Mahrez, who had to stretch to keep it in play. But City had broken at such a pace that Dortmund were still struggling to get their bearings, which bought enough time for Mahrez to cut back and De Bruyne to tap in.
It was the first time in City's four quarter-final ties under Guardiola that they have gone ahead and Hategan inadvertently did his best to help them build on that platform. The Romanian official began by awarding City a penalty, blowing up for a supposed high foot by Can and cautioning the Dortmund midfielder for his protests. It was only when he reviewed the call on the pitchside monitor that he realised the error of his ways.
Can's boot had caught Rodri but the contact was minimal and on the knee rather than the face, despite the City midfielder's theatrics. The ball, meanwhile, had struck Rodri's arm. The decision would have been easier to make without the amateur dramatics but it was clearly not a penalty, a fact that even City's official Twitter account conceded. It would not be the night's worst piece of officiating, though.
What might have been a turning point in this tie was instead a le-off for City. Ederson's confidence on the ball when outside of his penalty area is rarely misplaced but on this occasion, his touch was heavy and Bellingham knew it. As the teenager nipped in to steal the ball off his toes, Ederson desperately swung his leg, kicked Bellingham and then went down clutching his foot.
With the goal gaping, Bellingham stayed on his feet and rolled the ball into the empty net but not before Hategan had already blown his whistle for a foul. That whistle meant the decision could not be reviewed, even though replays showed no evidence of an infringement. As if that weren't enough, Bellingham was booked. "This ref needs checking," tweeted the absent Jadon Sancho, complete with a facepalm emoji.
If you wanted to be especially critical of the official's performance, you might even argue that Hategan blocked Can's passing lane in the build-up to De Bruyne's goal. Dortmund had a right to feel hard done by. At the same time, they were very much in this tie. Release the full force of Haaland's strength and speed, then the equaliser may come.
Haaland broke in behind properly for the first time at the start of the second half, muscling off Ruben Dias and running through one-on-one, but Ederson was far more assured on this occasion and beat the low shot away with his legs. Marwin Hitz did the same at the other end shortly after the hour mark, beating away Foden's shot after City's first flowing attack of the half. The City youngster was dead centre of the penalty area, with most of the goal to aim at. It was a glaring miss.
The contest suddenly burst into life again. Mere seconds after Foden's chance, an uncharacteristically careless Dias back pass played Reus through against Ederson, but his touch was heavy and the ball ran through to the City goalkeeper. De Bruyne went close from range, then Foden was guilty of missing two other half-chances. Both teams were encouraging a frantic, breathless pace and making errors in the maelstrom.
It briefly appeared as though Kyle Walker would pay the price for momentarily switching off and failing to track Reus' run, allowing the winger to finish off Haaland's fine pass after neat link-up play with Bellingham. Yet there was still just enough time for Foden to make amends for his misses.
City are by no means through but, thanks to their own golden boy, they are ahead.
Register for free to continue reading
Registration is a free and easy way to support our truly independent journalism
By registering, you will also enjoy limited access to Premium articles, exclusive newsletters, commenting, and virtual events with our leading journalists
Already have an account? sign in
Register for free to continue reading
Registration is a free and easy way to support our truly independent journalism
By registering, you will also enjoy limited access to Premium articles, exclusive newsletters, commenting, and virtual events with our leading journalists
Already have an account? sign in
Join our new commenting forum
Join thought-provoking conversations, follow other Independent readers and see their replies