Manchester City 0 Barcelona 2 match report: Lionel Messi and Dani Alves on target after Martin Demichelis red card
City face improbable task to progress at the Nou Camp in three weeks time
Sam Wallace
Wednesday 19 February 2014 02:00 Comments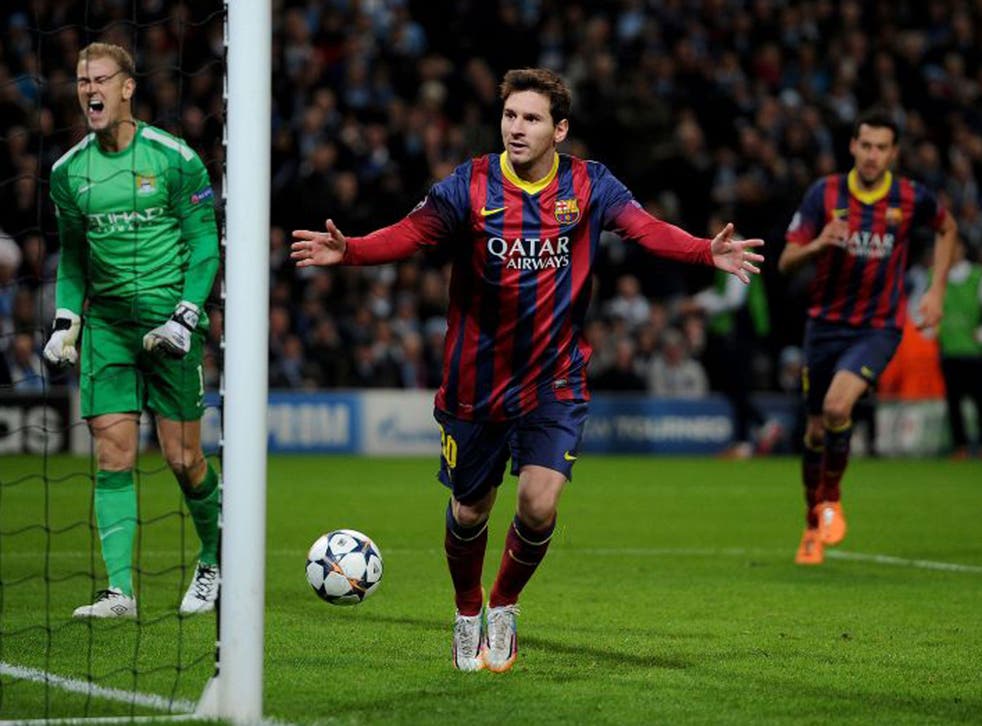 Against Barcelona, the hardest lesson every opponent learns is that what comes to define their performance are the few precious seconds when their concentration slips, the gaps open up and those famous striped shirts swarm through, like raiders at the castle gate.
It was in those few moments of weakness, when Manchester City allowed themselves to be found off-guard and badly mismatched in defence, that the balance of the tie shifted. This current Barcelona team, like its modern predecessors, is a pitiless opponent and, as is their way, they seized upon City's biggest error of the night and punished them severely.
It was Lionel Messi who drew the foul that saw Martin Demichelis sent off on 53 minutes, and it was Messi who dispatched the penalty, and although there was no doubt that contact began outside the box it continued inside. In most other respects, the Argentine was corralled and controlled by City, even subsequent to the goal and with just ten men on the field. But almost-good-enough is never enough against a side this ruthless.
That City managed to keep the scoreline at just one goal for so long was an achievement, given that Messi and his men had more than half an hour potentially to put the tie out of sight, but the second was a dire outcome for City. They had made it all the way to the last minute of normal time when Dani Alves scored the goal that surely puts this tie out of reach for them at the Nou Camp in three weeks' time.
What followed from Manuel Pellegrini was nothing short of an evisceration of the Swedish referee Jonas Eriksson that compared with the most serious attacks on an official's integrity in memory. He claimed that Eriksson was "not impartial", and that in a number of decisions had been trying to compensate for mistakes he had made that had left Barcelona short-changed in a tie against Milan two seasons ago.
For a man who has previously resisted the kind of manic outbursts to which so many of his managerial peers have succumbed, this was a pretty extraordinary performance. At one point Pellegrini even suggested that Eriksson was unsuitable to take charge of the game because he is Swedish, although he failed to explain why this might be the case. There is no question that he will be charged by Uefa, and that the punishment could be severe.
It created a sense of desperation and futility about City that was unnecessary. They might have let the tie slip away but there was no need for Pellegrini to toss away the dignity he has maintained this season with an embarrassing attack on the referee.
One of his main complaints was a foul on Jesus Navas in the build-up to the penalty for Barcelona which was, at best, debatable. Yet he seemed not to understand the point that while Demichelis' contact on Messi began outside the box, if it continues into the area the referee has the discretion to give it.
It had been a difficult night, although one in which City had their moments, as Gerardo Martino later conceded. For the first 20 minutes, Barcelona gave their opponents the kind of examination that only Barcelona can. When they keep the ball in that fashion, it behoves the opposition to hold their nerve, stay tight and attempt to keep the Barca shirts a safe distance from the goal.
City did that, and they did it well. The temptation must be to panic when such long periods pass without a decent spell of possession; when the rare successful tackles just seem to give the ball back. This is Barcelona's greatest trick, keeping the passes ticking over while they decide where the other side's weak spot is located. But City were ready for it, and they handled it as best as could be expected.
For that period of possession, City did not permit a decent strike on goal from Messi, Xavi or anyone else for that matter. There were efforts later in the first half, the best from Xavi that forced a fine save from Joe Hart, but the best chances came for the home side. The final Uefa stats for completed passes were 753 to 325 in Barcelona's favour, but that was only part of the story.
It was a Yaya Toure run on 17 minutes that took him into Barcelona territory and a pass right to David Silva that seemed to break the spell. In the centre, Alvaro Negredo was nudged as he jumped for the ball but at the very least the Barcelona defence had been placed under pressure. Within two minutes, Silva had played in Negredo but he went too wide to be able to hit the target.
From then on, City had their best period, up to the red card. The home side looked dangerous from set-pieces, rightly putting everything into an aspect of the game that Barcelona have struggled with all season. With Carles Puyol missing again, there was simply not enough height in the Barca defence to deal with all City's candidates for a firm header. Vincent Kompany, his team's best player, epitomised that aggression on 25 minutes but was adjudged to have fouled Victor Valdes.
The supply route to Messi was largely successfully disrupted and he had his first shot on the half hour, that went over. Xavi's followed two minutes later. Then, seven minutes before the break, came a let off for City. Aleksandar Kolarov, playing on the left side of midfield, launched himself at Alves, himself already booked, with studs raised. A more zealous referee might have reached for the red but the Serbian got away with a booking.
There was one more effort, a minute before half-time, when Negredo headed wide. He was under pressure but might have done better given the precision of Navas' ball into him. It was that way City's best chance of a breakthrough lay.
The blow came with eight minutes of the second half played, with an innocuous beginning out on City's right. Navas looked like he might have gone down too easily under a challenge from Sergio Busquets. The Swedish official had been in the mood to give every foul he could, but he waved play on. The ball reached Andres Iniesta who looked up and saw exactly what he wanted.
That was Messi with Demichelis at his shoulder and no one else between him and the goal. He gathered the pass beautifully into his stride, accelerated away from his fellow Argentine while the stadium held its breath for the tackle. When it came, it was as bad as the home fans could have imagined: a clip of Messi's ankle with the ball nowhere near and the inevitable tumble.
There was no questioning the red card for the denial of an obvious goalscoring opportunity. The only decision facing referee Eriksson was whether to give a penalty or not. Initial contact was outside the area but the referee decided the decisive contact took place in the area. Demichelis walked off. Messi dispatched his penalty down the centre when Hart committed himself early to the left.
Pellegrini reorganised with Joleon Lescott coming on for Kolarov; Silva moving back to left midfield, and Samir Nasri a straight exchange for Navas. With the emphasis then on keeping Barcelona out, City acquitted themselves extremely well in the circumstances. Valdes had to save a shot from Silva. Gael Clichy should have done better when he got free down the left.
Then a slip by Lescott allowed a one-two between substitute Neymar and Alves to get the full-back in on goal and he put his shot through Hart's legs. The game was over, and the tie is all but gone too for City. Pellegrini's reaction only made matters worse.
Manchester City (4-4-1-1): Hart; Zabaleta, Kompany, Demichelis, Clichy; Navas, Fernandinho, Toure, Kolarov; Silva; Negredo.
Subs: Kolarov/Lescott 58; Navas/Nasri 58, Dzeko/Negredo 74
Barcelona (4-3-3): Valdes; Alves, Pique, Mascherano, Alba; Xavi, Busquets, Fabregas; Sanchez, Messi, Iniesta.
Subs: Neymar/Sanchez 74; Fabregas/Sergi Roberto 86
Man of the match: Kompany
Rating: 7
Register for free to continue reading
Registration is a free and easy way to support our truly independent journalism
By registering, you will also enjoy limited access to Premium articles, exclusive newsletters, commenting, and virtual events with our leading journalists
Already have an account? sign in
Join our new commenting forum
Join thought-provoking conversations, follow other Independent readers and see their replies