Manchester City cracking up as defeat to Ajax leaves them on the brink of Champions League exit
Infighting starts with Champions League exit looming while Arsenal lose at home
Jack Pitt-Brooke
Thursday 25 October 2012 11:24 Comments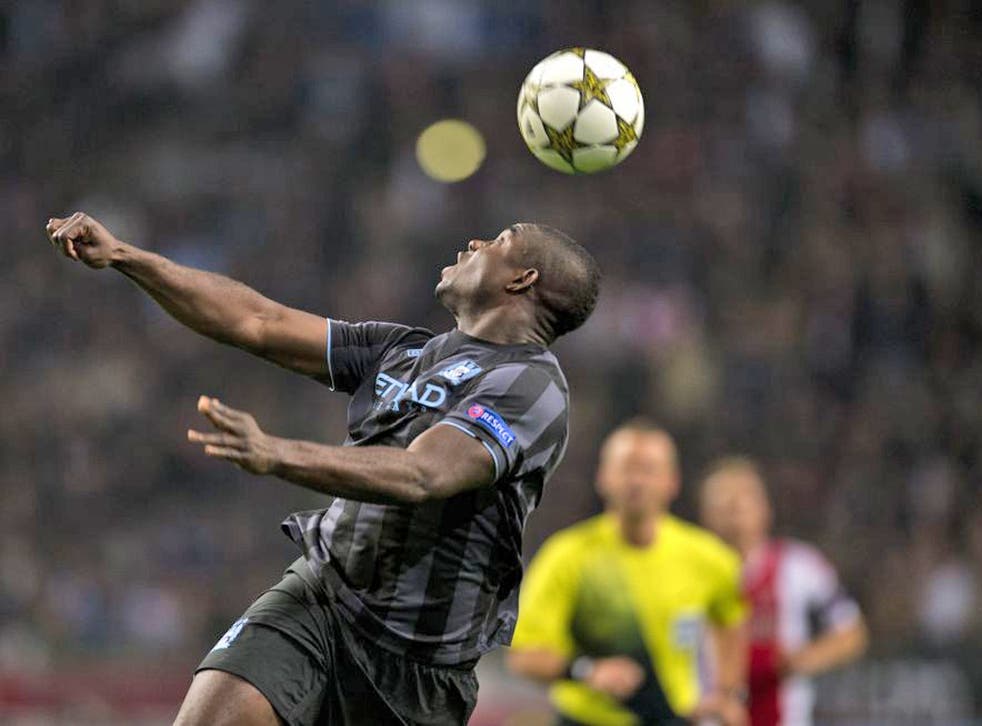 Micah Richards admitted that his team-mates are not comfortable playing in a back three after another night of defensive experimentation seemingly ended their Champions League campaign.
Manchester City lost 3-1 to Ajax last night, leaving them with one point from their first games, and manager Roberto Mancini admitting it would be "very difficult" to qualify.
Mancini went to a 3-5-2 system for a short second-half spell, during which Christian Eriksen scored Ajax's third. Richards said afterwards that City's players prefer a back four.
"It's something that we have not worked on a lot, we have used a straight back four," a crestfallen Richards said. "That's twice we've gone to a back five and conceded [City did so against Dortmund]. But the manager likes it.
"If we want to do well in it we're going to have to work on a little bit more. It's a hard system because we're not used to it. I think the players prefer a 4-4-2. But he's the manager and we'll do what he says."
Mancini insisted in his post-match press conference that the system was not to blame and said that his players needed more spirit: "On the pitch we are always 11 players and we played three [at the back] only for five minutes because we wanted someone to play in the hole."
"If you have spirit and quality you can play in the Champions League. If you don't have it, you can't. When you play this game you must have spirit and it is my fault because I should have prepared differently this game."
Mancini also tried to take some of the pressure on himself, saying on television after the game that it was "probably his fault" for preparing his players incorrectly. He appeared to take a swipe at Joleon Lescott, after the England defender lost Niklas Moisander, who put Ajax 2-1 ahead.
"It is my fault," he said, "because I didn't say to him to jump." Overall, Mancini conceded that Ajax were the better team. "We played a bad game," the Italian said. "Ajax played better than us and congratulations to them. And also if we didn't play we had a lot of chances to score and in the Champions League when you have a chance you have to score."
City now have Ajax and Real Madrid at home and Borussia Dortmund at home, and will need to win all three just to have a chance of qualifying for the last 16. "At this moment it is very difficult," Mancini said. "If we win the three games it will be very close."
Frank de Boer, the Ajax coach, felt his side were worthy winners, who showed fortitude in coming from behind following Samir Nasri's opening goal for the visitors. He said: " This was a crucial match for both teams of course. It was most important thing was to show we have confidence in our own qualities and that is what we did in the first half.
"It was tough to be 1-0 down but in a fantastic moment we scored an excellent equaliser. At the break we warned the team to stay focused and sharp because City are dangerous and that is what we did.
"They carried on playing with the confidence and belief in our qualities.
"Although City had chances I think we deserved to win this game. This is the way we want to play football and I am proud of the team."
It was not a good night for Arsenal either, who lost 2-0 at home to Schalke, but are at least in second place in Group B with six points. The assistant manager, Steve Bould, conceded that Arsenal were poor.
"We have not played anything like we can," said Bould. "I think that is the big disappointment. We haven't performed today. We lack a bit of confidence for whatever reason. We looked jaded. I don't know why that is, coming off the international break we haven't performed. I don't know if that is the reason. We look jaded. Certainly with the ball we lack a bit of a confidence."
Arsenal only had one shot on target and Bould acknowledged that this was not what they had come to expect. "It is not worrying," the assistant manager, standing in during Wenger's touchline ban, "but it's not what we want, not what we are accustomed to. We normally create chances and we are not so we need to correct that."
Olympiakos won 2-1 at Montpellier last night, meaning Arsenal are in second place and three points clear of the Greek champions. Their next three games are Schalke away, Montpellier at home and Olympiakos away, and Bould predicted an improvement as Arsenal try to tie up qualification for the last 16 as quickly as possible. "I'm sure we will perform a damn sight better next time," Bould said.
Arsenal have lost two consecutive games to Norwich City and Schalke since the international break but host Queen's Park Rangers on Saturday afternoon. Bould hoped that Alex Oxlade-Chamberlain would return from injury and suggested that Jack Wilshere might in contention. "I am not sure about Theo Walcott," he said. "The other two might be considered I believe. It's not set in stone yet."
Register for free to continue reading
Registration is a free and easy way to support our truly independent journalism
By registering, you will also enjoy limited access to Premium articles, exclusive newsletters, commenting, and virtual events with our leading journalists
Already have an account? sign in
Join our new commenting forum
Join thought-provoking conversations, follow other Independent readers and see their replies