John Stones at the double as Manchester City maintain winning ways to fire four past Feyenoord
Feyenoord 0 Manchester City 4: Pep Guardiola's men were in sublime form as they swept aside their hapless Dutch hosts
Jack Pitt-Brooke
De Kuip
Wednesday 13 September 2017 21:24 Comments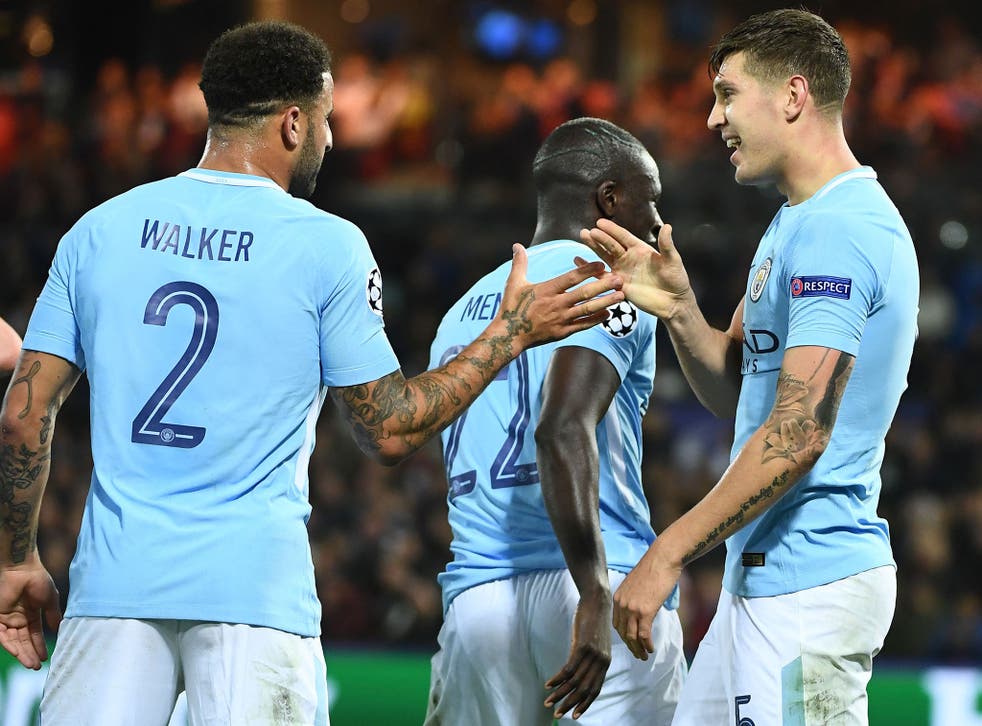 For the serial European under-achievers of Manchester City, this was a great night. They have only won their Champions League group once, from six attempts now, which explains in part why they have not truly made their mark on the knock-out rounds either.
So to open their campaign like this, with an emphatic 4-0 win away at Feyenoord, maintaining total control, never once looking troubled, playing with energy, precision and style, was the perfect start to their long campaign. Especially as Napoli, the next best team in the group, lost away in Ukraine at the same time. It is already advantage City in Group F, and if they do not win it from here, it would be entirely their mistake.
But while this was a great European night for City, it was not a great night for Europe. The Champions League is meant to provide robust competition between the continent's best teams. This was the Dutch champions, remember, with their bright young coach, in their historic stadium, cheered on by 44,000 loyal fans. It should have been a test. But it felt more like City playing an FA Cup game away to a Championship team.
The gap between the teams was so big that at no point did this feel like an even contest, especially with City scoring their first after two minutes and their second after 10. It was all far too easy. City kept the ball in midfield, run again by David Silva and Kevin de Bruyne. When they wanted to go forward, get in behind and score, they did. Had they needed to score more than four, they could have done. The home crowd started loud but soon enough their only cheers were for fouls.
On the surface it was one of the great evenings of the Pep Guardiola era at City. Even when they are this good going forward they are not usually this tight at the back. It was very reminiscent of the second half against Liverpool on Saturday afternoon, when they put three goals past 10 tired men. City now have nine goals in two games that they might have looked at with some trepidation this time last week.
But like the Liverpool game, it did not feel like as much of a challenge as it might have done. City were so dominant that it never felt like a fair fight. Does that show that Feyenoord, like 10-man Liverpool, were not good enough to cause City problems and exploit their obvious weaknesses? Or that City play with such control and authority now that opponents are just rendered irrelevant? They will need more tests, more than Watford away on Saturday, to be clear.
Any nerves City might have had about this game cannot have lasted more than two minutes, with John Stones' first goal showing up the uncomfortable distance between the sides. David Silva forced a corner down the left, took it quickly to Kevin de Bruyne and then crossed, before the Feyenoord defence could even switch on. Stones got ahead of Jan-Arie van der Heijden to head, Tonny Vilhena just stood on the line as the ball rolled through his legs and in.
This is meant to be a club built around the value of hard work; the club motto, Geen woorden maar daden, means 'no words but deeds'. But these players, Dutch champions, could not even make it difficult for City, who looked like scoring every time they attacked. Eric Botteghin had to scramble a Jesus header off the line but soon enough City had their second.
This was a classic Guardiola move, a series of swift incisions, Aguero to Bernardo Silva to Kyle Walker, bursting down the right. He whipped in his low cross, Aguero darted away from the defender and volleyed straight in.
That was the end of the Feyenoord challenge, in truth, and it just became a question of how many City would score. Aguero had another saved and when the third came it felt almost farcical. Benjamin Mendy hammered a 30-yard shot, Brad Jones spilled it and Jesus tapped it in. The Feyenoord defenders thought he was offside but he was not.
In the second half Guardiola had an eye on other challenges, not least Watford away on Saturday afternoon. So he took off Aguero on the hour mark, just as he did to Jesus against Liverpool. For as long as Guardiola is going to keep playing them both together, he is going to need them both sharp.
City were just as dangerous as ever, especially when they had De Bruyne firing in his immaculate set pieces. He worked an angle with a short corner and curled in a brilliant cross, Stones got up ahead of Botteghin again, thumping his second goal of the night Brad Jones.
With City in complete control of possession, and the game, Sterling, Leroy Sane and even Fabian Delph came on at the end. The former Aston Villa man thought about scoring a fifth, then decided against it. Maybe Vicarage Road will prove harder than this.​
Feyenoord (4-3-3): Jones; St Juste, Botteghin, Van der Heijden, Nelom; Amrabat, El Ahmadi, Vilhena; Berghuis, Kramer, Boetius
City (4-3-3): Ederson; Walker, Stones, Otamendi, Mendy; De Bruyne, Fernandinho, D Silva; B Silva, Aguero, Jesus
Register for free to continue reading
Registration is a free and easy way to support our truly independent journalism
By registering, you will also enjoy limited access to Premium articles, exclusive newsletters, commenting, and virtual events with our leading journalists
Already have an account? sign in
Register for free to continue reading
Registration is a free and easy way to support our truly independent journalism
By registering, you will also enjoy limited access to Premium articles, exclusive newsletters, commenting, and virtual events with our leading journalists
Already have an account? sign in
Join our new commenting forum
Join thought-provoking conversations, follow other Independent readers and see their replies