Paul Scholes and Rio Ferdinand's cheap dig at the Etihad doesn't tell the full story of Manchester City's desire
Fans care more about crushing United than attending Champions League ties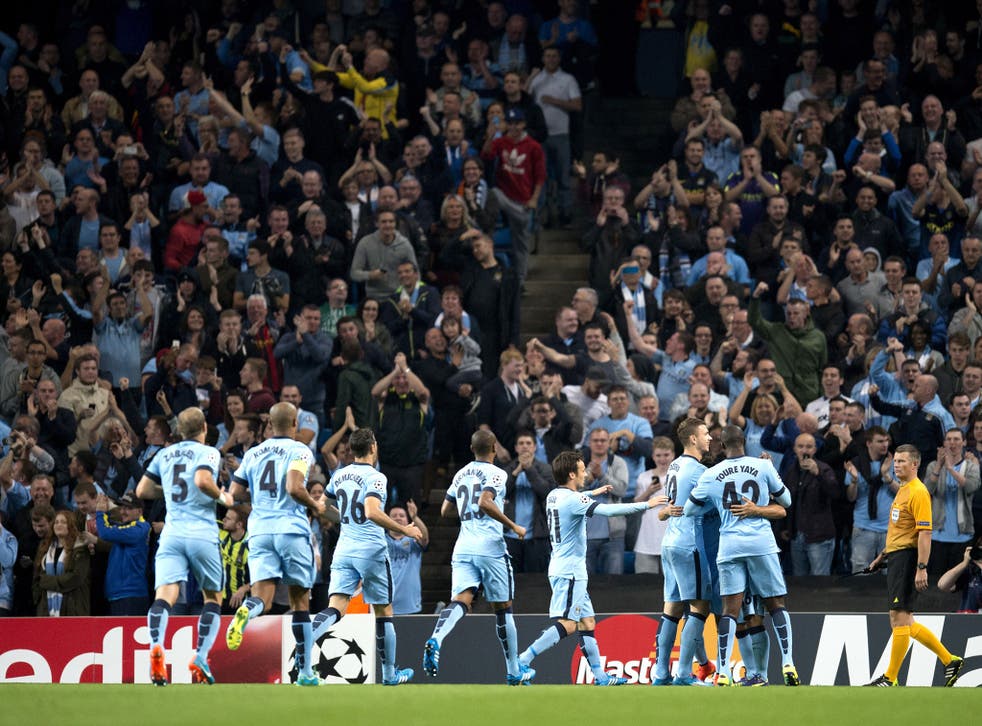 Rio Ferdinand boarded the bandwagon Paul Scholes had set rolling, after tuning in to hear his old team-mate talking about the empty seats at the Etihad for another fitful Manchester City home performance in the Champions League.
"Fans would rather watch Ramsay's Kitchen," Ferdinand tweeted. And in reference to City's planned ground expansion: "Expanding the stadium for what though?? For who though??"
A crowd 10,000 short of capacity for City's opening Champions League home game against Roma on Tuesday night created the conditions for United's old guard to display disdain for the place Sir Alex Ferguson always called the "Temple of Doom".
Yet Scholes's inference that European nights have always been different at Old Trafford does not stand up to scrutiny. In the early 1990s, when United had finally taken the title, they were getting crowds of less than 40,000 through for Champions League games: 39,000 for Galatasaray's arrival in 1993 and 35,000 for Honved. It took time for Europe to catch on.
Domestic competition – the task of dethroning Arsenal and setting about a challenge to Liverpool's back catalogue of titles – was all that mattered at Old Trafford back then, just as toppling United is City's obsession now.
Reigning domestic champions City might be, but they know that winning two titles by a hair's breadth does not make them the dominant force in English football. That's their supporters' overriding ambition. This is a team who were playing Wrexham and Macclesfield 16 years ago. No wonder the domestic game still hold so much fascination for the fans. It's why Reading last year had far more pulling power than Roma this week.
The numbers deconstruct Ferdinand's cheap shot on Twitter. City command the third highest crowds in the Premier League. They filled the Etihad for all-but one of last season's home league matches and have a waiting list of 7,500 for the 6,000 extra seats in their new stand, which will take capacity to 55,000. Everyone on the waiting list has paid a £100 deposit.
The social demographic of City's fans contributed to the number of empty seats, too. It is a relatively poor one, compared with Manchester United and Liverpool. Neither have City followed United and Arsenal down the route of making it compulsory for season-ticket holders to buy European tickets, which would have guaranteed 36,000 sales alone for Roma. Arsenal's season-ticket price includes the first seven FA Cup or Champions League games. City have no such scheme.
The club's relationship with Europe is fixed a few years ahead, too. City are targeting a quarter-final appearance in this season's competition and accept that it could take five years to win it.
No one is implying a need for reinforcements. The club have equipped themselves with a squad which they believe is strong enough to lift the trophy in Rome next June. But there is an acceptance at the top of the business that the potential for luck and freak events in one-off, knock-out stage games mean that a consistent run of semi-final appearances – perhaps three or four of them – is required, for the club to go one step further and win it.
City chief executive Ferran Soriano is acutely aware of this from his time at the helm of Barcelona. The Catalonian side reached the round of 16 twice, the semi-finals once and were victorious finalists once in his five years at the club. The winning year was 2006, when Arsenal's Jens Lehmann was dismissed after 18 minutes at the Stade de France. Yes, Soriano will tell you that luck cuts both ways in Europe but is always a factor.
Manager Manuel Pellegrini, whose side reached the last 16 in 2013-14, acknowledged the quarter-final target for this season. "If we can fight for the Premier League title and get further in the Champions League, that would be progress," he said this week, in an interview which also underlined City's absorption with domestic football. "We won't focus all we have on the Champions League and see what happens in the Premier League," he added.
City have endeavoured to manufacture some Etihad atmosphere for Europe in the past, dimming the lights before kick-off, projecting a lunar image across the East Stand and bathing the place in pale light before such games as the Europa League quarter-final against Hamburg in 2009. It was their first year back in continental football and though Mark Hughes's team lost on aggregate, Scholes would have nothing to be critical about. But the club know that the value of generating an atmosphere would be lost if they tried it every time.
Better performances would help. Tuesday's was dismal and Vincent Kompany, the captain, acknowledged amid the disappointment of the 1-1 draw that City must now win home and away against CSKA Moscow. "We have to win both of those games. It's safe to say that," he observed. City will know tomorrow whether the game in the Russian capital must be played behind closed doors, as a Uefa punishment for the CSKA fans' violence in Rome.
The group mathematics suggest it could go the way of 2011-12, when City also took a point from their opening two matches, rallied to a 10-point total but were eliminated at the group stage. Where City and Europe are concerned, it's always more complicated than 140 characters can convey.
City must be patient - Champions League wait
Manchester United:
First Premier League 1993
First Champions League 1999
Chelsea:
First Premier League 2005
First Champions League 2012
Manchester City:
First Premier League 2012
First Champions League ?
Join our new commenting forum
Join thought-provoking conversations, follow other Independent readers and see their replies