Manchester City vs Borussia Mönchengladbach: Pellegrini rejects crisis talk and claims others are envious of City progress
With a ferocious two months' worth of fixtures in four competitions to come, Pellegrini's side is starting to look worn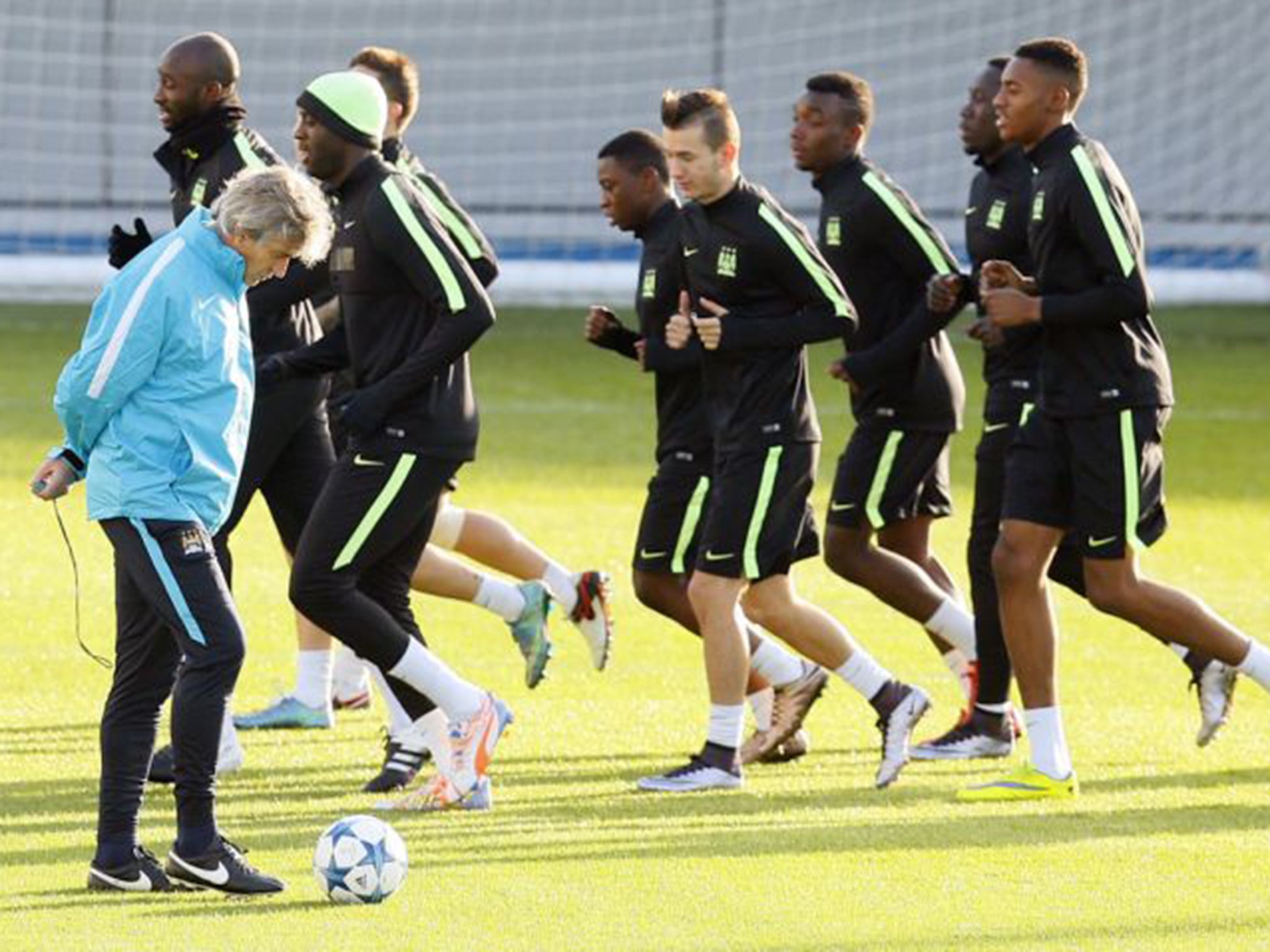 Manchester City may have lost three of their last five matches. They may still be without Sergio Aguero and Vincent Kompany and they may not finish top of their Champions League group.
However, Manuel Pellegrini was surely right when he remarked that Arsenal, Chelsea and Manchester United – all of whom might be eliminated from the Champions League this week – would want his problems. City, who are through, have to beat Borussia Mönchengladbach and hope Juventus lose at Sevilla to finish first in Group D.
"The most important thing is to qualify," said the City manager. "If you don't finish at the top of your group, I don't think it's disappointing. Chelsea, United and Arsenal would like to be in our position.
"I don't think we have to be always pessimistic about the draw. Maybe if you finish top, you can have a draw against a big team that finished second in its group."
That was always Sir Alex Ferguson's attitude to the Champions League groups; there was no point second-guessing who you might get in the knockout phase, the important thing was to be there.
City may have been scarred by two years of meeting Barcelona but that is rather better than bumping into FK Krasnodar in the Europa League.
Yet, with a ferocious two months' worth of fixtures in four competitions to come, Pellegrini's side is starting to look worn. Aguero, whose heel injury sustained against Southampton more than a week ago was not initially thought serious, will not play against Mönchengladbach tonight and is unlikely to be able to face Swansea on Saturday.
"This will be the fifth game we have played in less than 15 days," said Pellegrini. "This is too many games when you keep using the same players but we need an important result. Our target is to win the game and then see what happens to Juventus.
"Playing so many games means you will have more muscle injuries. I think the pace in the Premier League is hard, harder than in other leagues and here we have two cup competitions not one."
This season City have coped pretty well without their best striker – of the nine matches Aguero has missed, Saturday's 2-0 defeat at Stoke was the only one that has been lost.
Kompany is a rather different matter. Of the dozen matches without their captain, City have lost five and they include catastrophic defensive displays at Tottenham and against Liverpool.
With Martin Demichelis unfit to face a Mönchengladbach side who on Saturday inflicted Bayern Munich's first Bundesliga defeat of the season, central defence will be in the hands of Nicolas Otamendi and Eliaquim Mangala.
Pellegrini said that nobody now questions the £54m the club spent on Kevin de Bruyne. However, the £72m payments authorised by director of football Txiki Begiristain for the two centre-halves who will face Mönchengladbach tonight still raise eyebrows around the Etihad Stadium.
When City travelled to the Rhineland at the end of September, it was to face a very different Borussia Mönchengladbach than the one they will encounter on Tuesday night.
Then, Lucien Favre, the coach who had taken them into the Champions League last season, had just resigned after losing his first five matches in the Bundesliga.
Since André Schubert's arrival at Borussia Park, Mönchengladbach have lost one match, and that was the 2-1 defeat by City. It was a game the Germans dominated and probably would have won had Joe Hart not saved a penalty.
The culmination of Schubert's revival was Saturday's 3-1 win over Bayern which took them into third in the Bundesliga. The performances of three teenagers – Nico Elvedi, Mahmoud Dahoud and Andreas Christensen, who is on loan from Chelsea – electrified the contest. Their total cost was £2.8m.
"We will go into our last Champions League match to enjoy it," said Gladbach's keeper, Yann Sommer. "We have the knowledge that we have just taken on and beaten the best team in the world.
"That gives us the belief we can take points away from home in Manchester and our goal now is quite clear – to spend the winter break planning for the Europa League."
Join our commenting forum
Join thought-provoking conversations, follow other Independent readers and see their replies