Manchester United vs AC Milan: Amad Diallo's moment of magic shows off prodigious talent
The teenager displayed his instinct to get on the end of Bruno Fernandes' pass and then his intelligence to divert it past Antonio Donnarumma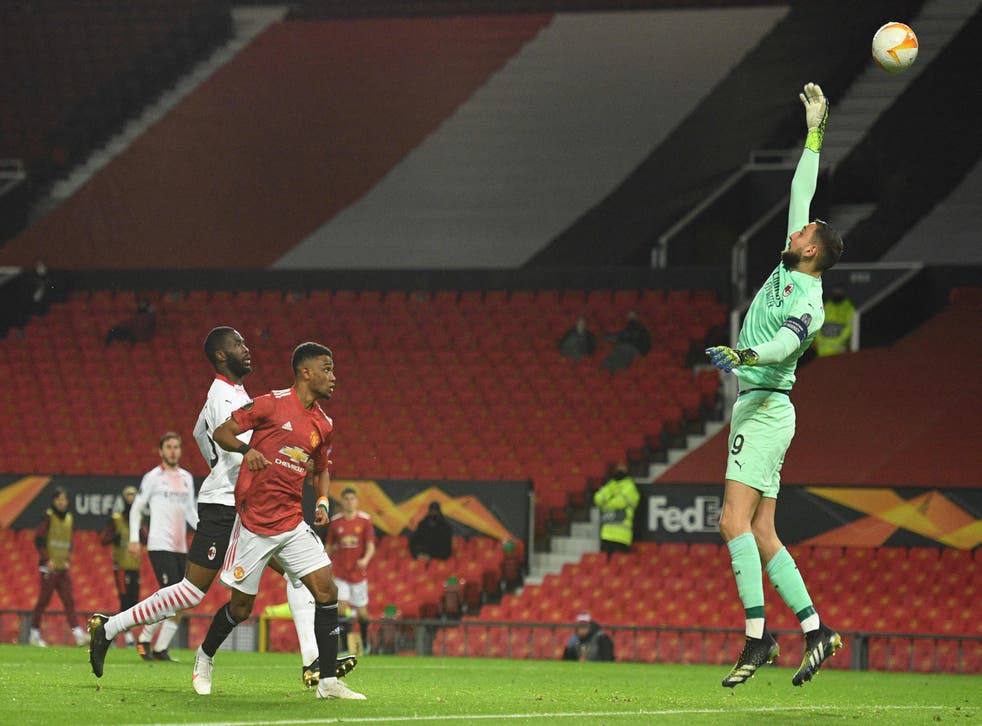 It should have been Amad Diallo's day, although his big moment illustrates his time will come. Whether he gets many more minutes in the Europa League this season will entirely depend on a second leg at the San Siro that is now set up for drama. Manchester United may even need him – especially if they don't have Anthony Martial or Marcus Rashford. Amad was not just their only scorer in this first leg, but one of the few positives on a night when AC Milan looked the more sophisticated side, and deserved even more than their late draw.
They do not have United's quality, but they did have a better set-up here, and played more intelligent football.
There was an irony then that it looked like they had been undone by the most inventive piece of play on the night.
There is a further irony that some at United have felt Amad isn't quite ready to make the step up. No one doubts his talent, of course. Everyone talks it up. As one source puts it, "he was the best player from the best academy in Italy". He absolutely scorched Manchester City when they played Atalanta in the Uefa Youth League a few seasons ago. Some say that he is considered so good that it is one reason why United have dropped their interest in Jadon Sancho. They expect Amad, who has been likened in style to Riyad Mahrez, to be even better.
The only current issue is that he's still considered a bit of an unfinished product, and needs to get more used to English football.
It could be said it's pointed that this first United goal came against Milan, but then the goal was almost unique – the sort of thing that would outfox any defence. That was what was so particularly encouraging about it, too.
It was, well, a wise header from young shoulders. The way Amad so inventively turned his head to direct a fine connection over Antonio Donnarumma was the kind of thing you'd expect from a much more experienced player.
One of the most experienced pulled it off, after all. The header had real shades of 33-year-old Uwe Seeler's against England in the 1970 World Cup quarter-final. Some were meanwhile likening it to Javier Hernandez's against Stoke City.
While comparisons are inevitable for any young player of such ability, to try and contextualise expectations, Amad looks a talent all of his own.
He temporarily gave Milan something different to deal with, too, after they had largely controlled the game. It was all the more fitting that a United teenager scored, since the match had been dominated by the Serie A club's young players.
Diallo's compatriot, Franck Kessie, was one of the best players on the pitch. Just as Milan deserved more, and the midfielder deserved a goal, they might have had it had Kessie's first-half volley not been ruled out for what seemed a phantom handball.
The Italians nevertheless made their presence felt. They were certainly worth more than one fortuitous late goal - valuable as that may be. It was an away performance of such authority that you would forget they were missing Zlatan Ibrahimovic. Brilliant as the Swede has been throughout his career and this season, some believe it is one of those cases - a little like Cristiano Ronaldo at Juventus - where Milan's modern style is actually more effective when he isn't on the pitch demanding all play go through him.
United's play meanwhile continues to go through Bruno Fernandes. It was his ball that initially broke open the game.
Amad, however, displayed his instinct to get on the end of it and then his intelligence to divert it past Donnarumma.
Milan still have the advantage, though.
It may end up meaning United have to use Amad in the second leg, as well.
Join our new commenting forum
Join thought-provoking conversations, follow other Independent readers and see their replies