Manchester United vs AC Milan: Five things we learned as Amad Diallo announces himself
Manchester United draw 1-1 with AC Milan leaving the Europa League tie in the balance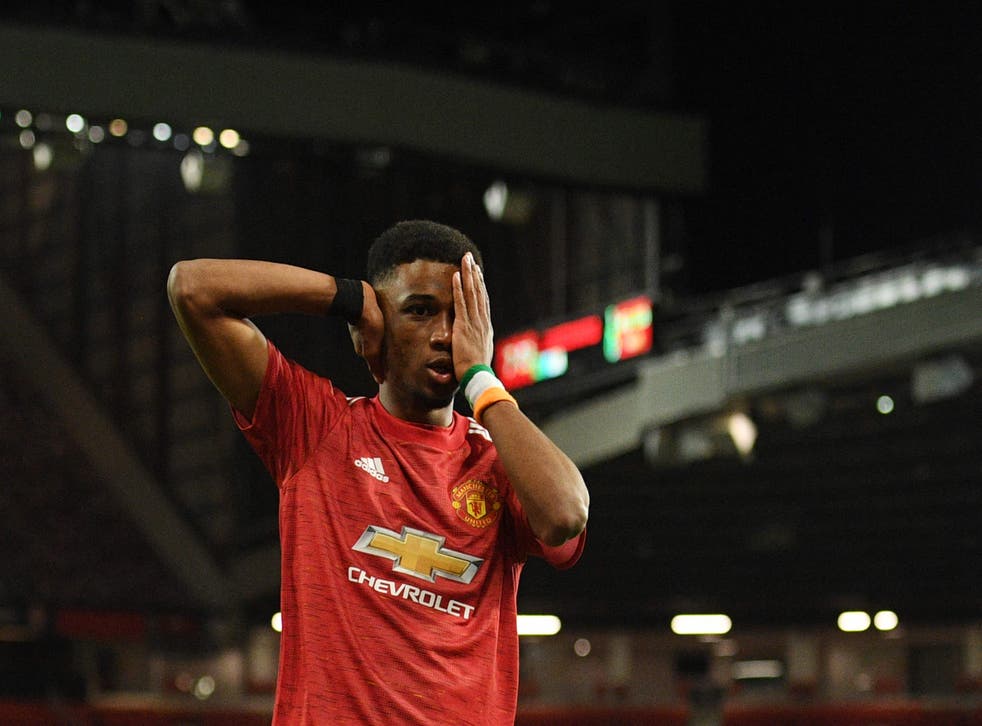 1) Amad announces himself on big stage
We had only seen glimpses of Amad Diallo in a Manchester United shirt before this, making fleeting appearances from the bench in the previous tie. This time, playing in his first full half of football for the club, the teenager announced himself. 
Bruno Fernandes's pass was exquisite (more on that later), but what was brilliant about Amad's goal was his movement which demanded the pass be played. Initially he drifted towards the ball, posing a question for the Milan defence as to whether to follow him, but then he made eye contact with Fernandes before spinning and sprinting in behind. The instinctive black-flick header was a piece of genius, the kind of reactive moment which suggests Amad has goalscoring in his bones and in his blood. It was unusual goal and yet he made it seem like something so natural, jogging away to celebrate with barely a hint of a smile, as if his own brilliance came as no surprise. 
Clearly Amad, who at 18 and 243 days is United's fourth-youngest European goalscorer, is already trusted by Ole Gunnar Solskjaer, who has talked enthusiastically about how quickly the forward has made an impact on first-team training, and this suggests there will be some more opportunities for him in what is a jam-packed season-ending schedule. This, you sense, was just the start.
2) Fernandes' pitch-perfect moment
Amad's movement demanded the pass, but Fernandes still had to execute it. In reality Fernandes didn't have his best game, but then so often it looks like he's struggling simply because his high-risk play isn't quite clicking, until all of a sudden it does, spectacularly so.
The Portuguese has plenty of assists to his name in his United career to date and this was up there with the very best. It is the Players Championship this week and any golfer would have been proud of the fade Fernandes generated, the ball gently gliding to the right in the air to get around a defender blocking the line between Fernandes' right foot and his target, Amad, like a tree on the fairway. The pass was pinpoint, falling perfectly in no man's land between defence and goalkeeper, where Amad arrived to do the rest.
3) Martial's stop-start season stops again
Beyond the equaliser by Milan, one notable blight on United's night was an injury to Anthony Martial, who hobbled off at half-time. It did not look especially serious but with games coming thick and fast he may miss more action. Martial has been involved in 34 games in the campaign, yet the stop-start nature of his season – suffering a suspension, an illness, a thigh strain, another recent knock and now this injury – has not helped his cause and has continually halted his momentum. The timing seemed particularly unfortunate here, having played superbly in the Manchester derby win on the weekend. Solskjaer will hope Martial is saving his first burst of sustained form for the business-end of this long season.
4) Milan in the driving seat
Stefano Pioli's team earned a late equaliser that they deserved after showing exactly the kind of side they can be all match, and the threats they carry. What is a relatively young team showed no fear, sticking to Pioli's attacking philosophy, playing out from the back with confidence and creating several moments of real threat. They could count themselves a little unlucky not to come away with more than only one away goal, given the ball hit the back of Dean Henderson's net twice in the first half. One was ruled out for offside while the impressive Franck Kessie's volleyed finish was chalked off for the most imperceptible of handballs in the build-up, a farcical rule ending next season, but for which United can be grateful for. This was a good night for Milan, and they will come again in the second leg.
5) Henderson's night to forget
He may have only let in one legitimate goal on the scoreboard but the three times AC Milan got past Dean Henderson will cause some alarm at Old Trafford. Plans are said to be in place for the England international to slowly begin usurping David de Gea as United's No1, but on one of his biggest tests to date the goalkeeper found himself wanting.
Join our new commenting forum
Join thought-provoking conversations, follow other Independent readers and see their replies