Manchester United vs AC Milan: Controversial owners turn to youth in bid to rebuild Rossoneri
AC Milan meet Manchester United in the Europa League rejuvenated by hedge fund owners and a new model investing in young talent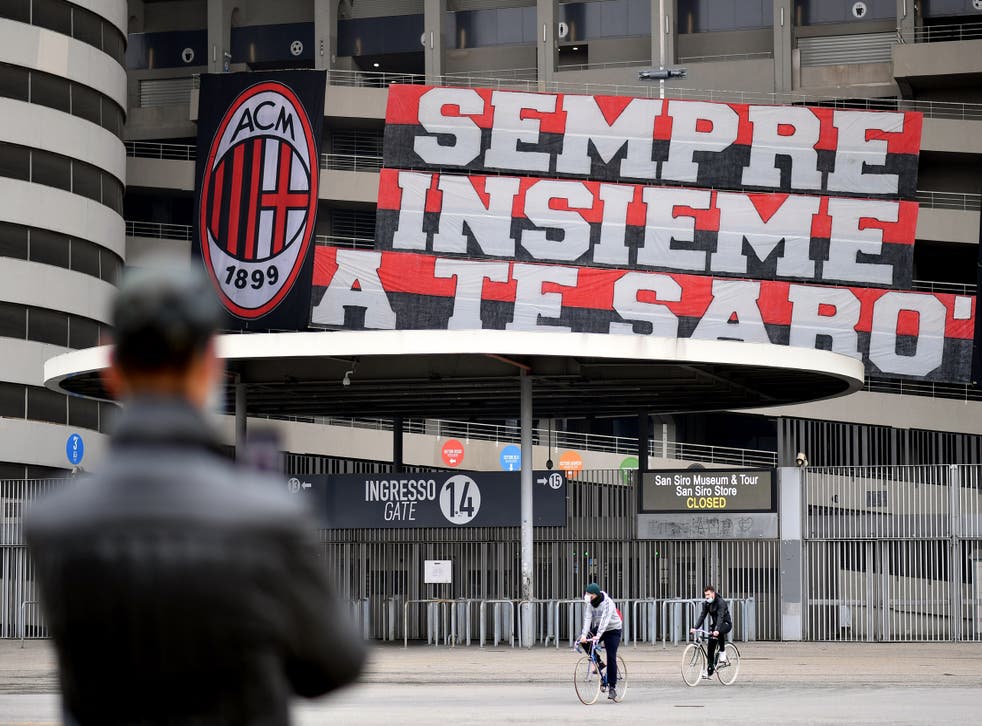 In the early days of the Elliott Capital hedge fund's ownership of AC Milan, there was an internal discussion around recruitment that provoked a fair bit of debate, as well as questions about the very identity of the club.
Some senior figures had a very specific idea of what a "Milan player" should be. They felt that playing for the club, and in the San Siro, carried a certain type of pressure that required a certain type of personality; a rare sporting charisma. "This is Milan," was one emotional argument.
That was Milan, might have been the retort, and it is an image that is no longer relevant. It hadn't prevented the club falling a long way from the top of European football, to the point they are now 30th in the Deloitte football money league, behind Wolves and Sheffield United. With an annual revenue of just £127m, more than £430m behind Barcelona, they can't even get close to buying the ideal of what a "Milan player" should be. They've had to do things differently.
It is why, as they again face Manchester United in European competition, the Milan team will look a bit different, with a lot of relatively unfamiliar names. It is a long way from the Champions League-winning side that eviscerated United in the 2006-07 semi-finals.
If "this is Milan", it's a new Milan, and maybe a different kind of challenge. They have illustrated that relying on what you are now only gets a club so far.
It is also worth asking, however, what Milan's owners are. So much of this is interconnected. It is why this tie with United carries a number of strands that go way beyond the fixture. A meeting between great European names is also a meeting of two highly controversial ownership models, while raising questions about the potential directions of such clubs – and who can still be "big".
The criticism of the Glazers, and how they bought out United with leveraged debt, seems mild next to some of the discussion around Elliott Capital.
The Financial Times has described Milan's owners as "the world's most feared hedge fund". A portion of their trading has been in sovereign debt. Among their most infamous moves was pursuing Argentine sovereign debt for more than a decade, before seizing one of the country's naval ships when it was docked in Ghana and prompting the country to default. Gordon Brown has described the tactics of such "vulture funds" as "morally outrageous", and the wider argument is that they seek to profit from the distress of the world's poorest countries. Defenders of Elliott would say Argentina was found to be a "uniquely recalcitrant debtor". The 2011 purchase of UK retailer Comet saw the firm bring in £177m from the deal, while almost 7,000 staff were laid off. The counsel representing the former employees said it was all "one of the more regrettable episodes of British corporate history".
Some in the industry argue the sovereign debt practices have to be separated from the private equity fund.
It was a similar level of business calculation that ultimately saw them own Milan. The Financial Times reported that Li Yonghong's 2018 takeover of the club was funded by high-interest loans worth more than €300m (£257m) from Elliott. While due diligence brought information on Li's wealth, Elliott worked out that either the loan would be repaid or a default would give control of the club. The latter happened, and Milan – in the words of one source – was "repossessed" for around €400m (£342m), acquired for around half of what the club was valued months earlier.
There was understandable fear from Milan supporters, that this could lead to a firesale of players. The opposite has instead happened, as the owners have sought to overhaul the club's recruitment model.
It has started, well, to pay dividends. The outlook for Milan is drastically different to what it was a year ago. While their title challenge has faltered, it has still come ahead of schedule.
Many say this is due to a similar business rationale, where Elliott's outlook actually serves football at this level. The idea is that Milan are one of about 10-20 clubs, with many of them in Italy, that are actually significantly undervalued and have the profile and potential to quickly grow again into a super-club. The location, in one of Europe's most buoyant and glamorous cities, only adds to that.
The argument is that Milan have that aura that can quickly be awakened.
This is a view that was articulated by former Arsenal CEO Ivan Gazidis to the journalist James Horncastle. "These things don't disappear," the current Milan chief executive told The Athletic. "They're human relationships that go through generations. We've seen that with Liverpool. They went through a very long and challenging period but the connection with the club remained there to be brought back."
The pending Champions League reforms loom over much of this, especially if there are to be "legacy" qualifications. Milan, after a decade in the wilderness, remain the second most successful club in the competition's history with seven European Cups.
Key to trying get back, however, has been not actually thinking like that. As one high-profile European executive argued to The Independent, "you don't catch up by going in the same direction as the leaders". It is this that caused debate at the top levels of Milan.
With so many business decisions naturally based on the best intelligence, and reams of data, it is no surprise that Elliott have overseen the construction of one of the most advanced analytics departments in world football.
What has come as more of a surprise to some around the club is that the model from there isn't Barcelona or Liverpool. It's Atalanta or the Red Bull clubs.
It is young players on their first contracts, who are malleable to a more modern proactive game. Hence Milan have one of the youngest teams in Europe's top five leagues – and that's even when you include the 39-year-old Zlatan Ibrahimovic. Players like Ismael Bennacer, Brahim Diaz, Franck Kessie, Rafael Leao and Alexis Saelemaekers more than balance this out.
The forward-thinking that players of such age represent is likely to be an increasingly popular model, and the potential solution for so many that can't financially compete with the super-clubs.
One of the previous arguments at Milan was that a preponderance of kids couldn't carry one of sport's greatest names. The current argument is that they are precisely what is required to re-establish the club as exactly that.
And this is the thing about the owners, too. The entire rationale is building Milan back up to that, having bought them at a much lower value.
What Milan are is likely to be in flux for some time.
Join our new commenting forum
Join thought-provoking conversations, follow other Independent readers and see their replies